drawing power
In this comic anthology, more than 60 artists from around the world share their personal stories of sexual violence and harassment to fight for a better, safer world.
Despite its focus on celebrity, the #MeToo movement has helped us realise that sharing personal experiences can offer comfort to others – that there is strength in numbers. It's with this in mind that artist Diane Noomin approached more than 60 comic artists from around the world to bravely illustrate their own experiences of sexual violence, harassment and survival.
The result is Drawing Power, a comic anthology featuring a diverse collection of first-hand stories, including from Aussie artists Rachel Ang, Sarah Firth and Meg O'Shea. Revisiting traumatic memories can take a lot out of you. But as Rachel and Sarah explain below, illustrating their experiences – within an abusive relationship and a deeply sexist workplace, respectively – was a healing process.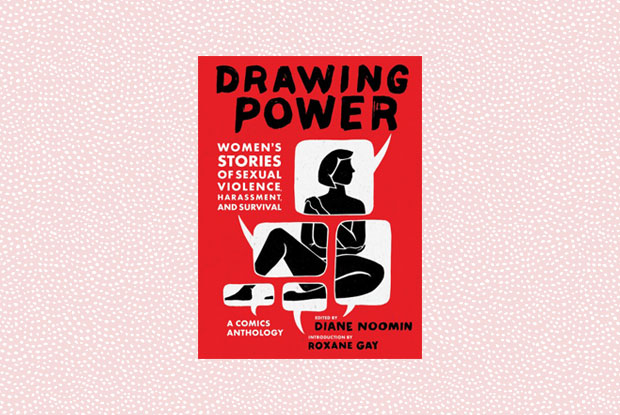 You're two of only three Aussie artists featured in Drawing Power. How did you become involved? RA: A publicist from the publisher and the editor, Diane Noomin, reached out to me. I found out later that they heard of my work through Thi Bui, who is the incredible graphic novelist who wrote The Best We Could Do. I remember getting that first email and being so honoured and excited to be considered.
SF: The same way as Rachel! Diane Noomin asked Thi to recommend three Australian artists and she suggested Rachel, Meg O'Shea and I. Thanks Thi!
What was the process of contributing a comic to the project? RA: There weren't many guidelines. My framework was based on the idea that abuse or harassment is never just about the sex act or the event in question; it's about power and shame and the echoes that persist throughout your entire life, and how they shape your outlook and your relationships from then on.
SF: It was a very open. Just share a personal story on the subject of sexual violence, harassment and survival. And keep it short. Aside from that, they suggested I make some minor text, image and language tweaks, because a few of the Australian references and swear words were unfamiliar for American audiences.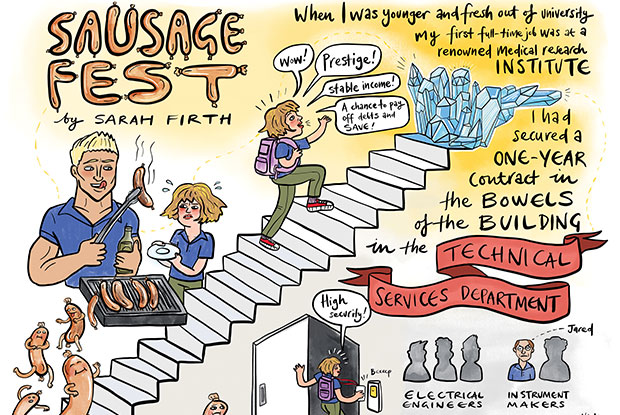 An excerpt from Sarah's comic, Sausage Fest
Why was it important for you to share your story? RA: I know there are many people out there who have gone through (or are currently experiencing) the kind of thing I did. I want them to know that they are not alone, there's nothing wrong with them, and they did nothing to deserve their abuse or pain.
SF: Even though I was initially scared to tell my story, I did it because there is power in numbers. I felt encouraged after hearing writer and activist Yassmin Abdel-Magied speak about her early career as a mechanical engineer and the 'sink or swim' struggle she faced working with (and against) the entitled 'Aussie Bloke'. That hyper-masculine, sexist boys club mentality is unfortunately all too common in these industries.
It's not easy for anyone to share a deeply personal and traumatic story. How did you revisit these memories while keeping your mental health in check? RA: Honestly I think I re-traumatised myself. These were memories that I hardly ever access and try not to think about. So it was very difficult to write and visualise the experience in drawings. But it was also useful and healing to consider this period of my youth from the perspective of the adult I am today. I'm proud of myself for doing that arduous emotional work. I hope that it helps people out there who need to do their own overdue emotional homework.
SF: I knew that this experience would be upsetting to revisit and write about so I prepared to take time out from work and life to go into it. I applied for The Jacky Winter Gardens 'Artist-in-Residence' program, and fortunately got it. Thanks to that, I was able to spend ten days in the mountains processing all the big awful feelings that came up while I was writing and drawing. There was a lot of crying, bushwalking, baths and burning bad drafts in the fireplace.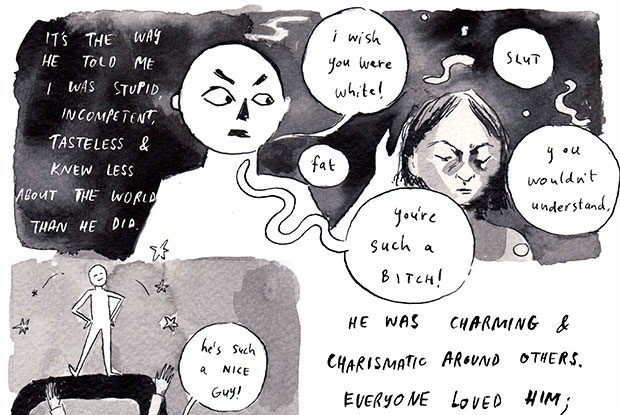 An excerpt from Rachel's comic, Destroy Everything You Touch
Why do you think the medium of comics is so powerful in communicating these stories? RA: Comics can be very visually and emotionally impactful, but another strength is that they can create a space for a narrative that's nuanced and ambiguous. Silence and gaps are really important – almost like the syntax of comics.
SF: The visual style of each piece in Drawing Power is very different, which helps emphasise the diversity of the stories and experience. Drawing is very direct and intimate – it literally makes the perpetrators and situations visible. For difficult stories like these, comics allow for interesting intersections of thinking and feeling, what happened and it's impact, and the tension between a person's internal world and the external world.
What are some things you'd like to see talked about more in relation to women's safety? RA: I'll address one small part of it. You know what set the foundation for me to be in a shitty relationship? I had no self-esteem. I didn't love myself at all, and because I was brought up in a cold environment, I was desperate for any form of affection or love. I equated sex to love. I felt compelled to do whatever someone told me to do, because I was brought up to be obedient. Society taught me, in all kinds of explicit and subliminal ways, that I was lucky to have someone love me.
These are very difficult things to change and for me, the process of becoming an emotionally healthy adult has been one of deprogramming. What I'm saying is that abuse and harassment are symptoms of an entire toxic side of our culture that needs to be changed; we all need to deprogrammed of patriarchal values.
SF: It's such a big topic. I'd like to see more discussion and support to remove the barriers that many women, children and people face in trying to leave terrible situations – or even speaking about them to someone – because of a lack of physical, cultural or economic safety. I still hear such short-sighted comments like, "Why didn't they say something?" or "Why didn't they leave?" as if things are clear-cut and everyone has the same options available.
Victims need protecting, and perpetrators need to be held responsible. But perpetrators need support to reform as well, as they too have very often been victims of violence as well. Further, sharing experiences is important for solidarity and promoting healing, but raising awareness is not enough to create deeper cultural and structural change. What works in one space and culture may not work in another. It is not as straightforward as 'smashing the patriarchy' and taking down individual men but instead requires personal, cultural, legal and systemic reform in tandem, so we aren't stuck forever tackling symptoms instead of causes.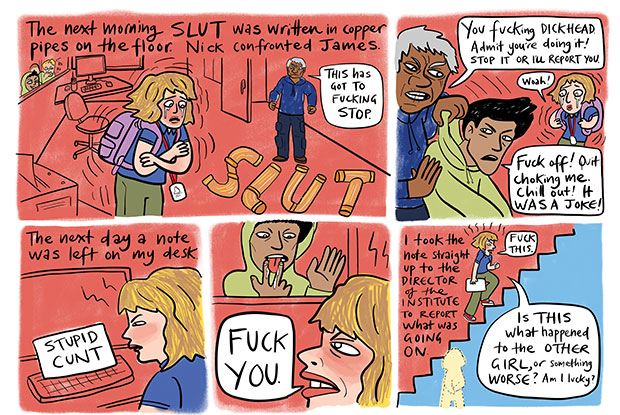 Do you have any advice for other comics artists out there? RA: I'm still a comics baby myself but keep going and push yourself to improve all the time. Be critical but also kind to yourself.
SF: Just keep making. Be brave enough to make crappy work. You might feel like what you are making is not very good for quite a while, or it might get good, and then you go through a patch of making crappy work again. That's OK! And don't get too caught up in trying to follow the same path or style as someone else. It can just take time to find your voice and style.

--------------------------------------------------------------------------------

Drawing Power is out now. Melburnians can also catch Rachel and Sarah discussing the book at Readings Carlton on Friday, September 20th. More details here.