creative business time with... natalie ex
Find out how Melbourne lady Natalie Ex makes life as a graphic designer-slash-illustrator-slash-DJ work for her. Created with Squarespace.
Created in collaboration with Squarespace
Melbourne native Natalie Ex wears a few professional hats: graphic designer, portrait artist, illustrator, tattoo designer and DJ. We chatted with Natalie who told us a bit about what inspires her, how she runs her freelance life, and how she learned to embrace the hashtag.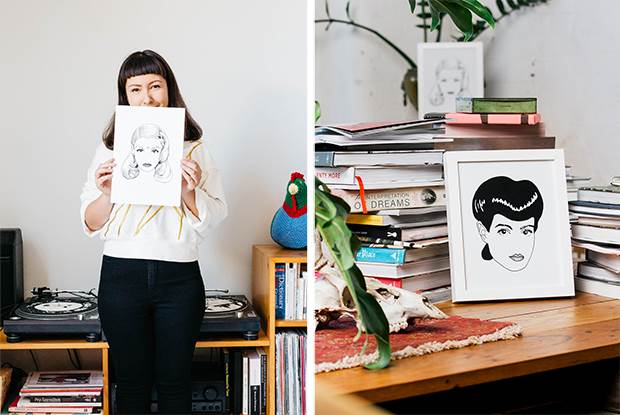 Snaps by Laura Carrick (left) and Melissa Cowan (right)
How would you describe your visual style? Where does it come from? I draw a lot of influence from my dual upbringing. My mum's Japanese, so I grew up watching manga and anime, where the entire aesthetic is built around bold, clean lines. Kind of cute, but not so cute. Thematically, I'm really interested in how we interact with technology and a lot of my art plays with that concept. But by the same token I don't want people to think too deeply when they look at my work. It's meant to be light-hearted and fun. I want people to scroll through their Instagram and see something that will brighten up their day.
What are the best and worst things about forging a freelance creative life? I've been doing my own stuff for 15 years now, but I only went fully freelance a year ago. I love the flexibility and variety of it, but it can be a bit hard if you don't have the motivation. So, I've recently broken up my day to make it feel more structured. The one thing I miss is having a regular pay cheque, but I'd much rather be doing what I do now and feel happy rather than empty. You learn to live humbly, I guess – to be more a bit more careful and not too flippant with your money.
How important is maintaining an active online presence to your career? I think it's super-important. It was hard for me at the start because I'm quite shy. I think a lot of creators are introverted and I certainly hate being the centre of attention. Even taking my Instagram off private and using hashtags was a massive step for me. But I've realised it's just a way to promote myself, meet people and get work, so I've got to be OK with it. These days I even find it quite enjoyable, because I've found this comfortable territory where I feel like I'm being authentic with my art. And it seems to be working: most of the time now I'm flat out doing commissions for people who hit me up on my website.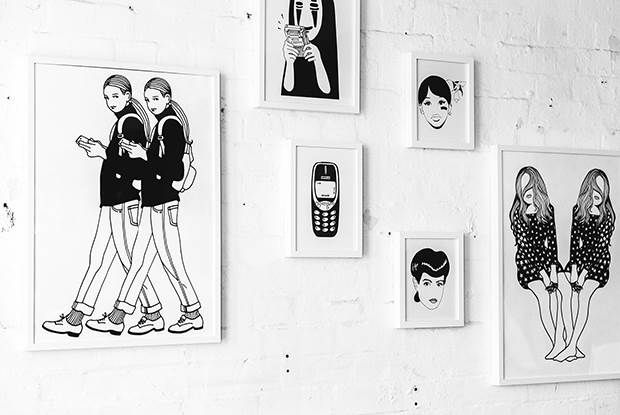 Snap by Melissa Cowan
Did you have any previous web experience before you started using Squarespace? I actually had an online shop back in 2003, in the early days of the Internet. But a friend built that for me, so I didn't know anything about the process. Squarespace was the first time I did it all myself, and it was a lot easier than I ever imagined it to be.
This might sound a bit culty, but in some ways I can credit Squarespace for reviving my career. Two-and-a-half years ago I was at this weird inflection point and I went and had a chat with a friend who works in art. He looked at my stuff and said, "You should just go for it. If you need a website, try this Squarespace thing out." It was actually the biggest motivator making an online gallery, putting up every new drawing and seeing it grow before my eyes. Then, when I left my job I transformed it into an online shop and it literally only took half an hour.
I think having an online gallery is a great opportunity to showcase your art in the way that you want it to be perceived. I can split my work up into all these different silos – custom portraits, graphic and tattoo design, illustration, personal work – and have them arrayed just so. I get photographers to shoot my work in its best light and then have the web design tools available to make it look amazing on the screen. It's been hugely empowering, not only from an artistic perspective, but also a business one.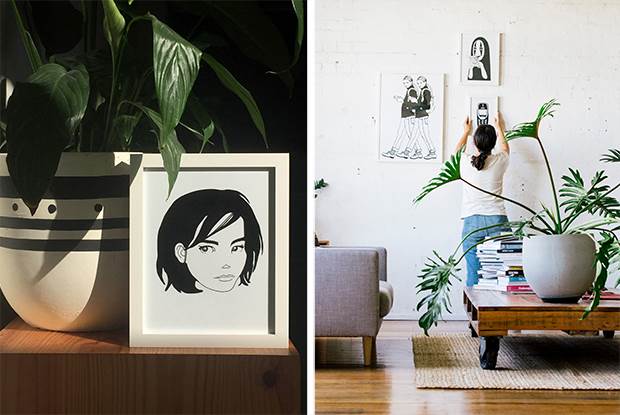 Snap by Melissa Cowan (right)
This excellent bit of inspiration was brought to you by Squarespace.
Want to see more of Natalie's cool stuff? Head here.
Use the code MAKEIT for 10% off your first Squarespace purchase.