comic book ladies to the front
We shine a light on some of the raddest and most badarse comics written and/or illustrated by ladies.
The world of comic books is intimidating if you don't know where to start – even more so when women come up against condescending guys who roll their eyes at the thought of a girl even being interested in comics. Thankfully, there are bucketloads of super-talented women writing and drawing comics these days – and they're not all about superheroes, either. Set aside some space on your bedside table, because you'll be tearing through these in no time.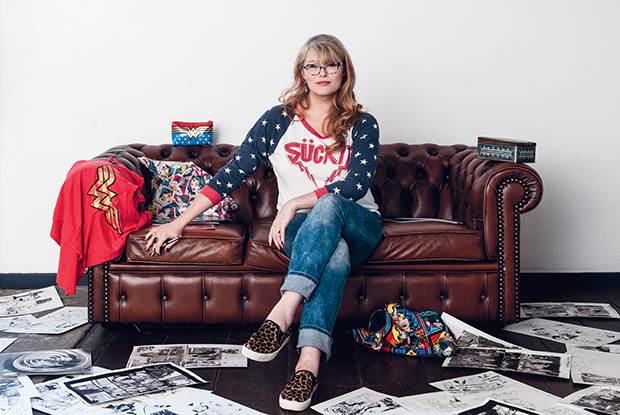 Giant Days
Po-faced Susan, dreamy Daisy and boy-crazy goth Esther couldn't be more different, but when they're thrown together as dorm neighbours at uni, they find out they've got a lot more in common than they think. Giant Days is laugh-out-loud funny, following these three friends' relatable adventures through Tinder dates, breakups, IKEA trips and more. A heartwarming depiction of the joys of female friendship, brought to life by Lissa Treiman's charming illustrations.
Bitch Planet
If you love gritty dystopian fiction, then Bitch Planet is for you. Described as a cross between Orange is the New Black and The Handmaid's Tale, this series follows a group of "non-compliant" women, who are ousted to a different planet – literally – for not conforming to patriarchal expectations here on Earth. As you might expect, things get a little revolutionary. Bitch Planet is intensely confronting and powerful, and will make you feel angry and empowered to change the world. The single issues also include excellent further feminist reading.
Saga
Alana and Marko are a married couple from different planets that have long been at war. They also have a baby daughter, Hazel – and they're on the run from the authorities. Beautifully illustrated by Fiona Staples and written by comics veteran Brian K. Vaughan, Saga has been described as Romeo and Juliet in space – it's a gripping epic that is surprising, hilarious and, despite the otherworldly setting, incredibly human.
Snotgirl
From the creator of Scott Pilgrim vs the World comes Snotgirl, a new comic series about Lottie Person, a fashion blogger who may or may not have committed a murder (even she isn't sure). Leslie Hung's colourful art draws us into Lottie's dreamy, Insta-worthy life, where nothing is as it appears. For anyone who loves internet fashion culture, but doesn't take it too seriously.
World of Wakanda
Bad Feminist author Roxane Gay partners up with poet Yona Harvey for this Black Panther spin-off, telling the backstory of two female lovers in the fictional African country of Wakanda. It's the first Marvel series to be written by two black women, and is unapologetically political and moving. Sadly, the series was cancelled after just five issues, but read back on them – World of Wakanda is an iconic moment in the history of comics.
Lumberjanes
A great one for younger readers (and the young at heart), Lumberjanes follows a group of four pre-teen girls at a weird and wonderful summer camp, with strange creatures and the supernatural appearing at every turn. "Friendship to the max" is their slogan, and it shows – these girls love and support each other through all of their wild adventures and missteps. Lumberjanes is one of the best comic series for representation, with transgender and culturally diverse characters that are anything but tokenistic – and Roxane Gay is working on stories for upcoming issues! Binge read, then hand down to your little sister.
Monstress
Marjorie Liu's acclaimed fantasy series drops us into a fictionalised, matriarchal Asia riddled by war in the early 1900s, where we meet Maika Halfwolf, a survivor of trauma who is trying to piece herself back together, and find out more about her dead mother. Oh, and she has a monster living inside of her. Exploring racism and feminism through a unique, steampunk lens, Monstress is a smart, engrossing and thought-provoking read.
Black Magick
Rowan Black is a detective. She is also a witch. Having tried to balance this duality for years, she is forced to confront who she really is when an investigation blurs the lines between her two lives. This spellbinding series is being adapted for TV, and you may remember our chat with illustrator Nicola Scott in frankie issue 77 (pictured above) – awesome to see an Aussie woman make it big in the world of comics!
Sweet snap by Carine Thevenau.