collaborating with clay – shuxian lee and mi daniëls
This Belgium duo carves modern-day stories into clay.
Shuxian Lee and Mi Daniëls are the creative force behind Belgium-based, small-batch ceramics line 'atelier mĭ'. Together, they make functional and decorative objects, carving modern-day stories into clay. We had a little chinwag with the talented duo to find out more about their process.
Where are you from and how did you get into ceramics? Shuxian Lee: I'm from Singapore, but Mi and I met around two years ago in Belgium, where Mi is from. I first became interested in ceramics when I saw throwing videos on Instagram and decided to try it out as a way to  release the stress of my previous job. I work as a visual merchandiser now and my background is in illustration and filmmaking. I've always liked doing things with my hands but I'd never thought of taking up clay. My life completely changed for the better!
Mi Daniëls: I studied printmaking and loved drawing, but always felt something was missing. I tried out many different paths until in 2004 when I found clay and everything came together. I got my teaching degree in 2012 and now I teach ceramics in three different schools in Belgium and from home.
What made you decide to work together? S: Mi and I met via friends in Singapore and Belgium. I went to Mi for throwing classes and fell in love with ceramics and also with Mi's philosophy about everything. I thought it would be the best thing ever to make things together. I admired Mi's knowledge and skills and felt like there would be so much I could learn from her, not just as a student-mentor but as studio partners.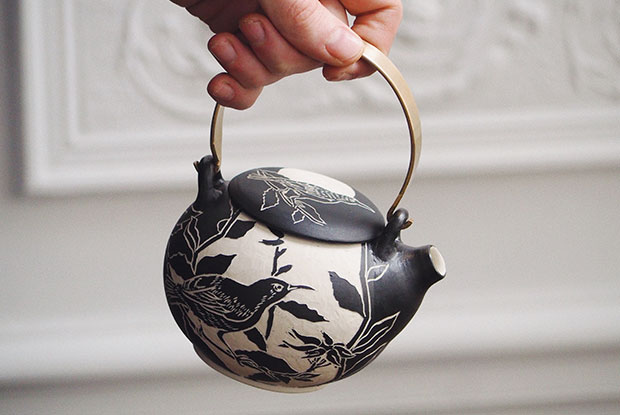 How would you describe your combined style? S: Mi and I are actually very different in our personal approaches to ceramics! I can be bombastic, figurative, and have a penchant for Ancient Greek or mid-century vessels. Mi usually throws or hand-builds our forms and I do the decoration. This combines her strength in making functional, minimal forms with my need for imbuing them with a story!
Tell us about the techniques used in your pieces. M: I choose between wheel-throwing, hand-building with coils or slabs and mould-making, depending on the forms needed or that Shu would like to decorate. I prefer working with a clay that's a mixture of stoneware clay and porcelain because it gives a smooth white surface for Shu to draw on.
S: The decorative carving technique is called 'sgraffito' and is done when the clay is dried to a stage known as 'leather hard'. I apply an underglaze or sometimes coloured slip onto the vessel and then once the underglaze is slightly dry, I sketch directly on it with a pencil. I then carve out the designs by removing certain parts to reveal the 'naked' clay body. I use linocut or wood-carving tools as they are cheaper and easily available at art and craft stores. I also like the look and texture it gives the carving. Once this is done, I might add colours with a tiny paintbrush. After the pieces are carved, we'll dry them out before bisque firing them up to 950°C. We'll then glaze them (mostly on the insides), and fire them again up to 1250°C.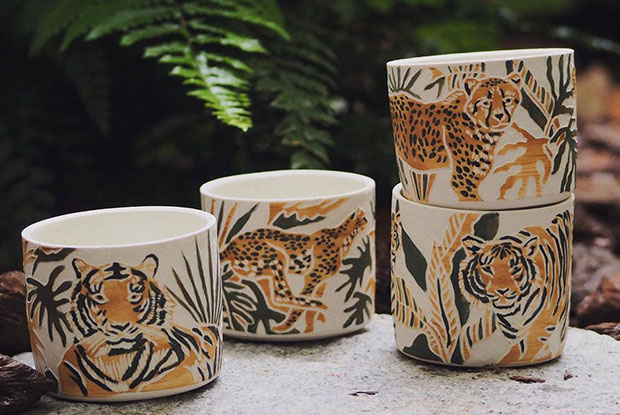 What's your collaborative process like? M: We have a lot of fun. There's a difference between us in age, skills and style, but in the end these differences work together nicely. I love Shu's drawings and she's the one with the business mind!
S: When I'm wailing over hours of work gone to waste because of a kiln-firing disaster, Mi will be there keeping me calm. When Mi gets frustrated about glaze recipes not working out, I'm the one telling her to relax and saying annoying things like "Let's just buy pre-mixed glazes!" I do like to push Mi sometimes...hopefully she's not too annoyed yet!
What inspires the surface patterns on your pieces? S: My idea is to make pieces that have a strong narrative or contemporary scenes – just like in antiquity, where stories of daily life or myths are portrayed on the vase. I like to do the same, depicting mundane things around me. I'm also really inspired by Peranakan tableware, Art Nouveau, and Pochoir illustrations.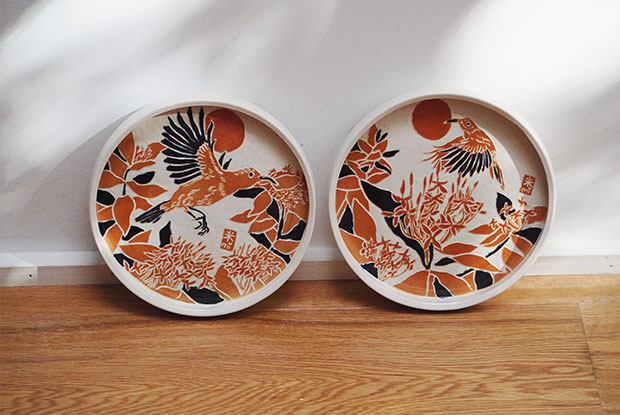 How important do you think handcrafted objects are in the present day? M: It's all about the joy of making. We use the term handmade when writing about our work, but every object around us has a crafty human behind it. Why do we need to pigeonhole things? Handmade, machine-made, 3D printed – how it happens doesn't really matter because it's us humans coming up with the ideas. It's our joy of making and inventing that is key.
How has making ceramics impacted your lives? M: The moment I touched clay, I knew I couldn't let go. I dreamt about making. I was no longer looking for a purpose in life – it had found me. And yes, it has taken over my life and my house.
S: I never thought clay could teach me so much about living. I was at a very low point emotionally and mentally and if not for clay, I wouldn't be as stable as I am today. Working with clay offers me peace of mind and a sense of euphoria (when there are firing successes) that I never had with exercise, meditation, food, therapy or even other art forms.