books to read when you're pissed off at the world
Finding constructive ways to soothe your anger is important for your mental health, and nothing soothes like a damn good book.
The world's a pretty nasty place sometimes. In the current climate, it can feel like everything is terrible all the time, and that nothing in the world is just. I'm being dramatic, but I'm also not far off. Finding constructive ways to soothe that anger and worry is important to your mental health, and we all know that not much soothes like a damn good book. But what could help when you're just so, so pissed off?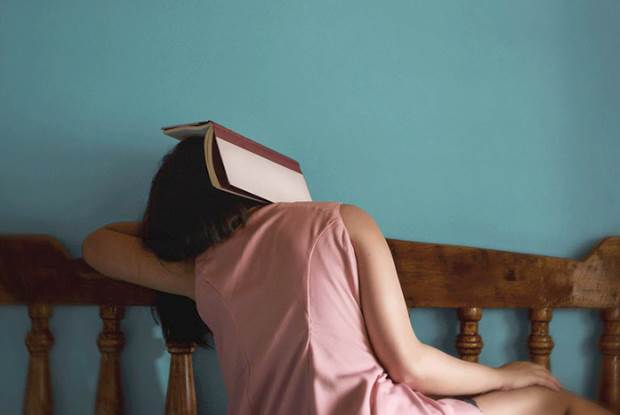 Zeitoun, Dave Eggers
Zeitoun is not going to calm you down. Sometimes you're angry and you need a place to put that anger – like a punching bag, or screaming into a pillow, or reading about how bad America can be. Zeitoun is the non-fiction story of a Syrian-American man who rode out Hurricane Katrina in New Orleans, stayed to help rescue people – paddling about in a canoe – and yet was still arrested by police on suspicion of terrorism and denied medical attention for 22 days. Yeah. I'm really mad about it, too.
Here, Richard McGuire
Let's bring it back down a notch, shall we? I remember the Huffington Post recommending Here by Richard McGuire as a book to read to "calm down", and they were pretty bang-on. A sparse graphic novel, there's something meditative about slowly moving through the pages and finding small details. It might bring you out of yourself long enough to slow down and think clearly about what it is that's really pissing you off.
The Hunger Games series, Suzanne Collins
Bear with me here! Please! Give me a second! I know they came out years ago; I know Jennifer Lawrence is in the movies now and maybe the movies were only OK; I know these are young adult novels. But who is more pissed off than teens? Katniss Everdeen is a moody, pissed off gal who does the right thing in a very wrong world. It's got a lot of ass-kicking, and standing up to baddies, and the triumphing of good over evil weirdos. Plus, being YA, it's a page-turner, with cliff-hanger chapter endings that keep you reading for hours on end, distracting you from the seemingly insurmountable obstacles of our own little version of Panem.
We Should All Be Feminists, Chimamanda Ngoze Adiche
If distraction isn't what you're after, and activism is high on your list, pick up a copy of Chimamanda Ngoze Adiche's We Should All Be Feminists. It's a tiny, quick read that is actually a transcription of her Ted talk on feminism, famously sampled in Beyoncé's "Flawless". Inspiring and motivating, it might help transform your pissed off dirt-kicking into righteous, let's-get-shit-done power-anger.
If This Isn't Nice, What Is?, Kurt Vonnegut
Instead of wallowing, dose yourself up with some positivity. Kurt Vonnegut did a number of graduation speeches in his time, and If This Isn't Nice, What Is? is a little collection of them. Full of advice and looking to the future – as you should when graduating – it's got some real pearlers for angry folk, such as this memory of his Uncle Alex: "One of the things he found objectionable about human beings was that they so rarely noticed it when times were sweet. We could be drinking lemonade in the shade of an apple tree in the summertime, and Uncle Alex would interrupt the conversation to say, 'If this isn't nice, what is?' So I hope that you will do the same for the rest of your lives. When things are going sweetly and peacefully, please pause a moment, and then say out loud, 'If this isn't nice, what is?'"
Pretty pic by Katrina Y.