books to make you look smart on the train
Make an excellent impression on your fellow commuters by holding these books in your mitts. (They also happen to be damn good reads.)

We've teamed up with the folks at UNiDays to bring you stories about all the stuff you go through when you're studying. Did you know UNiDAYS members can nab a 25 per cent discount on their frankie magazine subscriptions? Well, now you do. Check the bottom of the story for more deets.

While sitting on a peak-hour tram next to the most handsome man I'd seen in weeks, I wondered if I couldn't be making better use of my time than obviously trying to shield my phone's screen so he couldn't see me searching for Taylor Swift's single "Gorgeous". If only I was doing something appealing! If only I was reading a thoroughly intriguing hardcover book – perhaps he would lean over and remark how much he loved that book, too! And oh, the things he learned!
Or, you know, maybe you actually want to learn something on the commute. Good for you. Here's a list for both types of readers.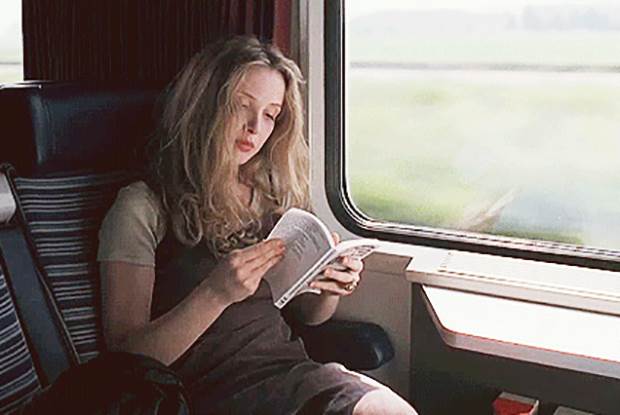 Sapiens: A Brief History of Humankind, Dr Yuval Noah Harari
When polling my Twitter pals on which books they felt had made them smarter, so I too could get smarter, they resoundingly agreed that this book did the trick. You get a book with a Latin word on the front, authored by a 'Dr' – and BAM, you're looking like a genius. The content is great, too: an account of human history based on mostly biology and natural science. It's heavy science stuff, but engaging and interesting and certainly full of things to learn.
The Consolations of Philosophy, Alain de Botton
The thinking man's self-help guru Alain de Botton is the big brains behind The School of Life, a little school for grown-ups who want to learn about all kinds of things, from how to develop self-knowledge to how to fail. If you don't have the time to sit through one of their courses, you could pick up a copy of this book for your commute. The Consolations of Philosophy covers six great philosophers you're going to want to learn about – and teaches you how and why they're still relevant. You're going to look – and be – so wise.
War and Peace, Leo Tolstoy
Two words: Russian Literature. You're smarter already! You've heard of this book, but how many people do you know who have actually read it? Be the first of your friends to namedrop Tolstoy and sound like the genius you are deep down. The novel covers the history of the French invasion of Russia, and what that meant for the country. It does this through telling us about the lives of a couple of fancy Russian aristocrats and their families. I'll be straight with you: it's long and it was published in 1869. But even if you don't get through it, you'll look smart just trying.
The Last Lecture, Randy Pausch
Randy Pausch was a professor of computer science, human-computer interaction and design, who passed away from pancreatic cancer in 2008. Randy knew he was going to die – his terminal diagnosis was the impetus behind the lecture this book's title speaks of. He delivered the lecture in 2007; it was titled "Really Achieving Your Childhood Dreams" and it went a little viral. You can watch the lecture here, or you can grab this stunning book. It includes all the things he wants his kids to know after the cancer takes his life – and includes stories from his own childhood, too. An inspiring read that will help you learn, and make you look like you're doing extra-curricular uni work on the train.
Love in the Time of Cholera, Gabriel García Márquez
My dad picked this up in a bookstore the other day and exclaimed, "Well gee, this one sounds like a blast." And therein lies the key to looking smart: looking like you're doing something not that fun, because you're serious and dedicated. Namedropped by culture snob Rob Gordan in 2000s flick (and book!) High Fidelity, this novel was first published back in 1985 – and only published in Spanish. It's author Gabriel García Márquez is a NOBEL PRIZE WINNER. That's smart, right?


Thanks to the kind types at UNiDAYS, uni students can nab 25 per cent off their frankie subscriptions. Just click here, then register or log in using your UNiDAYS member details. Easy as!