books about bodies
A few ripper reads about these sacks we walk around in.
On the perennially hot topic of body image, countless self-esteem campaigns have been launched, millions of diets designed, and billions of cheesy self-help books written. But in a world where there seems to be no definitive answer about how we're supposed to feel about these sacks we walk around in, sometimes you just want to hear someone say, "Yeah, I get it, babe!" Books can help us feel less alone in our insecurities, and remind us we're not the only people who struggle with our bods. These titles do it particularly well.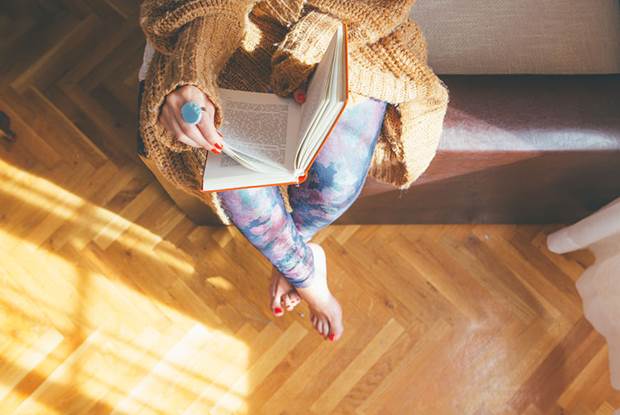 Small Acts of Disappearance, Fiona Wright
Fiona Wright is one of Australia's best writers, and this book is a collection of 10 of her essays that detail her journey with the eating disorder anorexia nervosa. Fiona takes us with her around the world as she battles with her brain and body across the span of her young adult life. Part memoir, part essay, part travel writing, Small Acts of Disappearance renders a pretty heavy subject into something beautiful.
Hunger, Roxane Gay
If Fiona Wright is one of Australia's best essayists, Roxane Gay is one of the America's. A sort-of follow up to the wildly popular Bad Feminist, Hunger looks at Gay's relationship to her body and weight, from her traumatic childhood, to her desire to be desired in adulthood. Something very admirable about Hunger is that it doesn't dictate what body image should be like – it just is what it is, a laying bare of Gay's thoughts about herself and her body's place in the world.
Her Body and Other Parties, Carmen Maria Machado
Carmen Maria Machado was recently in Australia for the Sydney Writers' Festival, and everywhere she went Twitter lit up with rave reviews for her and her writing. While Her Body is not strictly about 'body image', it's a savage read that looks at how women's bodies are battlefields, from SVU horror stories to vessels of life and violence during childbirth. Again, while not a book of essays about bodies in the way Small Acts is, rather through some A-grade storytelling, Carmen gets you thinking about the violent ways we look at women's bodies. An illuminating read for fellas, too.
The Beauty Myth, Naomi Wolf
Sorry to throw in a seminal, heavy text – but hey, sometimes you gotta put in some mental work to change the way you think. Of this '90s book, Gloria Steinem herself said, "The Beauty Myth is a smart, angry, insightful book, and a clarion call to freedom. Every woman should read it." we reckon men should cop a read of it too, as it illuminates the way in which we value womens bodies and appearance above all else. While it might be a bit dated in places, it's worth the read at least to see how feminism and body image has evolved in the past 30 years.
Dietland, Sarai Walker
If Naomi's is a bit too heavy for you, Dietland might be the perfect antidote. Alice Sebold, author of The Lovely Bones described it as "SCUM Manifesto set to a pop music beat", which is something we could all use a bit of right now. Sarai Walker was inspired to write her bestseller after watching – you'll never guess – Fight Club. Dietland follows a ghostwriter who's scheduled for weight loss surgery while getting recruited for an underground feminist gang. Wild. Adventure with a message, this one is a fun read.