artist interview – tara deacon
"I always had this crazy idea that I had to draw things realistically and perfectly. Once I let go, my work really blossomed."
You don't need to create art any particular way. In fact, if you force yourself to create work according to a certain idea, you may very well feel stymied and restricted in your process. It was like this for South African artist Tara Deacon, who nowadays whips up stunningly colourful illustrations from her adopted home of Berlin – well, when she isn't putting together emotion-inducing zines. Read on to find out more about Tara's world.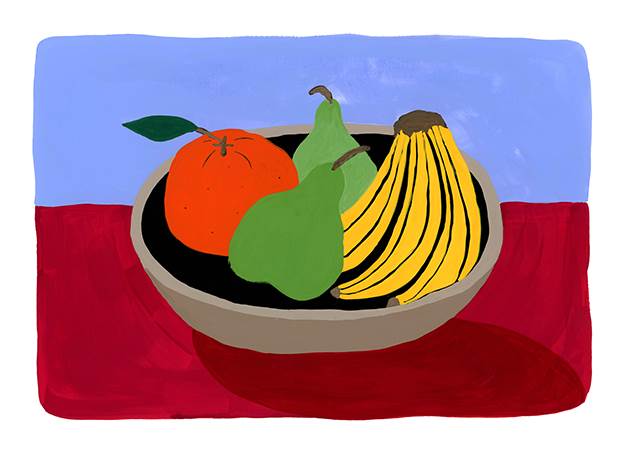 Where were you born and where do you live now? I'm originally from Pretoria, South Africa, but have been living and working in Berlin for the past four years.
How does where you live affect your art? I think living in Berlin has given me a deeper yearning for the bright colours and vibrancy of my homeland. Living in Berlin does, however, continuously inspires me when it comes to observing people in public spaces, cafes and parks and the relaxed pace of this city I now call home.
Please describe the space where you do most of your creation – whether it's your art studio or kitchen bench! I have a studio in Neukölln, which is a very artsy and creative neighbourhood full of artists and quaint cafes. I also sometimes work from home, which I also really love because I'm surrounded by my plants and vinyl that my boyfriend plays.
What kind of mediums do you use? I work almost entirely in gouache, and sometimes crayons. Gouache is the medium I experimented with a lot when I was much younger, and when I started Illustrating, it was what I gravitated towards the most. The alluring silkiness and matte finish as well as the nostalgia was all so curious to me.
Is there a running theme to the work you create, or do you just make whatever comes to mind? A lot of my personal work has recurring themes of memory, place and daily life reflections. Colour is also a very big influence. Sometimes the starting point for a painting or illustration is guided by whatever colours are left over on my paint palettes.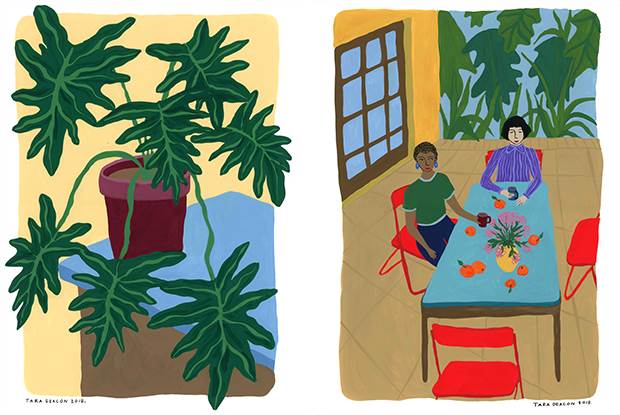 What makes your work unique and truly your own? I think the colours I use and how they work with one another in a composition, as well as the oddly proportioned people or objects I draw and paint. I always had this crazy idea that I had to draw things realistically and perfectly and forced this on my creative process when I was much younger. It just never felt comfortable, and once I let go and drew the naive things I wanted to, my work really blossomed.
Tell us a little about your creative process. My sketchbooks are usually where a lot of my ideas come from. I am never without it and always draw quick little drawings while at cafes, commuting or on my travels. I also write little notes and thoughts that I sometimes refer back to when I want to create a personal piece. I keep magazine cuttings, postcards, photos and dried plants and flowers that I tape on the wall in front of where I work; that often influences drawings or paintings at a later stage.
What kinds of ideas and things are you working on at the moment? I'm currently working on a series of paintings, drawings and collages for my upcoming solo show at Do Design in Madrid. My sketchbook is also bursting with several ideas for another zine that I would love to publish near the end of the year. My first zine, Overthinking things, resonated with so many people that I really wanted to create another one based on a similar theme.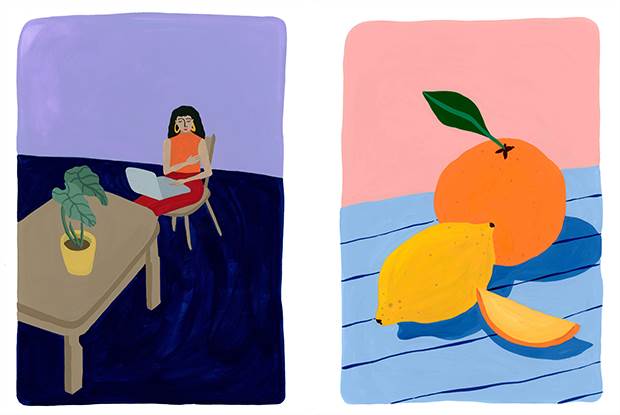 What do you wish you knew about being an artist before you got started? I think I wouldn't want to know anymore than I did at the time of becoming an Illustrator. The path was unexpected and exciting, despite the struggles and disappointments that came with it.
What is the strangest thing or thought that has inspired a piece of work? Oh, thousands of things – usually thoughts like, I wonder what this messy crayon line will look like next to paint swatch. I also experimented with red wine and coffee in a few of my earlier illustrative works (where some sneaky sips were definitely taken).
What do you doodle when you are daydreaming? Plants that I would love to have in my apartment (but don't have anymore space for) and little ceramics objects I'd like to create.
What other budding artists do you love? Alexia Vogel, a South African artist and dear friend of mine, whose paintings transport you to dreamy, imagined places. I also really love Emma Gale's paintings. Every time I look at her work it's just as refreshing as the first time I saw it.
What do you enjoy doing when not creating art? Swimming in the lakes around Berlin in the summer is one of my favourite things to do. I also enjoy reading books and magazines, and spending time with my close friends. Travelling is really important to me; it's where a lot of fresh ideas and inspiration comes from.
Where can we see more of your work? You can find me on Instagram or via my website. I also have an online shop, where some of my prints are available for purchase.