artist interview – susie purvis
We had a good old-fashioned chinwag with Edinburgh-based illustrator of dames Susie Purvis.
There's quite simply nothing Edinburgh-based illustrator Susie Purvis enjoys drawing more than dames. (And some other fun stuff, like sushi and undies.) We asked her how her pretty pieces of art come together, and how she developed her rather charming style.
Where were you born and where do you live now? I was born in Edinburgh and I'm back here working now. I studied in Manchester and I've just got back from living in Australia for a year – specifically Melbourne, which I absolutely loved and really miss.
Please describe the space where you do most of your creation – whether it's your art studio or kitchen bench! I just moved into a new studio after years of taking over the dining table. It feels great to have somewhere to call my own and definitely allows me to focus more! I also love being in a space with other creatives, as the freelance life can be a lonely one.
What kind of mediums do you use? I tend to sketch my illustrations and follow that with my favourite thick black brush pen. I owe a lot to that pen; I think it really makes a big difference to how my work looks! I usually add colour using Photoshop, but I do love to paint in gouache as well. Drawing with a brush makes such a difference to the way I draw because I think it really loosens my style.
Is there a running theme to the work you create, or do you just make whatever comes to mind? I think femininity would be a big theme; most of my work includes drawings of ladies. I love drawing women. There are so many fun bits to draw: hair, jewellery, their shapes and features. I like to draw women of all shapes, sizes and colour, so I would hope my work also projects themes of diversity, equality and inclusion.
Tell us a little about your creative process. I start every project with visual research to help me get an idea for colour and composition. This can be anything from flicking through art books to scrolling through my Pinterest feed. I'll usually sketch a piece out a couple of times before I get it right, then go over it in pen and scan it in. Then it's just a matter of arranging the images and deciding on colours. Colour schemes often take up a lot of my time and brainpower!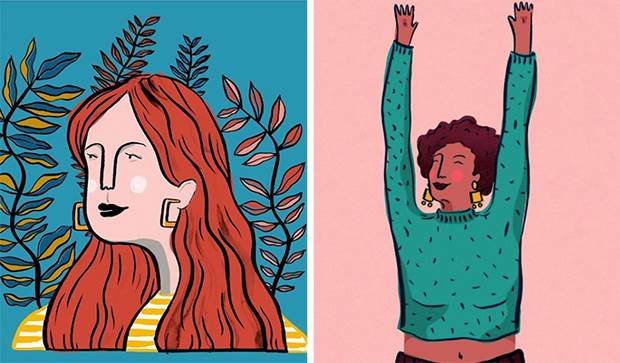 What kinds of ideas and things are you working on at the moment? I'm currently working on some fun sticker-like images for a friend's beauty brand and a couple of submissions for Scottish art projects. I try to split my day up between different commissions and personal projects; I think it helps to keep me motivated and excited about what I'm drawing. When it comes to personal work my inspiration comes from everywhere, whether it's what I fancy for lunch or stories I see in the news.
How has your style changed over time? I think the way I draw completely changed at art school. When I first started my degree I used to draw everything photo-realistically, as this was what we were always taught at school. It took a long time to shake that off and start to draw things in "my own way". Uni also taught me the importance of looking at the work of other artists to help you develop.
What do you wish you knew about being an artist before you got started? That you also need to be a business person! I wish there was a compulsory business unit included in all art degrees. When you graduate you're suddenly chucked out into the real world and expected to know how to complete tax returns, negotiate with clients and promote yourself – all things that definitely don't come naturally to me!
What is the strangest thing or thought that has inspired a piece of work? After graduating a group of friends and I organised a small exhibition on the theme of limbo, that feeling when you leave university and you're like, What now? It's a bit of a weird time, you're not really sure what you're supposed to be doing with yourself, so we decided to do the exhibition to give us something to work towards.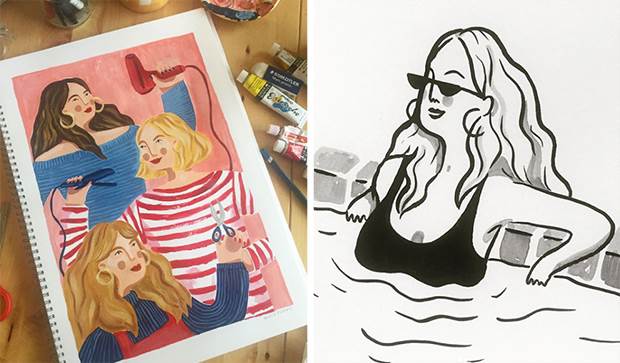 Which other budding artists do you love? Oh, there are so many. I tend to mainly look at illustrators. I really admire Ping Zhu, Abbey Lossing and Quentin Monge. They are all so brilliant with colour and each has a really recognisable style.
What do you enjoy doing when not creating art? I love films, food and spending time with friends. I've also recently been learning to make ceramics, which is so much fun. I really enjoy learning new practices and adding skills to my design arsenal.
Where can we see more of your work? Please feel free to visit me online at susiepurvis.com and follow me on Instagram.