artist interview – mercedes cardenas
We chat to the Chicago artist about her series Growing up Mexican-American.
Frustrated and dismayed by her country's continuing anti-immigration policies, Chicago-based artist Mercedes Cardenas began a series of oil paintings celebrating her Mexican-American identity. Featuring friends and family in their home, the highly detailed works take up to 50 hours to complete. We asked Mercedes a few questions about her touching project.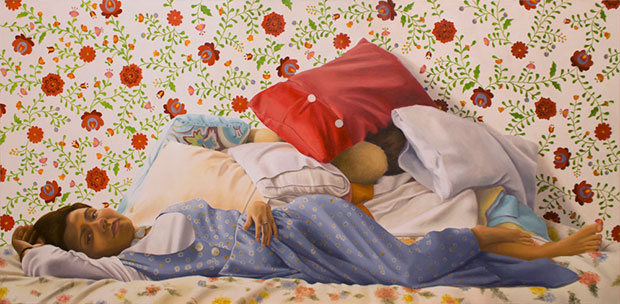 Where did you grow up? I was born and raised in Chicago, and still live here. I love Chicago but hopefully I can explore different cities in the future.
Who are the people in your series Growing up Mexican American? In the beginning, it was my family and myself, but now I'm trying to reach out to more people from around my neighborhood.
What made you want to paint this series? With what's going on politically [in the U.S.], this is the only way I know how to use my voice. I want to show the pride of Mexican-American people and that we all have a similar American experience.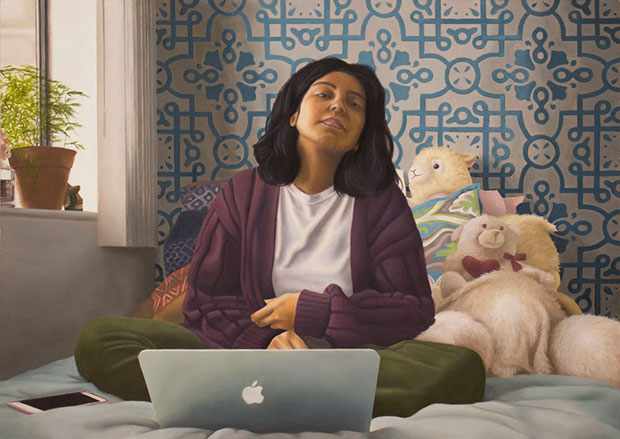 How did your heritage influence your paintings? I grew up questioning who I was – was I Mexican or American? People around me were never satisfied that I was neither fully one or the other. Now I know that I can be both and be proud. My paintings are only of people who are Mexican-American, who grew up to call the U.S. home but are still proud of their roots.

What was the process of painting these portraits like? I don't have my models sitting for too long. Since all my figures are illuminated by natural lighting I have to take many photos during our shoot. I try to have my subjects convey a strong emotion by getting them to stare at the viewer. Then, I let them choose how to pose with just a few adjustments to the placing of their hands and feet.
It can be difficult to paint with photos because they only capture so much of the shadows and color of real life. As for the pattern, I take my time deciding which fits best with the figure. Even after I have decided, I still have to choose the colour, how big it should be, and how detailed I want it. It then takes me about 40-50 hours to do each painting. Overall, it's a very long process but for me, it's actually easy and fun since I'm very detail oriented.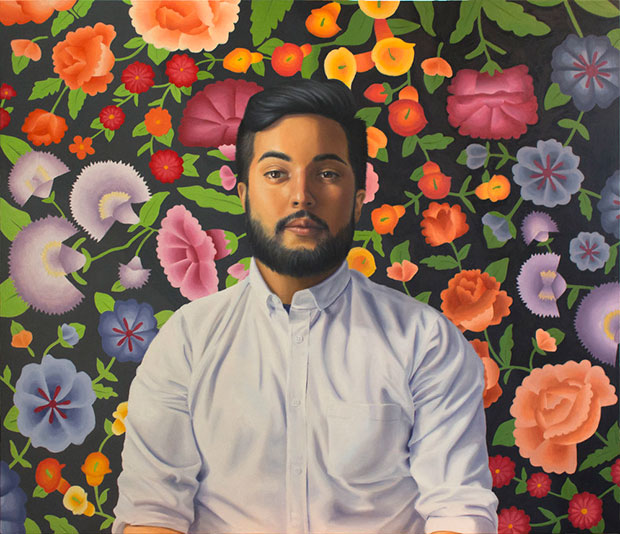 Can you tell us a bit about these patterns in the background? When Spanish monks came to Mexico during the 16th century, they shared new pottery and ceramic techniques like tin-glazing and soon Mexican Talavera was born. The patterns are found all over Mexico. Some of the ones I use are from fabric and others from Talavera tiles, which are used in many ways in Mexico but are commonly found in homes. They have a long history, and I use them to show pride through my pieces.
Can you tell us about your art journey so far? For as long as I can remember, I have loved drawing. I remember getting into trouble during high school for drawing rather than paying attention to classes. I actually didn't fall in love with oil painting until halfway through college but I haven't stopped painting since then.
What's your favourite non-art related thing to do? Reading! I love fiction, non-fiction, art history, and science. I'm the person my friends go to for book recommendations. I also love outdoor activities like biking, running, and rollerblading.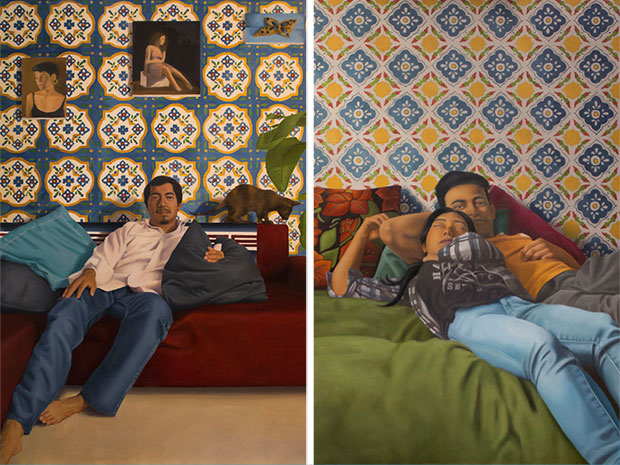 Has your style changed much over time? I don't know about the style of my painting changing, but I do believe my skills have gotten better over time. The subject of what I paint has also changed. I thought painting still life was what I wanted to do because painting people frightened me. But once I got the idea for my latest series, I finally knew that this is what I should paint. Painting people is really fun!
Any words of wisdom for young artists still finding their style? Just do what you love! Start by putting your brush on a canvas and see where it takes you. I used to be jealous of other painters and their styles. Some had obvious brushstrokes, a whimsical feel, or unique way of using colour. But when we talked about it, I found out that they were jealous of how I painted, too! It's true that you always want what you can't have. In the end, I learned to love how I paint and accepted my own unique style.
What are you working on at the moment? I'm thinking of what to do differently in my next painting for my Growing up Mexican-American series. I'm also working on the '100 heads challenge' and getting ready to go back to school. This autumn, I'm going back to get my MFA so I can teach.
Where can we see more of your work? My Instagram and website.