artist interview – manuja waldia
"Just the act of making is valuable. What's more important is to figure out who you are and being a nice person."
There's isn't an exact formula for creating art – for Manuja Waldia, it's about following the same instincts she did as a kid when she first began drawing. If creating sparks some kind of joy, then she knows she's on the right track. Based in Portland, Manuja is a designer by day and pursues her own projects at night, combining her love of film, fashion and the occult into beautifully textured works. Read on to find out exactly what makes the talented lass tick.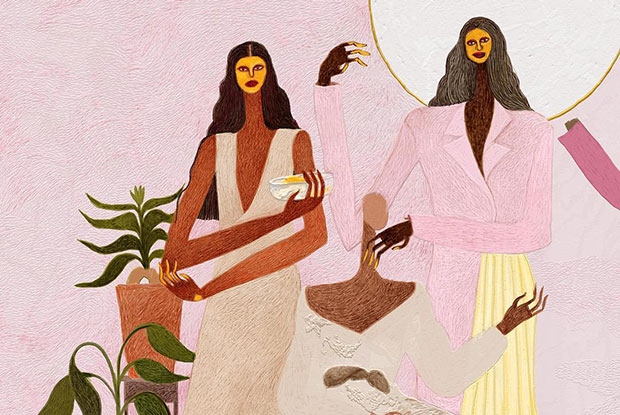 How did you head down the path of being an artist? I was always an artsy kid. I wanted to do something that didn't feel like work and art has always felt really instinctual and therapeutic to me.
Tell us about the women congregating in your artworks. In my work, the figures are just existing, which in itself can be such a powerful thing for women of colour who are almost exclusively either mined for trauma, or have to 'prove their worth' to get any space in popular culture. My work, 'Turmeric' was inspired by the plant of the same name. It's something that I use everyday and in little get-togethers that allow us to feel human and decompress from the world.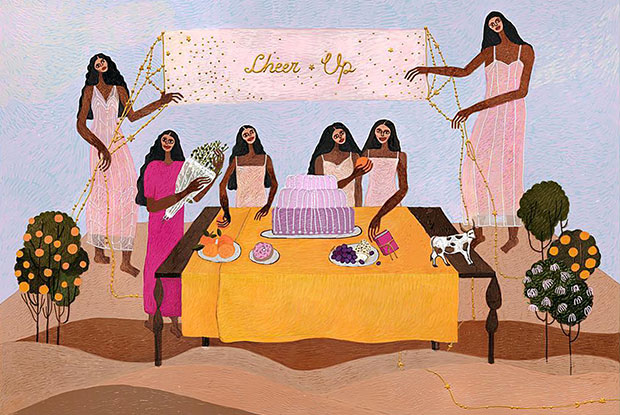 What influences your art and makes you feel inspired? I am drawn to nature and humour. I love observing everyday life – coming across the sticky, awkward, funny and joyful moments that plague us all. Watching movies always inspires me, too. I am really drawn to the feminine as a theme in my work. I try to depict my reality and what I know best so these paintings depict friendship, safe spaces, resilience, humour and humans existing the way they want to.
Tell us a little about your creative process. I don't have a process. While making art now, I want to achieve the spontaneity and joy I used to derive from drawing as a child. I follow my instincts about which medium would work best for a piece and just go for it.
What materials do you use in your art? Pencils, acrylic, oils, clay, crayons and the computer.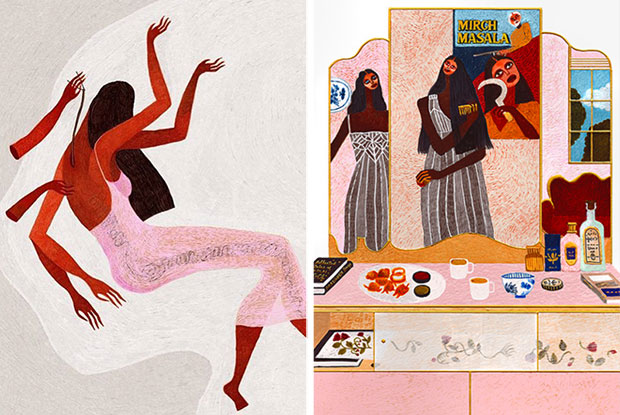 What advice would you give to young aspiring artists and illustrators out there? Give yourself time. Just the act of making is valuable, and you don't need external validation to prove your worth as an artist. Work on improving your craft, but what's more important is figuring out who you are and being a nice person. These things will enrich your art in ways that toxic productivity and networking can never. Art is a gift – let it bring you freedom and joy.
What are you working on at the moment? I am developing a little capsule collection of clothes with a friend and working on more drawings.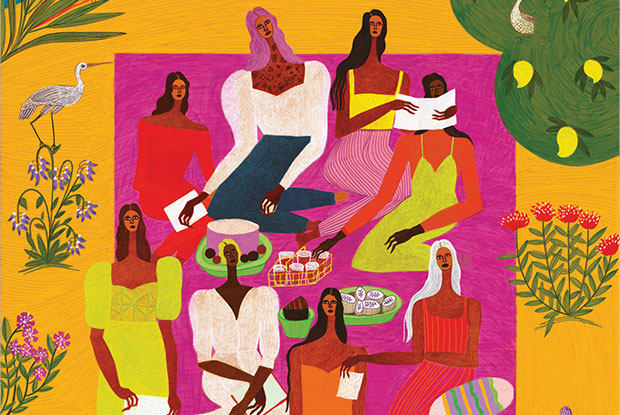 What do you enjoy doing when you're not being creative? I love walking in the woods and heading out to meet friends.
If we were to touch down in Oregon for a vay-cay, where would you take us? Oregon is so beautiful everywhere you go! If I had to pick one, I'd take you to the coast, it's breathtaking!
Where can we see more of your work? On my website and my Instagram @manujawaldia.