artist interview – lucy roleff
"I wish I knew earlier on that it's totally fine and natural to follow your curiosity rather than hassling yourself to do one thing all day, every day."
Lucy Roleff is pretty much the definition of multi-talented. In addition to being an accomplished muso, the Melbourne-based lass is also a painter and illustrator, producing work of the most entrancing (and enchanting) kind. Read on to discover how she developed her style, and why there's nothing wrong with dabbling in a few different things.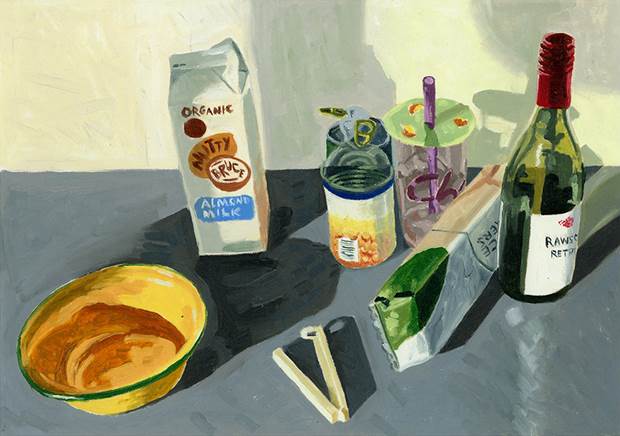 Where were you born and where do you live now? I was born and raised in Ferntree Gully, and now I live in Thornbury, Melbourne.
How does where you live affect your art? I really like living in the area where I am, because I'm very close to everything I need, but there are plenty of trees, parks and quiet streets, as well. I like to have a balance when making art, because I don't like too much noise and distraction, but I also go a bit crazy after lengthy bouts of isolation. The mix allows me to get very focused for periods of time and then duck out to have a coffee 200 metres down the road.
My apartment and the wonderful light it gets is an inspiration for me; one of my first still life paintings was of a bunch of recycling that was sitting on the kitchen bench, beautifully lit by the morning sun. I also really like to walk around the streets of Thornbury for light and colour inspiration – there's always something new to see.
Please describe the space where you do most of your creation – whether it's your art studio or kitchen bench! I used to paint and draw at a long desk under my bedroom window. It looks out at a gum tree and lots of sky. It was ideal for most of the day, until the punishing 3pm sun would come in and scorch everything. Also, painting alone all day in my bedroom and then sleeping in there was making me feel like I was under house arrest, so I sought out a studio/office space. I'm so lucky to have found one just up the road! My space is in an old football-making factory, and I share it with some very talented women who are doing great things. One of the girls has her office in what seems to be the old reception bay, and I think my space might be the old waiting room.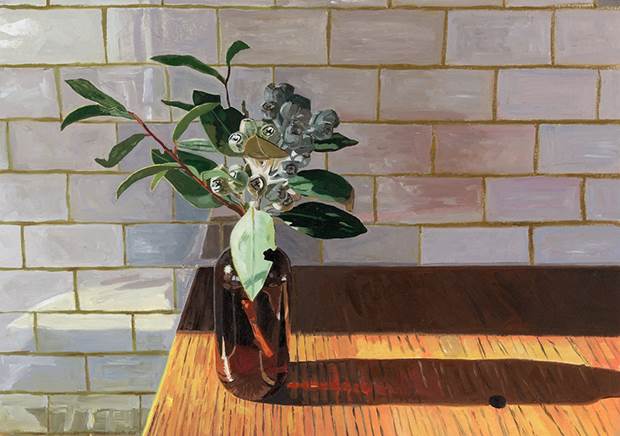 What kind of mediums do you use? In my painting practice, I use straight-up oil paint and a bit of linseed or walnut oil – that's it! I have always had a strong aversion to spirits and the like, so I did a bunch of reading online and learned that you don't necessarily need them. I think that is one factor that scares people off trying oils: the toxicity and ventilation needs… not to mention the mess! Luckily I paint alla prima (wet-on-wet), as I think if I was into glazing that I might have a harder time avoiding thinners. I love the oil paint I use for its butteriness, texture and feel.
Are there any downsides to this medium? Because I've been working as an illustrator for a few years, I have become accustomed to a very clean desk, so oil painting is a good way to shake oneself out of that sterile approach. It can be a bit daunting having to consider the space around you – the floor, walls, desk, your clothes – because you may well stain or ruin them. Then, of course, if you are using toxic materials, you need to consider ventilation, gloves, etc. It really is helpful to have a space that you don't need to pack up every day, because it can be time-consuming to set up and put away all the time. Also, because I don't even use spirits to clean the brushes, it can be a bit tedious soaping and working the paint out of the bristles every day.
Is there a running theme to the work you create, or do you just make whatever comes to mind? At the moment I'm still exploring in an intuitive way, but so far I have been most drawn to still life work. I like to study different objects such as glass, native tree cuttings, brass, plants and ceramics. I have also been working on a few figurative pieces, which I find to be a good challenge. I find skin tones most challenging when it comes to painting. When starting out it's pretty common for people to mix a generic skin tone and whack it straight on, rather than try to mix what they see, and even though I learned this long ago with illustration, I still get sucked in!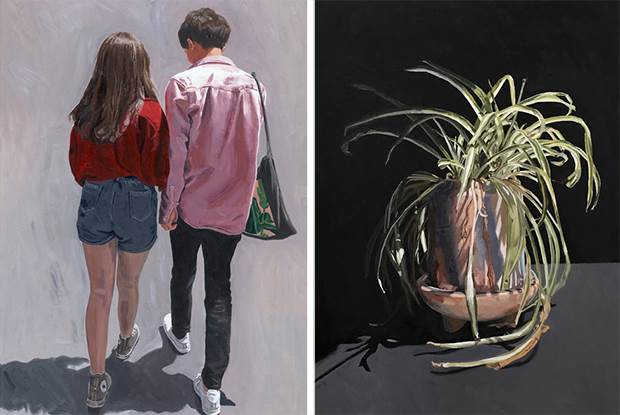 Tell us a little about your creative process. Well, so far it has been somewhat consistent! I'll see a nice patch of light at home perhaps and arrange some objects in the light till I like how they look. I take a photo, which I draw from, sometimes adding or subtracting things. I then mix the basic tones I need from a limited palette. (Keeping a limited palette is a great and cost-effective way to teach yourself how to see and mix colour, rather than buying a million paints.) I try to work dark to light, but don't always stick to the rules. I would really like to try to paint from life more now that I've established a bit of a routine.
What kinds of ideas and things are you working on at the moment? I've just this week returned to painting after a few weeks of freelance deadlines and finishing off a new album in my music life. So, needless to say, I've returned a little rusty. I have a few group exhibitions coming up, so I've been either tidying up pieces I've already made to get ready to show, or thinking about what I can make for one show that has a specific theme. I would really like to get cracking on a body of work exploring more still life scenes.
How has your style changed over time? When I was at uni, I majored in photography, but drew a lot on the side – only ever in grey lead. I mostly drew food and people and was obsessed with hyperrealism. Around five years ago I started using colour and tightening up my style, while embracing a more organic stroke. I actually took painting as an elective when I did my BFA and tried oils, but all I wanted to learn was realism and no one would really listen to my pleas for techniques. Anyway, a couple of years ago, I thought, OK, well I want to do this, so it's up to me to explore, find which style suits me best, and research how to do it. I mostly taught myself and in exploring different styles found that through painting my preferences became quite a bit looser than my illustration style. Where I once used to adore very fine and airbrushed work, these days I'm all about texture, and realism that maintains some sort of abstraction.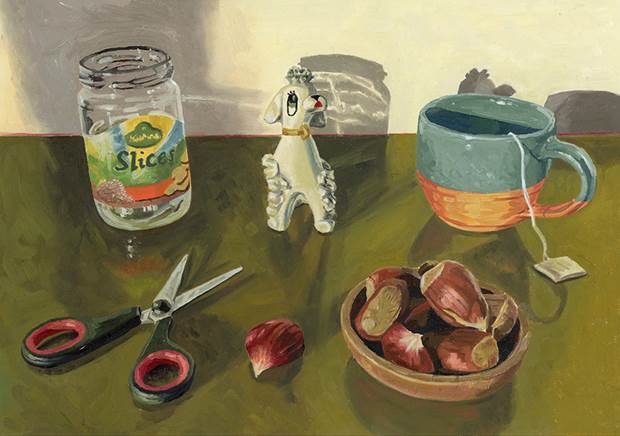 What do you wish you knew about being an artist before you got started? I would have liked to have not been constantly told that I had to specialise early on. Our society likes to train people to specialise in things – although this is thankfully changing in some areas and it's more encouraged to be multi-disciplined. I'm very lucky that my parents encouraged me to explore both music and art growing up, and I am very happy living a life where I can do both. I wish I knew earlier on that it's totally fine and natural to follow your curiosity rather than hassling yourself to do one thing all day, every day. That intuitive approach is what animals do and they do a pretty good job of life!
I also like to tell everyone who will listen that you absolutely can go out there and teach yourself things. Lots of people think that you need to go to art school or spend lots of money on lessons, and while formal learning can be very valuable for different reasons, experimenting and exploring yourself can have wonderful results, too.
What do you doodle when you are daydreaming? Strangely, I've never been much of a doodler! I tend to like to launch straight into work. If I'm on the phone I find myself sometimes drawing flowers, cat faces and little objects around me, like a drink bottle or pair of scissors.
What other budding artists do you love? Oh, there are so many! They're all budding to different degrees (hehe) but I just cannot get enough of the work of Anh Nguyen, Matilda Julian, Ebony Truscott, Anna May Henry, Holly Greenwood, Evie Cahir, Seth Searle and Jesse Dayan (to name a handful.) I'm lucky to call some of these artists friends, so it's really lovely to be growing and developing our work at the same time.
What do you enjoy doing when not creating art? I enjoy writing and recording music, hanging out with my Ragdoll cat Asher, reading, going for walks, having little dinner dates with friends, yoga, making soup, and daydreaming constantly.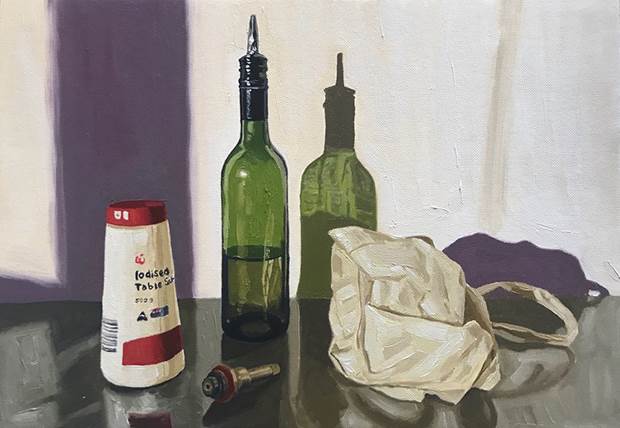 Where can we see more of your work? You can visit my website or visit me on Instagram where I share my work and process.