artist interview – emily eldridge
Barcelona-based artist Emily Eldridge told us a little bit about painting rad-looking ladies on plywood.
Be warned: you may find yourself feeling a wee bit jealous of Emily Eldridge's life after reading our interview with her. The Michigan-born lass lives in Barcelona, where she draws, paints and otherwise creates impressive looking imagery (and downs a few Spanish ales in her spare time). Scroll down to have a squiz at some of her smile-inducing works, and read a little about how she brings them into existence.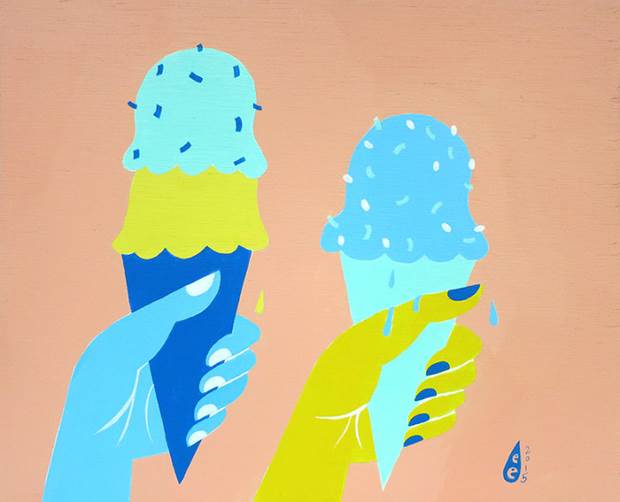 What is your name and how old are you? My name is Emily Eldridge, and I'm 34-years-old.
What kind of mediums do you use? I use a lot of different materials; it really depends on the project. Digital work is fun since it's easy to change things and play around quickly with colors. When I create digitally I use Photoshop or Illustrator, and will sometimes print finished illustrations in risograph. I also love painting and doing artwork by hand. Plywood is fun to paint on, and sometimes I use sandpaper to take away the paint layers and add texture to a piece. Murals are probably my favorite thing to do; I normally use wall paint and big brushes, but in the past few months I've been practicing with spray cans and am trying to improve!
Is there a running theme to the work you create, or do you just make whatever comes to mind? My work usually focuses on two main themes: strong females and exploring weird colors. I love painting girls with a bit of attitude, but also making them a bit quirky and funny. I also try to represent females in a fun and positive way, not over-sexualized as is seen so often in today's media.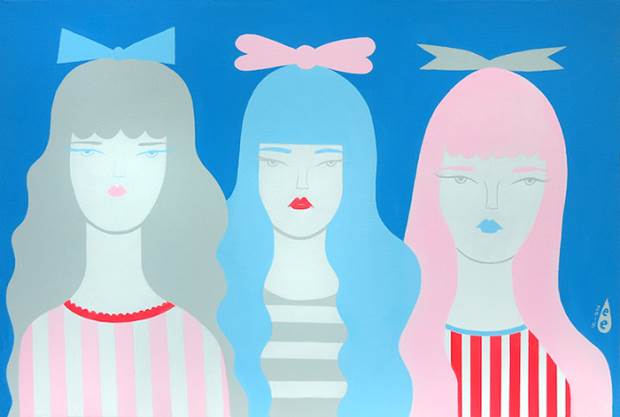 What makes your work unique and truly your own? For sure it's the ladies! I think painting females is pretty fun, and I think it's the easiest way to recognise my work. I also love painting crazy hair, lots of sunglasses, fashion and lots of stripes and patterns.
What kinds of ideas and things are you working on at the moment? I'm making my first comic, which is a lot of fun. It's just a short story, but I hope it leads to similar projects.
What do you wish you knew about being an artist before you got started? That nothing is handed to you. When I was younger, I would look at people who had achieved success in their work and think it appeared to be so easy. I didn't really grasp how much work, effort and time it takes to achieve your goals, improve what you're making, and build a career.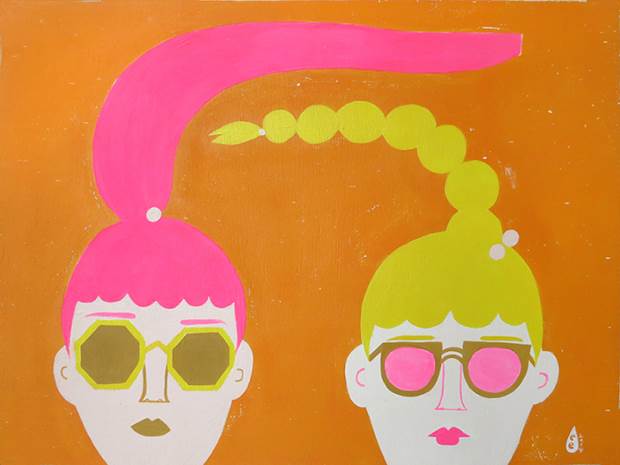 What is the strangest thing or thought that has inspired a piece of work? I'm always inspired by trash. I guess it's the dumpster diver in me that can always find inspiration in cool stuff that gets thrown out, or junk that's been left in the street.
What do you enjoy doing when not creating art? I love a good bike ride! A few weeks ago, my friend and I cycled for three hours to a nearby town in Spain. We got completely lost and ended up having to take a train, but it was super-fun. I also love a few cervezas (i.e. beers) with friends and enjoy practicing my Spanish, which I've been studying for the past few months. Oh, and of course, I can't live without watching re-runs of Seinfeld or my latest favourite series, Broad City.
What would you be doing if you weren't making art? In another life I'd be very happy to be a car mechanic (preferably working with vintage cars) or a handyman!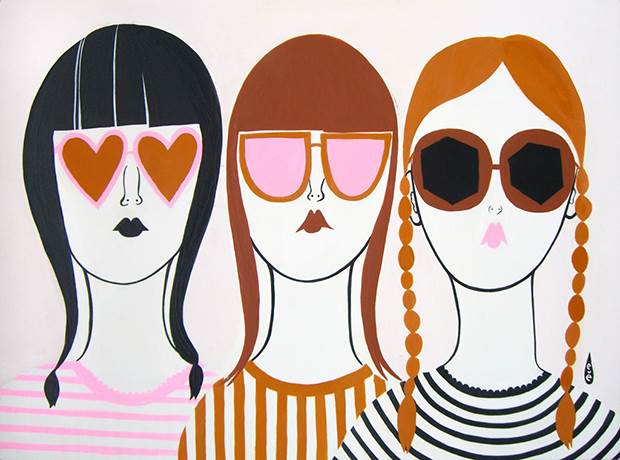 Where can we see more of your work? I have a website, which has some of my bigger projects and older work, but I post my most recent stuff on my Instagram.