artist interview – eleanor hardiman
"Even if you don't feel confident sharing your work, fake confidence and just go for it."
Eleanor Hardiman's artworks aren't bound to the page. Nope, the super-busy, super-creative lady is just as likely to illustrate shop windows in central London as she is a magazine editorial. In this little chinwag, we get to learn a bit about her process, her life in Bristol, and finding inspiration in a gherkin.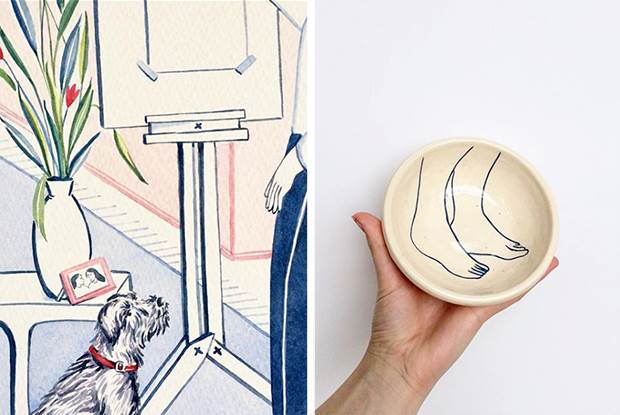 Where were you born and where do you live now? I was born in Oxford in the UK and have just moved to the wonderful city of Bristol.
How does where you live affect your art? I've only just moved to Bristol, and so far I'm loving it. It's had a great influence on my work. I'm still exploring, which is super exciting. There's so much to see. I'm finding great bookshops, galleries, life drawing classes and parks – there are so many new sources for inspiration.
Please describe the space where you do most of your creation – whether it's your art studio or kitchen bench! Moving to a new city meant a new space for me to paint. I used to work in the living room of my tiny old flat and while it was a functional space it was hard to know when to finish the day and I made a habit of working very late. Now I have my own space in the conservatory at the back of my house. It's quiet; the light is beautiful; and I have plenty of room to spread out and work on bigger projects. The sound of rain on the roof is one of my favourite things to listen to, and when the sun comes out I can take a biscuit break in the garden. All I'm missing is a studio dog.
Is there a running theme to the work you create, or do you just make whatever comes to mind? In my commissioned work I could be working on any theme, however with my personal work I tend to create pieces about women, womanhood and femininity. I'm starting to explore other themes in my work and would love to try some psychology or science themes in my work.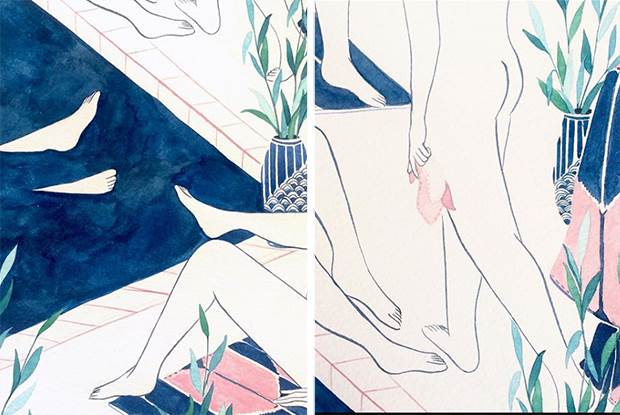 What makes your work unique and truly your own? It's a true reflection of myself and the things I love and feel strongly about. Aesthetically it's a result of my love for minimalist design, Japanese art, calligraphy and botanical illustration. My work is quiet, calm and not fussy, and I think that's a reflection of my personality. I want people to connect with my work and for the concepts and ideas behind my art to be easily read by everyone. Everyone views the world slightly differently, has different influences, experiences, and relationships, and I think that's what makes any artists work unique to them.
Tell us a little about your creative process. Every project starts in my sketchbook, and it's usually through messy thumbnails, sketching and notes. I like to breakdown the brief or concept I'm trying to capture and encapsulate it in a sentence, then I'll sketch from this sentence, rather than the entire article or book. For me it's one of the most exciting parts of the project, seeing all the different ways it could go. I like to spend quite a lot of time on this part. Next I'll neaten up some sketches and maybe even quickly paint a few elements to see how they would look fully rendered. I'll then narrow my sketches to three ideas which I'll draw up and send these to the client. I'll then experiment a bit more, practice elements, try colour schemes and do small test runs until I know exactly what I'm doing for every element of the final artwork. Then it's down to painting, which is usually accompanied by a podcast or two.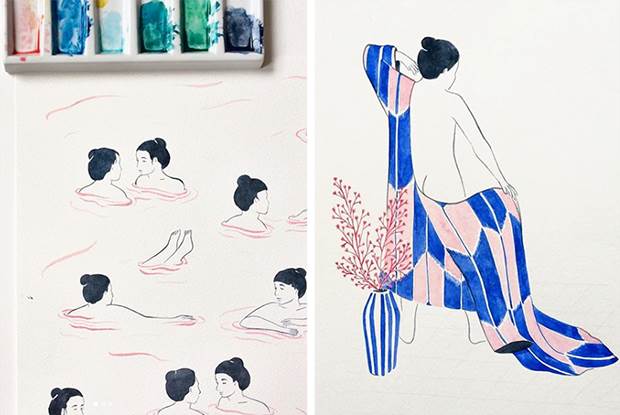 What kinds of ideas and things are you working on at the moment? I've just finished a big project illustrating windows in central London so I'm taking a couple of days to get organised and clean my studio space. Next up is an exciting magazine commission for which I'll get to paint lots of women, plants and maybe even a couple lions – it's the dream! I'm also finishing up my first batch of ceramic pieces, which I'll share over the next few weeks, and hopefully I can squeeze in some personal work featuring inspirational women from different fields. I like to keep busy!
How has your style changed over time? I've had my current style since I was at university, but it's constantly been changing and developing. Over time I think my style has become more minimalistic and involves less editing in Photoshop. Instead I embrace inconsistencies. I used to spend hours removing watercolour texture or editing colours to make them flatter, but over time I've come to appreciate textures and visible brush marks. It shows the hand-painted process and I think adds an interesting edge. Sometimes an illustration brief will mean painting something I've never done before – whether that be a new object, animal or environment – and in turn it'll challenge me and develop my style for the better. I just finished a project in which I had to take inspiration from 1920s Mexico. I got to experiment with new colour palettes, including bright pinks, burnt oranges and rich blues. It pushed me out of my comfort zone, but has helped me open up my style and take more colour risks in the work I'm currently creating. It's exciting to think where my work will go next.
What do you wish you knew about being an artist before you got started? Even if you don't feel confident sharing your work, fake confidence and just go for it. I left university with an illustrative style and a full portfolio but I had no confidence and I think that held me back. I wish I knew the importance of believing in my ability and work and viewing myself as an illustrator. Even if it doesn't happen straight away, be confident in yourself and keep making, experimenting and creating art.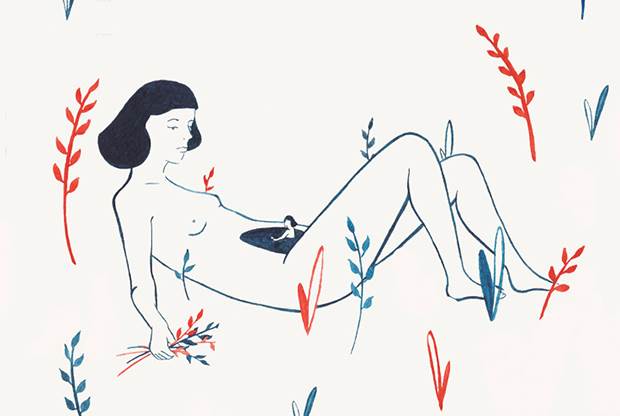 What is the strangest thing or thought that has inspired a piece of work? When I was a student I worked in a restaurant. I remember looking into the food bin and seeing sliced radishes next to something green; I think it was maybe a gherkin. The pink, white and green looked so elegant together, so I ended up using the colour scheme in a poetry commission I was working on at the time.
What do you doodle when you are daydreaming? Oddly, I never doodle! Although I do love colouring in the o's on important letters.
Which other budding artists do you love? So, so many! There's Leah Goren, Kaye Blegvad and Fayolle Marion, Abbey Lossing, and Tallulah Fontaine. There's also plenty of Bristol-based illustrators and makers whose work I really admire, such as Jessica Thorn, Ana Jaks, Amber Griffin and Rosie Duvall. The list is truly endless!
What do you enjoy doing when not creating art? I'm learning ceramics and how to throw pots on the wheel. I love working with clay – its very forgiving. Otherwise, I enjoy listening to true crime podcasts, buying new stationary and making banana bread.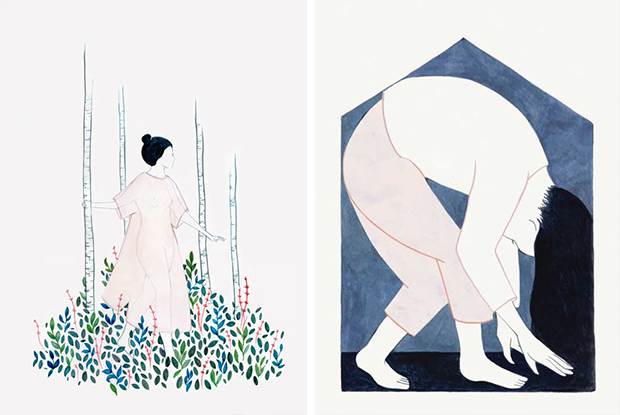 Where can we see more of your work? You can find my work and online shop on my website or follow me on Instagram for sneak peeks, sketchbook pages and ongoing projects.