artist interview - yelena bryksenkova
We had a chat to this lovely Russian-born painter about what inspires her delicate storybook art.
Yelena Bryksenkova paints the prettiest of pictures for a slew of magazines around the world (including us lucky folk at frankie, who've featured her in our annual calendar). We're rather captivated by the Russian-born lady's sweet and delicate style, so we gave her a buzz to find out more about her life and creative process. Have a read of the chinwag below.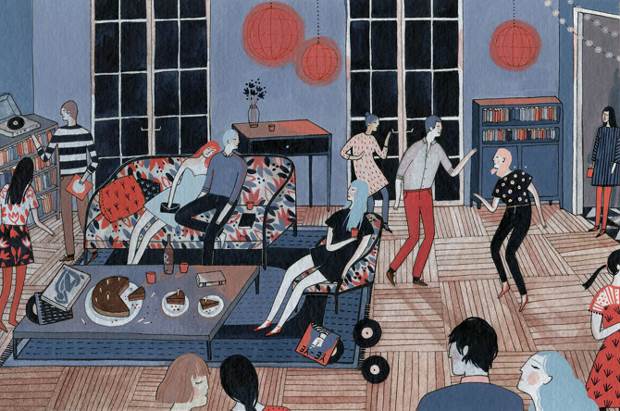 What is your name and how old are you? My name is Yelena Bryksenkova and I am 28 years old.
Where were you born and where do you live now? I was born in Saint Petersburg, Russia (Leningrad, USSR, at the time) and now I live in the city of Buffalo, New York.
How does where you live affect your art? I do a lot of 'street haunting' – walking around surrounding neighbourhoods, especially on breezy evenings, and just taking in the beautiful houses and trees. It fills me with a desire to convey through a painting this beautiful, sometimes wildly happy, sometimes melancholy feeling I get.
What kind of mediums do you use? I started out working exclusively in watercolours and outlined every single thing in pen before adding colour – that was my style. When I discovered acryla gouache I began incorporating it into my paintings, and gradually the watercolours went and so did the pen lines. It's just paint on paint now – that's how my style evolved. The texture is creamy and the colours are so vivid; I would never go back.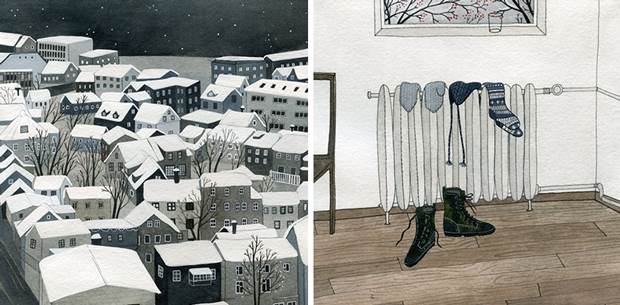 Please describe the space where you do most of your creation – whether it's your art studio or kitchen bench! I have my own studio in my apartment. It's a bright, sunny room with lots of plants, books and art. I paint at a small wooden desk from the '50s, and the rest of my work (scanning, printing and editing) is done around my computer on the opposite side of the room.
Is there a running theme to the work you create, or do you just make whatever comes to mind? There is a recurring theme to my work – usually scenes of domesticity and comfort. I love the variety of subjects that my professional clients bring to me, but for personal work I always go back to the same quiet scenes. Sometimes I get weird. Not often enough, though.
Tell us a little about your creative process. I like to research a new project and prepare by collecting images on Pinterest or flipping through my reference books. Once I have some ideas, I sketch thumbnails to determine composition and then move on to a larger, more detailed sketch. I use a light box to lightly trace the sketch onto watercolor paper and then move on the final painting.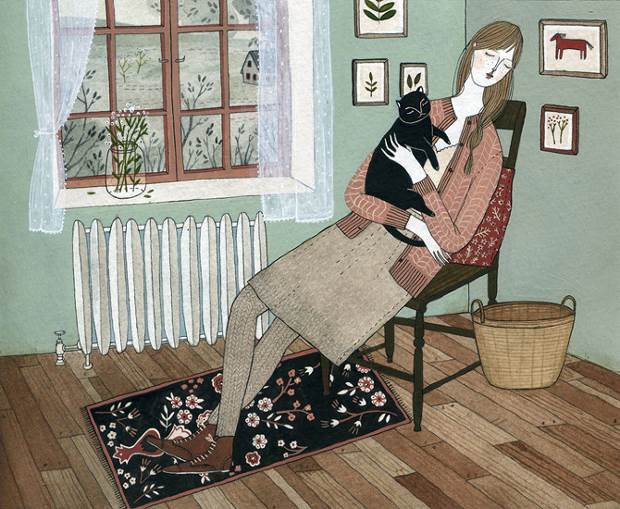 What kinds of ideas and things are you working on at the moment? I'm working on some miniature paintings for a gallery show that I do every year. There's no theme, I'm just painting things that I like: plants, lonely lake houses and still lifes. I don't do personal work often enough, which is too bad because it's in that unrushed, peaceful process that good things happen, allowing my style to evolve.
How has your style changed over time? My gradual change in medium has affected my style more than anything else. Also, whereas my early work always defaulted to mostly blue tones, I've learned to incorporate a broader range of colours and create more interesting combinations by consciously limiting my palettes to just two or three hues.
What do you wish you knew about being an artist before you got started? It's a solitary, entirely self-motivated endeavour. I knew this, of course, but in practice it takes a lot of work to build a well-rounded and fulfilling lifestyle around it. I try to practise good discipline, but I've also learned to overcome guilt when I'm not working. I've learned how important it is to be present when I play, and it makes it that much easier to be present when I work.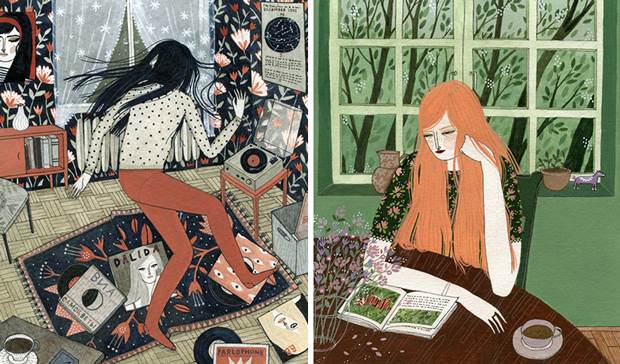 What is the strangest thing or thought that has inspired a piece of work? I keep envisioning this image of a woman that haunts her ex-lover in the form of a sphinx. She just sits on his windowsill while he sleeps. I've been carrying this around for years and can picture the final painting very clearly, I just have yet to commit it to paper.
Which era of art do you appreciate the most? I love Impressionism. French and Russian, especially.
What do you doodle when you are daydreaming? Faces and little creatures.
What do you enjoy doing when not creating art? I love exploring my city, reading, spending time with my boyfriend (we spend a lot of time acquiring new houseplants and talking about the ones we already have), and recently I've been really getting into cooking. I've always dreamed of being the kind of person that cares for plants and enjoys cooking and it's finally happening naturally.
Where can we see more of your work? My portfolio and my blog for a closer look.