artist interview - sandra dieckmann
Sandra Dieckmann's art is best viewed while wearing a spirit hood and howling at the full moon. Maybe in a dark forest. During the winter solstice.
Sandra Dieckmann's art is best viewed while wearing a spirit hood and howling at the full moon. Maybe in a dark forest. During the winter solstice.
The Germany-born artist lives in a dreamlike world of fantastical folk tales, one that you can't help but be drawn into. With delicate detailing and pops of colour, her whimsical, mixed media illustrations feature a zoo-full of characters, and we're just a little smitten.
We asked her to answer a few questions about her surreal sketches.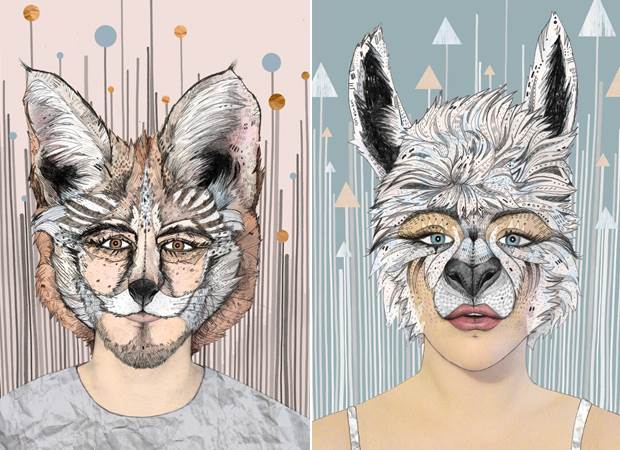 What is your name and how old are you? My name is Sandra Dieckmann and I've just turned 30 years young. I like to call myself Sani Bear Van Wooly Wolf and have considered changing my name at the town hall.

Where were you born and where do you live now? I was born in a tiny Moo-town full of cows, fields and trees in Germany. In a tree house, to be precise. My mother was dangling by one arm when she gave birth and I flopped out and landed on the back of a hawk who brought me home to his nest, where I learned to fly. From there I made my way to Great Britain in 2002. Here I made friends with some pens and a magic black cat called Little Crumb. Since then I have tried to act like a human being. I now work as a freelance artist and illustrator from my studio in East London and spend my time drawing and playing with colours, and building myself a magical nest filled with textures, patterns and animals.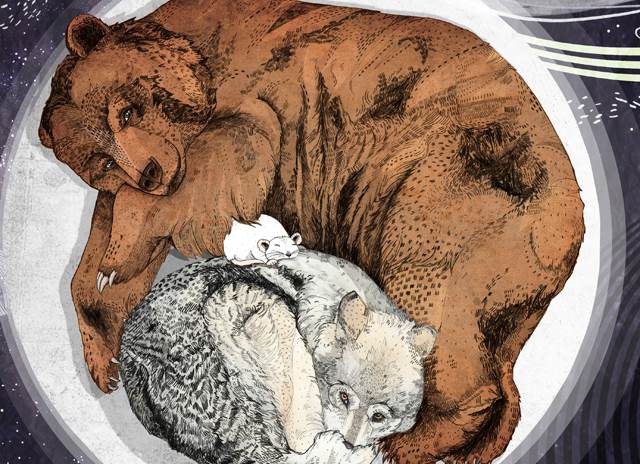 How does where you grew up and where you live now affect your art? My approach to creating images is definitely rooted in my beginnings. My head is full of stories and creatures and conversations, I can't be any other way. Sometimes I think it is the way I was allowed to be free without fear so early on that ignited this dreaminess and the stories I got to know. I explored the woods, spent loads of time reading, drawing and making things, and in the end just never stopped. I also think living in an urban environment helps perpetuate my theme of nature and animals. Maybe my art is my way of finding peace and a way back home through imagery and stories. The longing is my fuel to create, the doing it my therapy.

Please describe the space where you do most of your creation – whether it's your art studio or kitchen bench! I run a studio in East London, just a short bike ride from where I live. It's a nice large studio that I share with my friend and illustrator Laura Hughes. Space is important to me, and feeling comfortable in it too, so I guess I created a work version of my home. There are books and patterns, little trinkets and lots of animal faces, and my chair is huge like a throne with lots of soft cushioning. I even painted a table with chalkboard paint, so we have imaginary crayon dinners on it and we turn the music up and dance around. Relaxing is so important in life!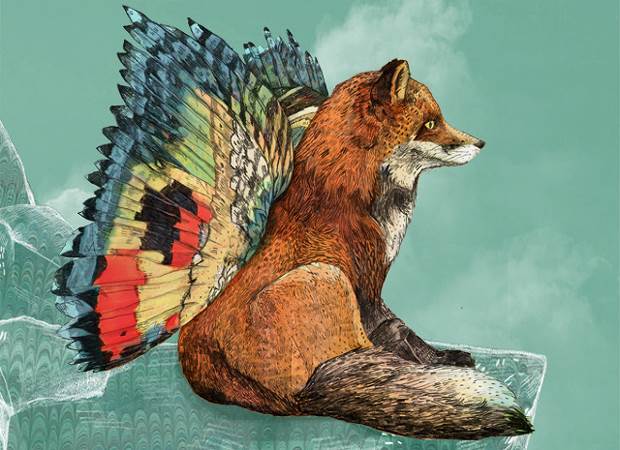 What kind of mediums do you use? Why do you choose to use these mediums? Mechanical pencils, pen and paper always! Sometimes Indian ink or watercolours, but nearly always digital editing in Adobe Photoshop afterwards. I also collect and make a lot of textures to use in my work. I really enjoy digital collage and the flexibility it brings, to be able to playfully experiment until you get your vision just right. Imperfections are charming and making mistakes the most crucial part of learning.

Is there a running theme to the work you create, or do you just make whatever comes to mind? My work mainly revolves around nature, wildlife, dreams, longing and observations, and is inspired by all that touches me personally. Time and space. Nature and music. Friends, Conversations and learning. It changes daily and just hits me like a wave when it comes. When that happens I need to act on it, so you will find me at 4am switching on the light and getting up to note it down.





What kinds of ideas and things are you working on at the moment? I have teamed up with my dad who is a great thinker, poet and writer and we are working on developing a picture book once I get back from speaking at Semi Permanent in Sydney and Auckland. Otherwise I'll just draw whatever needs to escape my mind and keep on keepin on.

If you were to teach an art appreciation class, what kind of lessons would you try to teach your students? Play! Never stop playing. In work as well as art. You can take on all the responsibilities in the world but you don't have to grow up. There is no right or wrong with everything that you do as long as you don't hurt anyone and the most important lesson in life is to make mistakes and be brave. Keep your mind flexible. The best things happen through accidents. Challenge yourself whenever you can. You won't believe what you are capable of. I studied art and on top of that did the wrong degree but style develops over years and by experimenting and the evolution of it is never done. It's not something you learn. You try and try and then you find a way of working that is fun, fair on your time and versatile too. Also believe in yourself, walk your line and keep at it.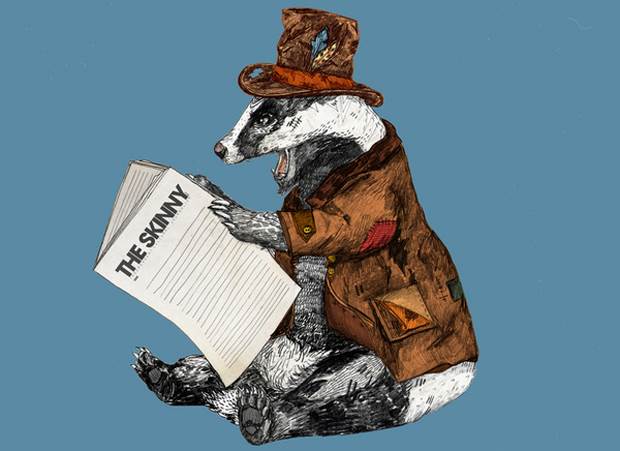 What is the strangest thing or thought that has inspired a piece of work? Most of the time my work is inspired by my dreams and feelings. It's very autobiographical and personal so it's hard to pinpoint a certain thought. I did dream the other night that I felt a ridge when running my right hand over my left arm, and I opened up a triangular shaped door in my arm and there inside was the universe floating like a black soft stream of air with magical lights within it. That might be something for a future piece.

Which era of art do you appreciate the most? I had to look up the Art History Timeline for Dummies online for this. I'm no good with remembering historical facts, numbers etc. Post- impressionism I would say. The colours of the Blue Rider movement in Germany definitely stuck with me. A little bit later perhaps also Cubism and Futurism... there are so many great classic paintings out there too though. Oh! I don't want to have favourites!

What do you doodle when you are daydreaming? I actually never doodle. I just have a thought or a dream and then I write it all down. I write a lot more than I sketch, and my sketches are really basic and terrible. When I get to the final drawing my idea is already fully formed in my head and then I just go for it!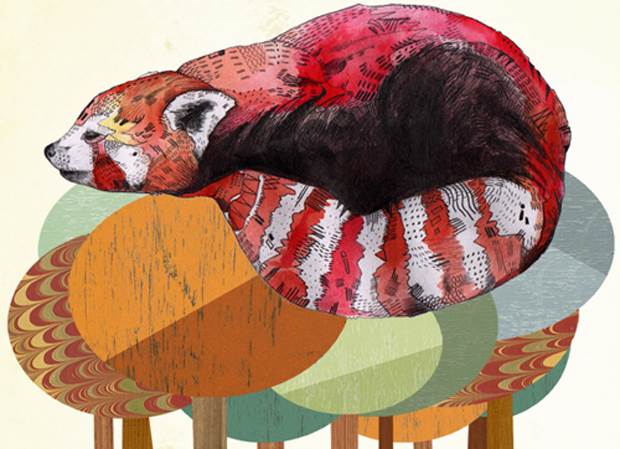 What other budding artists do you love? Laura Gee, UK, Jamie Mills, UK, Amelia Herbertson, Australia, Emma Kidd, Australia, Marisa Redondo, USA, Lindsey Carr, UK, Alan Brown, USA, Teagan White, USA... oh, there are too many.

What do you enjoy doing when not creating art? What anybody does I guess... Sleeping, eating, cycling, meeting friends, dancing, gigs and all that jazz. I listen to music a lot and love discovering new tunes that I feel connected to, and watch thousands of nature documentaries. And I enjoy stroking, brushing and looking at my cat Little Crumb, of course.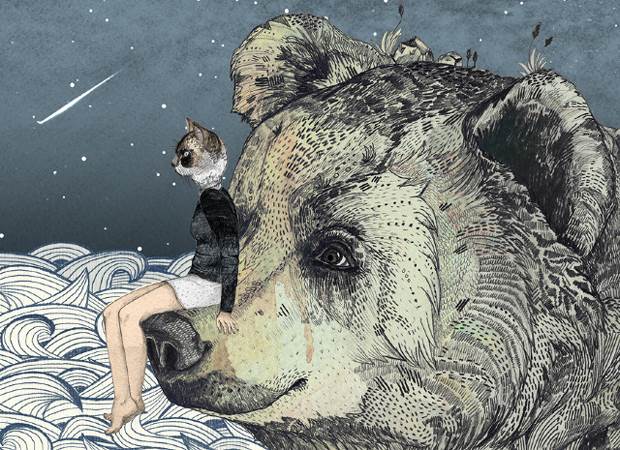 Where can we see more of your work?
Twitter @sandradieckmann
sandradieckmann.com
etsy.com/shop/SandraDieckmann