artist interview - olga ezova-denisova
Not only does Olga Ezova-Denisova have an awesome name, and come from a city with an equally awesome name, but the artwork she produces is pretty damn awesome as well.
Not only does Olga Ezova-Denisova have an awesome name, and come from a city with an equally awesome name, but the artwork she produces is pretty damn awesome as well. Working across a bunch of different mediums, she dreams up cute characters and happy-making designs, and kindly took some time out to tell us all about it.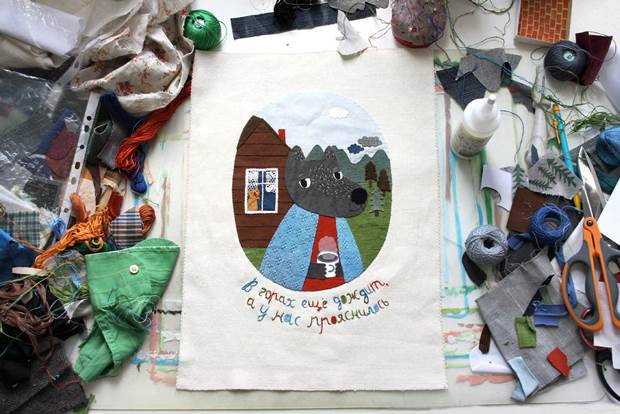 What is your name and how old are you? My name is Olga Ezova-Denisova and I'm 31 years old.

Where were you born and where do you live now? I was born in Russia in Ekaterinburg city and I live there now.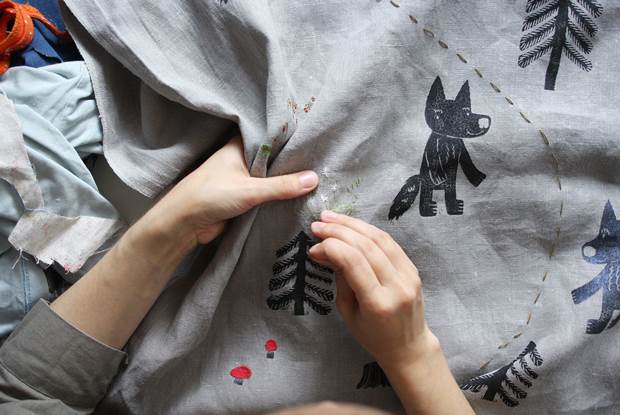 How does where you live affect your art? Often I feel restriction, and a physical and emotional sense of isolation and despair. It makes me dream, to invent images, to live again different experiences from the past or even new-invented.

Please describe the space where you do most of your creation – whether it's your art studio or kitchen bench! My studio is a part of my apartment. I have a large table which was made from a door and painted white. Everywhere is my art materials and tools. I feel chronically out of free space and I gradually occupy more and more space in the room. I live on the 25th floor and out the window I have a gorgeous view to little private country-like houses. I was very happy to see this view from the window, especially in autumn when all of a sudden everything turns yellow.

Are there any downsides to your medium? I make all my work by hand. I don't use graphics software. And it is requires a lot of time for creation. Often people who want to order illustration or buy a ready work don't understand it, and I have to explain anything or just refuse. Another disadvantage of manual labour is that you cannot undo an action, when it's all glued and sewn. I can't press "Ctrl + Z"!




What makes your work unique and truly your own? I don't know. I do what I like. When I no longer like something, I stopped doing it.

Tell us a little about your creative process. Usually I start with a sketch. Then, if I have not decided in advance, I think of which material to use for the job. I have a few favourite techniques, like linocut and collage. I love to do applique fabric and complement with embroidery. I find it very difficult to decide what to give preference to at one point or another! If it's linocut, then I take linoleum and cutters, draw an image on it and begin to cut it. If I decide to do a textile applique, then I take the fabric and thread and select the desired colour, texture and mood. With paper collages it's easier — colour and texture can always be created with paper and ink.

If you were to teach an art appreciation class, what kind of lessons would you try to teach your students? I think I would like to share how to love creativity. But this cannot be taught, it can only be opened within a person. Perhaps my experience could be a catalyst in this process, so I would suggest that students do something together, such as linocuts or a collage.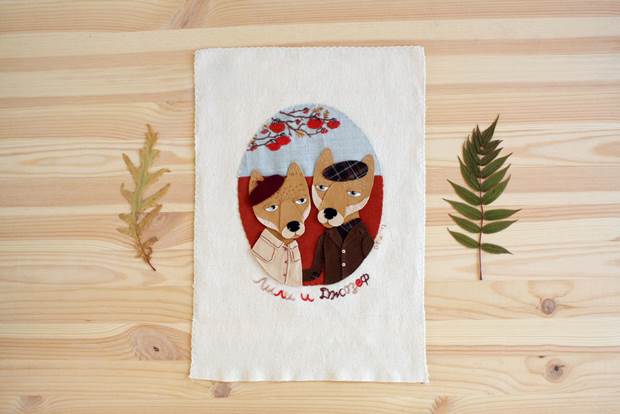 What do you wish you knew about being an artist before you got started? Nothing. All I could know in advance is other people's stories. But I would like to get my own experience.

Are there any other mediums that you'd like to experiment with? I would like to try different printing techniques: etching, drypoint, silkscreen. I would like to delve into the print on the fabric and maybe make a collection of fabric or clothing.

Which era of art do you appreciate the most? I really like the graphics, colour prints, lithographs, linocuts, including book illustrations, of the Soviet artists of the mid and late 20th century. A limited number of colours, over-printing, clear forms - it is very inspiring, even exciting.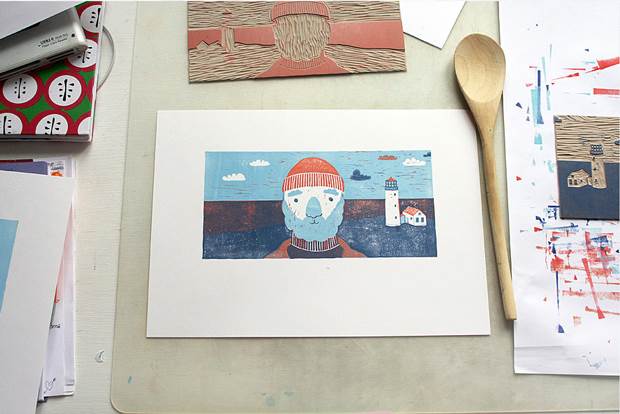 What would you be doing if you weren't making art? Maybe I would have been a journalist or copywriter. My first education is in journalism.

Where can we see more of your work? You can visit my website ezovadenisova.ru or my blog ezovadenisova.blogspot.com.