artist interview - judith geher's oil ladies
As Toronto's Judith Geher understands, sometimes the secret to good art is knowing when a piece is finished.
As Toronto's Judith Geher understands, sometimes the secret to good art is knowing when a piece is finished. Using smatterings of thick oils and delicate slicks, Judith builds up texture in her portraits of ladies, always leaving a little bit left for the viewer to fill in themselves.
We had a little chat with her below.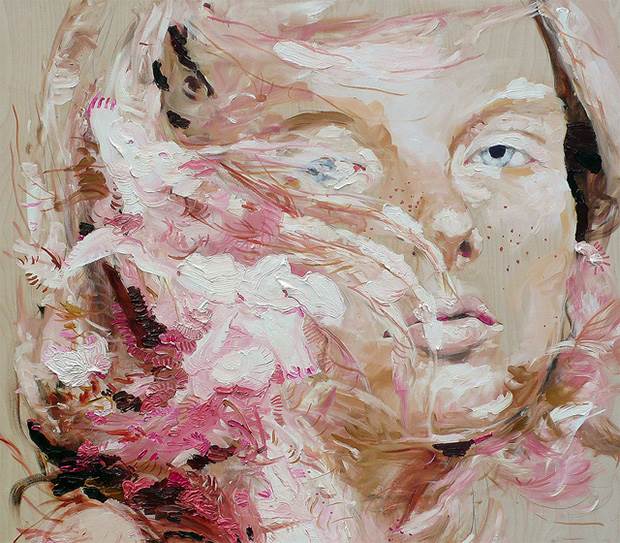 Where were you born and where do you live now?
I was born in Toronto, Canada, and I still live here, although I did live in Paris for a couple of years after I graduated from University of Toronto, with an architecture degree. I suppose I'm a romantic and lived a bohemian life there for a few years, not really settling down.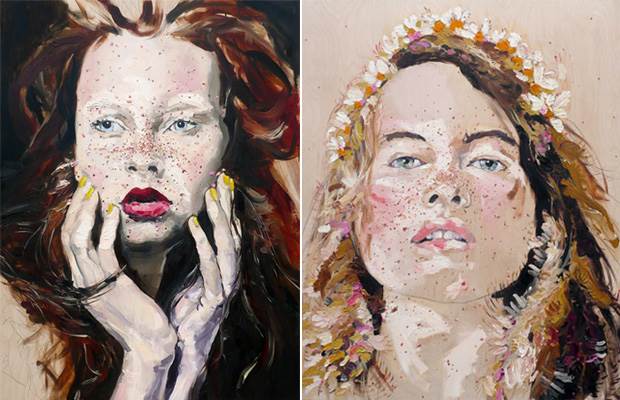 How does where you grew up and where you live now affect your art?
I grew up in a suburb in Toronto called Scarborough to immigrant parents. They were very strict – study, study, study – no boys, no going out on weekdays, early curfew on weekends and their idea of doing art was not an option as a career. I feel like I missed out on a lot of things that looked so happy and I considered myself an outsider. Now I paint what is beautiful to me. It's very personal. I am inspired by fashion imagery, and I know that beauty or the portrayal of beauty is controversial, but I can't help succumbing to it and I paint it the way I see it.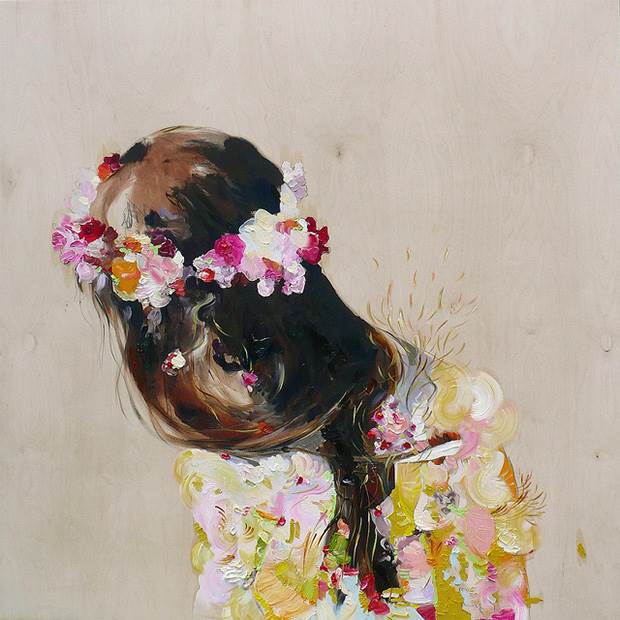 Please describe the space where you do most of your creation.
My studio is in my home in a small room – the largest I can paint is 5ft x 5ft. I would like to paint larger if I could. I just love the idea of huge, luscious faces buried in flowers.
What kind of mediums do you use? Why do you choose to use these mediums?
I use oil on birch ply. I love the way the surface is so soft and velvety. It just drinks up thinned paint while thick globs stick so well and hang there heavily. I'm very much into texture. It's a bit tricky to capture in photographs of my work, but I keep experimenting with lighting to communicate that. Real life is so much better.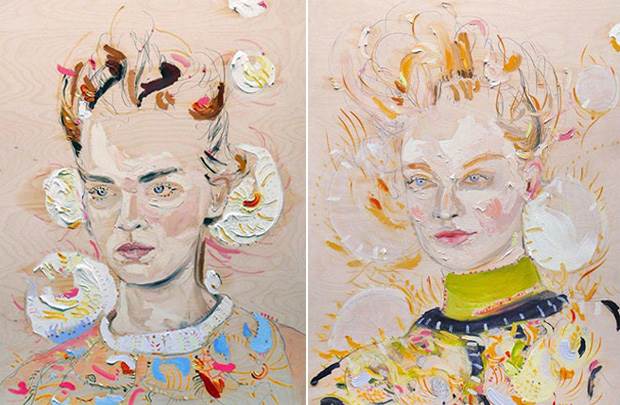 Is there a running theme to the work you create, or do you just make whatever comes to mind?
Definitely beauty and what is beautiful in the portrait to me personally. Although lately I have had an urge to forgo the artifice and embellishment, just pare it all down while keeping the strength and fragility intact.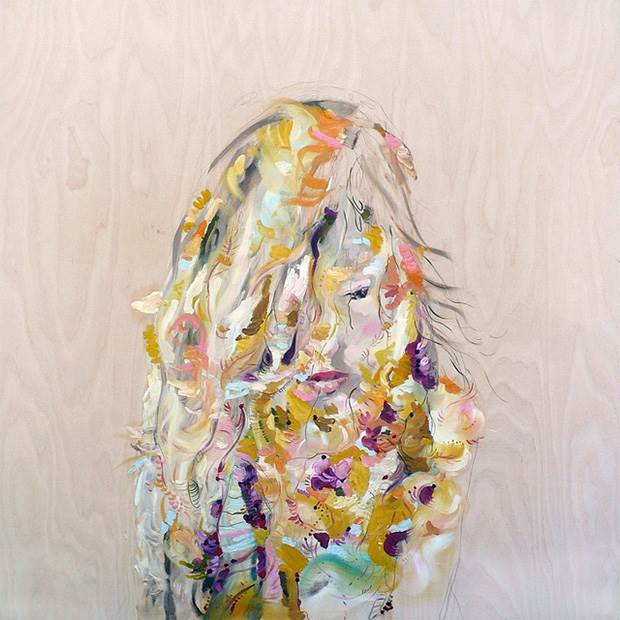 A lot of your pieces appear half-finished but totally completely and finished simultaneously. In your medium, how do you tell when a painting is 'done'?
I paint very intuitively, always listening to music. I start with the drawing: it's like an armature for the paint. Then I just begin to flesh it out, pausing a bit, going back in, and building it up in this way. I know it's done when I feel that adding anything more will make it worse.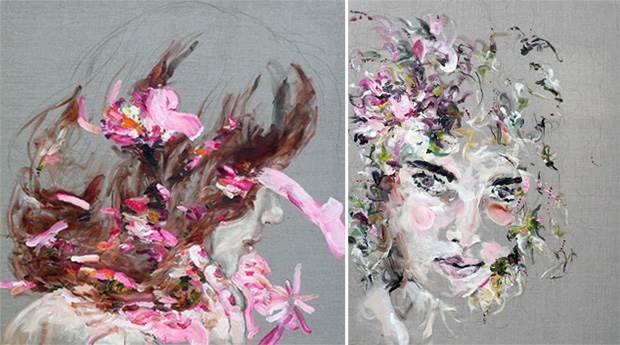 Which era of art do you appreciate the most?
Now. I am very inspired by many talented emerging painters that are doing amazing work and are not yet well known.
What do you doodle when you are daydreaming?
I'm not sure if this counts but I make lists (I love me a list!) and then I loose them immediately. Lists of anything that comes to mind: sometimes they are very short, maybe only a couple of things. I've never found a list I've lost.
What do you enjoy doing when not creating art?
Thrifting, looking at (and probably buying) vintage.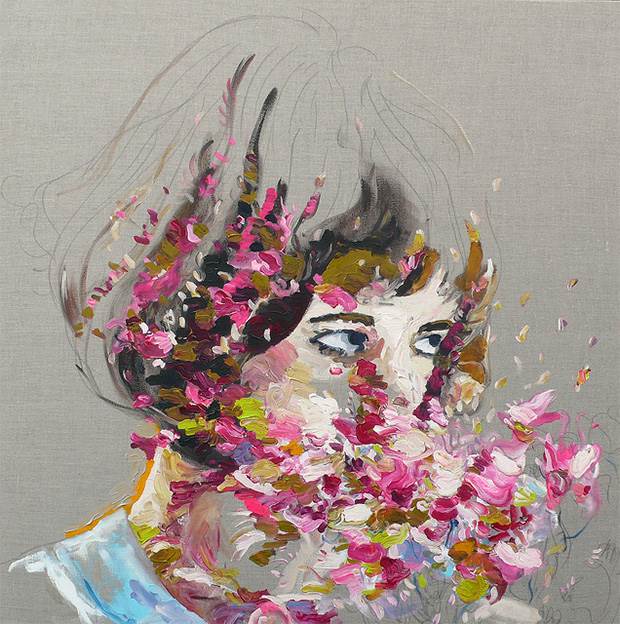 Where can we see more of your work?
My website, Parts Gallery in Toronto, or Herringer Kiss Gallery in Calgary.