artist interview - hine mizushima
Well, if Hiné Mizushima isn't the handiest person you've seen with a needle and thread, we'll eat our poorly stitched hats.
Well, if Hiné Mizushima isn't the handiest person you've seen with a needle and thread, we'll eat our poorly stitched hats. The nimble-fingered Canada-via-Japan lady wowed us with her needlefelt mastery, so we sat her down with some questions to find out all about her craft.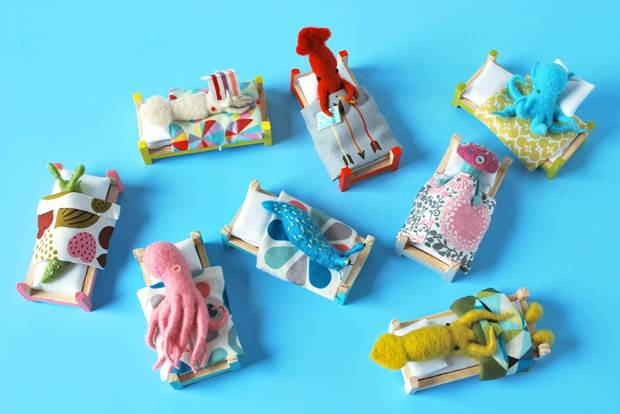 What is your name and how old are you? Hello! My name is Hiné Mizushima and I'm old!

Where were you born and where do you live now? I was born and raised in Kanagawa, Japan (a bit south of Tokyo), and I live in Vancouver, Canada now.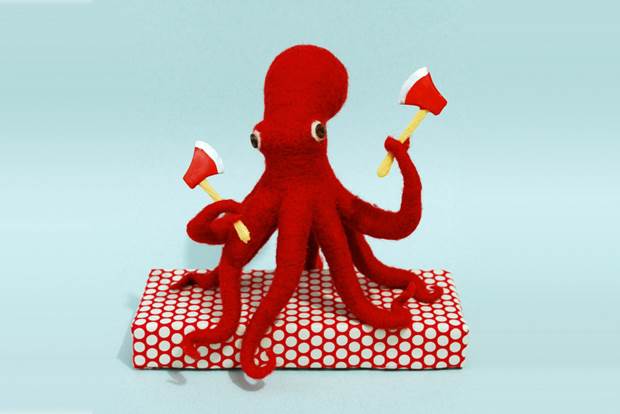 How did you get started with this medium? When I started to work on my second stop-motion music video for They Might Be Giants in 2007, I needed to make needle-felted characters and props for the first time. That's when I found out that I really love to make 3D stuff with wool fibre, so I started making more, and then I opened my Etsy shop. If I hadn't got the video job, I probably wouldn't have started needle-felting.

Please describe the space where you do most of your creation – whether it's your art studio or kitchen bench! I have a very small, but bright, home studio. It's my favourite space, and I basically stay here from morning to night. An iMac and a printer on a big desk and there are lots of drawers and boxes, which hold many types of materials and tools (mostly craft and art supplies) while my favourite objects (including a cat!) and my artwork are everywhere.

Are there any downsides to this medium? Oh, yes! It takes a long time to make a needle-felted piece, especially for me (I'm a slow crafter). It has also crippled me! (Seriously, I have been having a problem in my shoulder and arm for months!)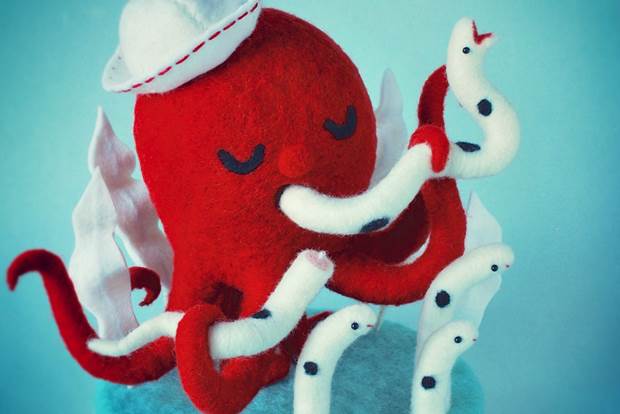 What makes your work unique and truly your own? My work is a bit retro, twisted, fun, colourful, nerdy, and cute (but in questionable taste). Luckily I usually make what I want. And I hope my work can make people smile!

What kinds of ideas and things are you working on at the moment? I've just finished a commissioned miniature collage for a Japanese science book cover. And now I'm working on my own Christmas card.

How has your style changed over time? I used to be just an illustrator, then just after I moved to Vancouver from Brooklyn eight years ago, I accidentally became a stop-motion video artist. Then I became a crafter and felt sculptor, and then recently I became a miniature collage artist, as well!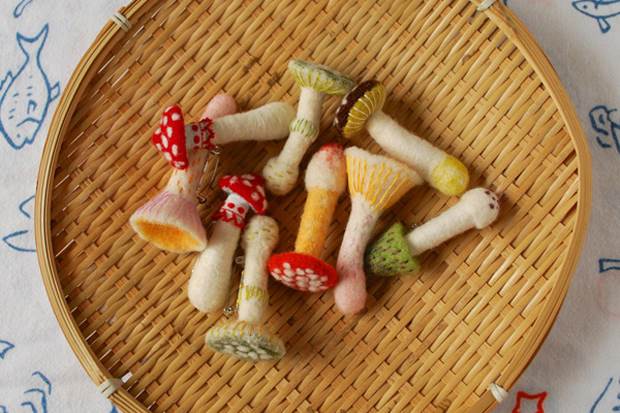 Are there any other mediums that you'd like to experiment with? I want to try more weaving, crocheting, screen-printing, linocut printing, pottery and laser-cutting.

What's the coolest art tip you've ever received? Don't panic! ('Not enough time' always makes me so nervous, and the nervous feeling doesn't make for good ideas.)

What other budding artists do you love? Don Fisher from Spain. I love their pretty coloured fish zipper pouches! Also Crepe (Mutsumi Yoshimaru) from Japan. She makes very unique bead and sequin brooches and earrings like you've never seen in other accessory shops, such as Japanese food (sushi, tempura, salmon fillet), meat, fish, insects, etc.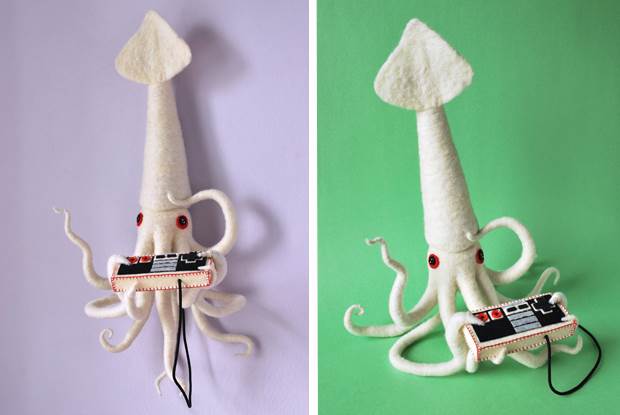 What would you be doing if you weren't making art? I have no idea! I just realised I don't have any other skills besides making art! Maybe I can be a gift-wrapping person at a shop, because I love to wrap neatly.

Where can we see more of your work? My website. I basically update my Instagram every day @sheishine, and very often update Flickr, too.