artist interview - hagar cygler
Aside from having one of the coolest names going round, Hagar Cygler is a bit of a whiz with an embroidery needle and thread.
Aside from having one of the coolest names going round, Hagar Cygler is a bit of a whiz with an embroidery needle and thread. And with a camera. And ceramics. Okay, she's pretty much a crafty wunderkind.

We're particularly taken lately with her stitched-up series, Families, so we got in touch with some questions for a bit of a chit-chat.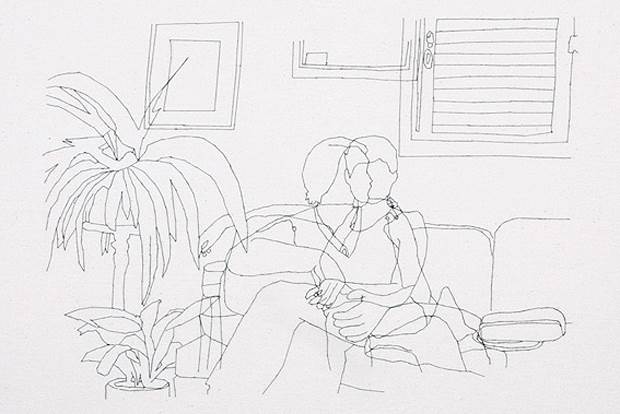 What is your name and how old are you? My name is Hagar Cygler and I'm 36 years old.

Where were you born and where do you live now? I was born in Israel and lived in Tel-Aviv for many years. Last August I moved to Los Angeles, California, and started my master's studies in Fine Arts at the California Institute of the Arts.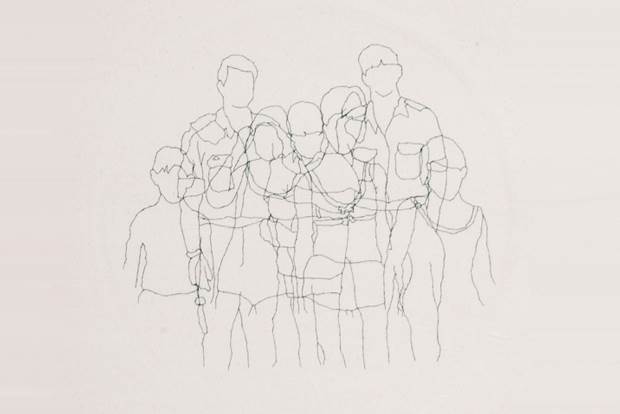 How does where you live affect your art? A lot of my works are based on objects that I find around me: mostly in thrift stores, antique shops and flea markets. I have a large collection of photographs, postcards, albums and other objects that I find interesting and funny, and are used as a starting point of my works.

By exploring the city with the purpose of finding all these, I learn more about the local culture, but with it I look for the similarities we all share. Los Angeles is my new playground and I find it exciting to explore the American culture from the inside (and not only from films and TV shows).

Please describe the space where you do most of your creation – whether it's your art studio or kitchen bench! I work in my studio that is located at CalArts. My studio has a big window – when I find myself bored or lazy I always have something to stare at.

What kind of mediums do you use? Why do you choose to use these mediums? I started my way in making art as a photographer, but throughout the years I looked for other mediums. My first attempts of working with other mediums were very crafty and were related to craft kits that my mom used to buy me whenever I was sick. So I started working with origami, different kinds of needlework, collage, ceramics and more.
The Families series was made in various mediums: screenings, graffiti, gobelin, wallpaper (and even more!), but eventually the usage of thin thread on canvas led me to a large-scale series of work. In every work or project the medium selected is as an essential part of the overall thinking and making of it.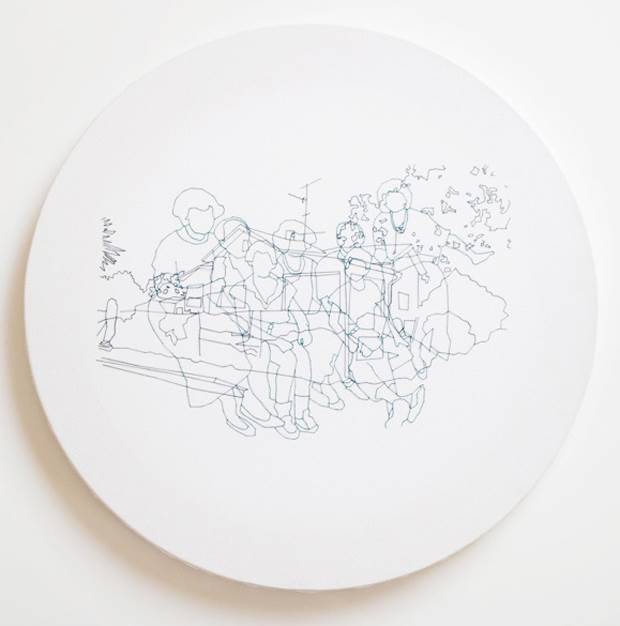 Is there a running theme to the work you create, or do you just make whatever comes to mind? It's more whatever comes to hand. My work is derived from objects and images that I find, so it feels scattered at first, but in the end there's a common thread combining them all together. There are themes that interest me like questions of memory and the way we capture and preserve it, but I feel there's a vast number of issues that occupy my thoughts that come through the works as well.

What is the strangest thing or thought that has inspired a piece of work? A mirror I bought at a 99¢ store had on the back a kitsch, round scenery photo – this was the starting point of a cut-out work. I had to go to the store and buy a bunch of mirrors just to have more photos and in the end you can barely see them.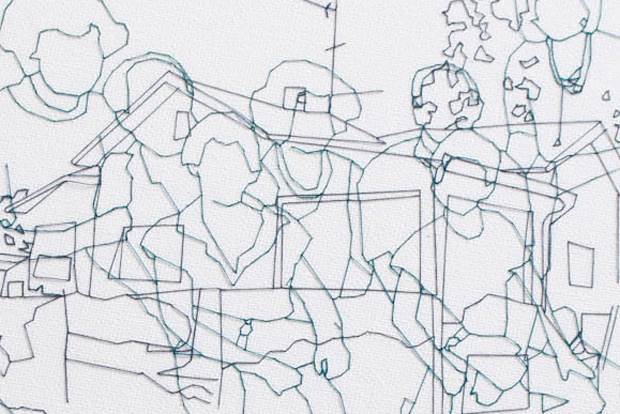 Are there any other mediums that you'd like to experiment with? Yes! There are so many... I want to make fabrics (silk screens and marbling); I want to have my own button machine and knitting machine and explore these worlds; I want to go deeper into ceramics, especially porcelain; I want to learn advanced techniques in macrame and also carpet weaving. Oh, there are so many more, but I think I'll stop there.

What's the coolest art tip you've ever received? "Have fun". Seriously! This is the best advice I got from one of my teachers at CalArts. This has truly helped me take my work to a new (and fun!) place.

What do you doodle when you are daydreaming? Cats. It's the only thing I know how to doodle.

What other budding artists do you love? Well, that's a tough one. Here's a list of artists whose work I find interesting and inspiring: Hila Amram, Hila Laviv, Amanda Sutton, John Wu, Dana Lev Levnat.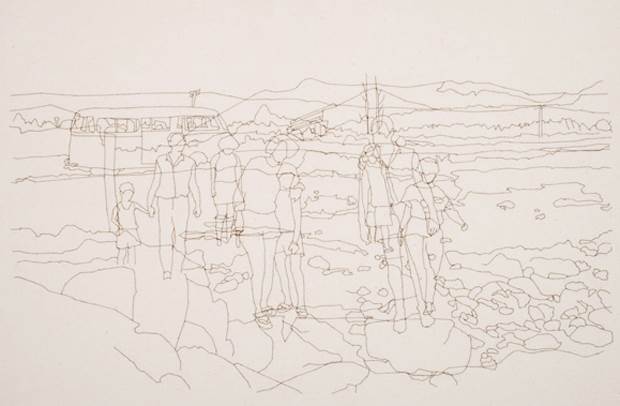 What would you be doing if you weren't making art? I'd be an accountant. I just love Excel spreadsheets…

Where can we see more of your work? On my website, hagarcygler.com.