artist interview - emma van leest
Mentioning the word 'papercut' usually makes us cringe in pain, but pair it with 'Emma van Leest' and we're more likely to emit some awestruck oohs and aahs.
Mentioning the word 'papercut' usually makes us cringe in pain, but pair it with 'Emma van Leest' and we're more likely to emit some awestruck oohs and aahs. The born-and-bred Melbournite has been slicing up paper for quite a few years now, and her intricate artwork takes cutting and pasting to an entirely new, off the charts level.
The steady-handed lass took up paper art because she didn't think she had the skills to be a painter, and we've got to say, we think she's found her niche. We sat Emma down recently for a chat about her craft.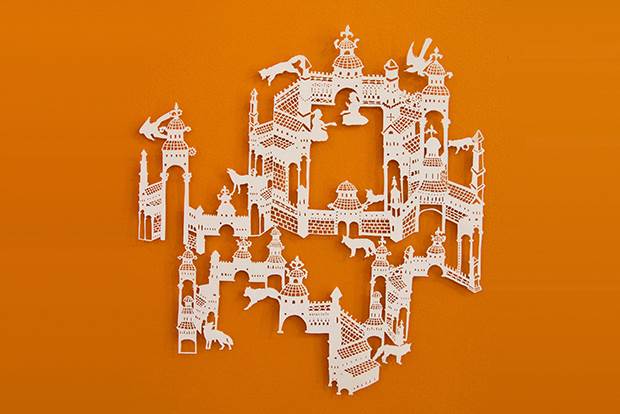 What is your name and how old are you? My name is Emma van Leest and I am 35 years old.
Where were you born and where do you live now? I was born in East Melbourne, grew up in Montmorency and now live in Brunswick. So everything has happened in a pretty small triangle.
How does where you grew up and where you live now affect your art? When I was growing up, I had a pretty overactive imagination and was constantly inventing games and stories. We had a lot of room to run around and I spent a lot of time making fairy villages in the garden. I don't know if growing up in a sport-obsessed family in the suburbs meant that I had to create my own inner world, but let's go with that.
Where I am living now is pretty much in the thick of Brunswick hipsterville, so it means I have no excuse for not being aware of what is happening in the design world. But I am still a bit of a hermit so perhaps I could live anywhere and do what I do.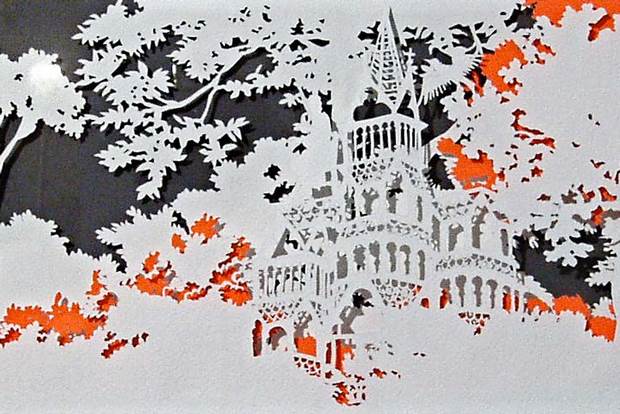 Please describe the space where you do most of your creation – whether it's your art studio or kitchen bench! It's a desk in the lounge room of our house. I actually love it as it means I can listen to radio current affairs programmes all day with no judgement from my more hip peers, I have as many cups of tea as I want and I can watch my 18-month-old son run around as I am doing work.
What kind of mediums do you use? Why do you choose to use these mediums? I cut paper - that's pretty much all I do these days. I do romantically ponder going back to oil painting every now and again, but I never really tire of cutting paper.
I choose to cut paper because (a) I wasn't a super fabulous painter; (b) it has a good crafty aspect which makes it very satisfying; (c) I can make dioramas; and (d) it's so much more transportable than many other forms of art – I once took a solo show to Sydney in my carry-on luggage.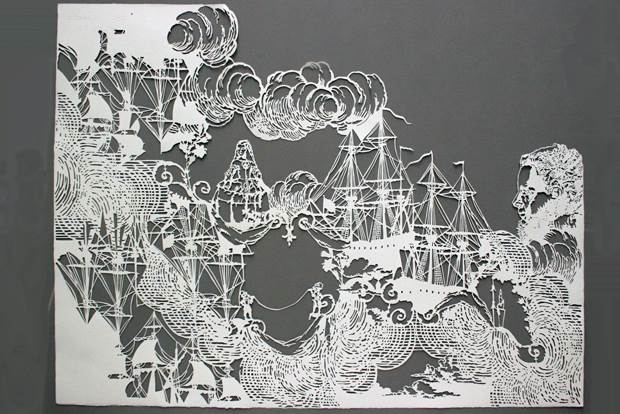 Is there a running theme to the work you create, or do you just make whatever comes to mind? There's a running theme, or themes. And funny little rules and systems. I have obvious biases – for example, I almost never cut contemporary images, I can't abide mythical animals. I'm almost always recreating a kind of warped imaginary world from the pages of art history.
What kinds of ideas and things are you working on at the moment? I am doing a series for a Korean art museum based on a local legend which is kind of a Romeo and Juliet tale with more sword fights and no sad ending. It's not what I usually do, but I am loving it – I have re-imagined it as a Medieval tale of chivalry. Then I'll probably go back to my previous themes of sea explorations and discovery for a show I am having next year at John Buckley Gallery. I'm doing something for Hugo Boss for their Spring Racing Carnival windows in Melbourne too.
What is the strangest thing or thought that has inspired a piece of work? My bank balance.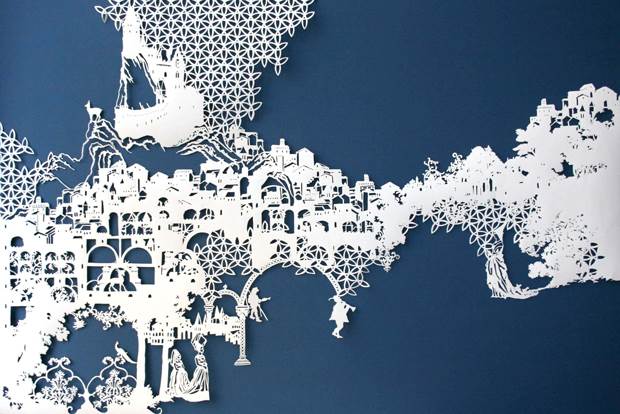 Which era of art do you appreciate the most? Probably Dada.
What do you doodle when you are daydreaming? Dresses I would like to make.
What other budding artists do you love? I am so parochial; I love all my friends' work. They aren't 'budding' artists, but when it comes to paper cutting, I just love the work of Michael Velliquette and also Mia Pearlman.
What do you enjoy doing when not creating art? Hanging out with my gorgeous son and husband. Cooking and eating. Running. Attempting to garden. Reading.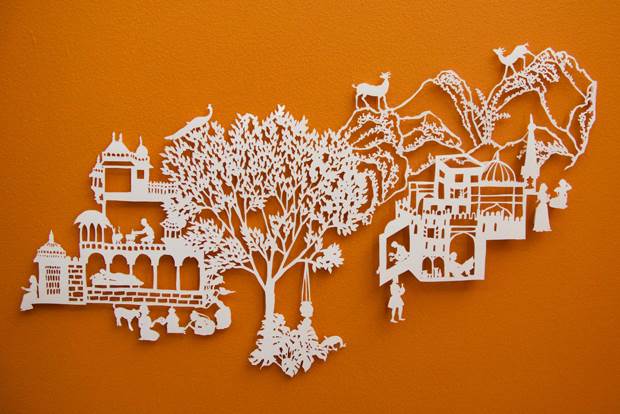 Where can we see more of your work? emmavanleest.com.
Or if you happen to be in Korea over the next few months, pop over to the Aram Nuri Museum in Goyang (just out of Seoul) to see what I've done for the "Legends and Myths of the World" exhibition. The dates are: 18 October 2013 – 2 March 2014.