artist interview - elizabeth amento
With a torrent of paint-spattered colour, San Francisco-based artist Elizabeth Amento makes mixed media masterpieces that will brighten up even the greyest of days.
With a torrent of paint-spattered colour, San Francisco-based artist Elizabeth Amento makes mixed media masterpieces that will brighten up even the greyest of days. Using a variety of mediums (including cutouts from old Ladies Journal and Good Housekeeping magazines), she goes about her arty business, and we got in touch to ask a few questions about her process and creative history.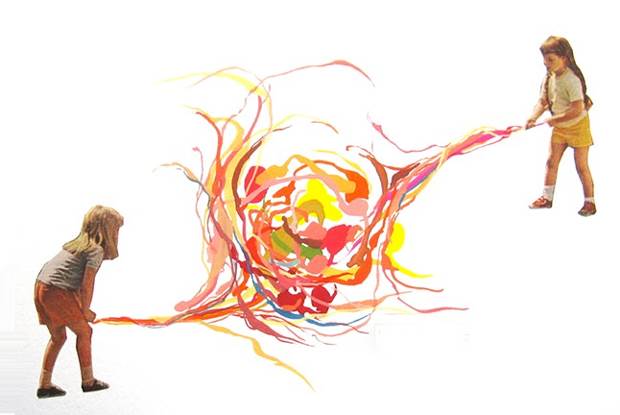 What is your name and how old are you? Elizabeth Amento and I am 31.

Where were you born and where do you live now? I was born in Boston. I grew up in the San Francisco Bay Area and then went to college and graduate school in Boston. And now I have lived in the Mission District of San Francisco for five years.

How does where you live affect your art? Definitely the colourful houses and murals that I see daily inspire and encourage me. I also attempt to see and convey the world as full of colour, even on a foggy SF day.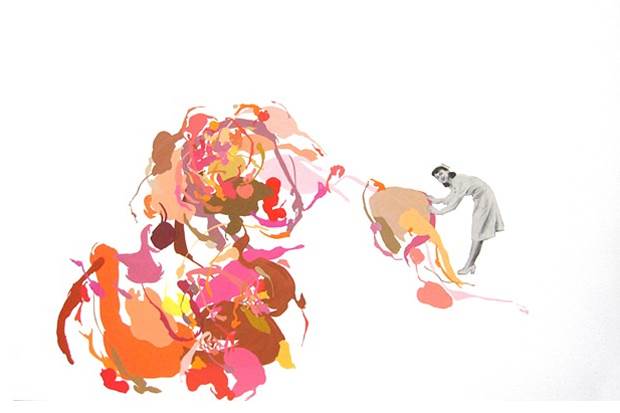 How did you get started with this medium? I remember using a gouache set to sketch. I have always loved oil paint the most, but it is not always practical. But I love gouache because it has the same creamy texture like oil and can be opaque, but it allows me to layer without as much drying time in between. Also I can reuse my palate for days, as it reconstitutes with water.

Are there any downsides to the medium? The best quality paint is expensive. And sometimes I accidently splash my paper while mixing, but sometimes that turns into a happy accident.

What makes your work unique and truly your own? The shapes I paint have developed over time. They have evolved as I tried to paint the human figure, wanted to paint colourful patterns, and then abstracted the figure into shapes that evoked movement through lines and layers. Now my lines and shapes are used as an expression of energy in relationship to the figures.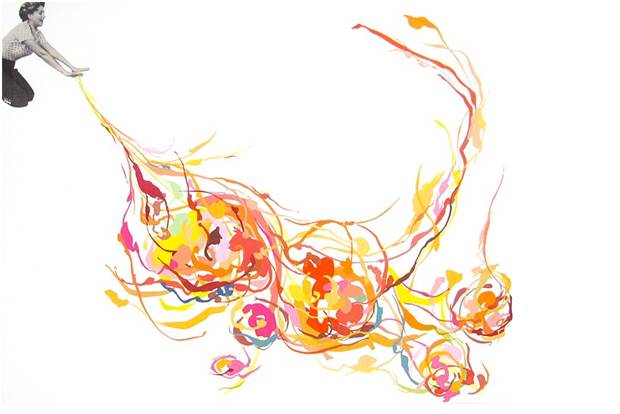 Tell us a little about your creative process. I have really been enjoying the process of my recent series of collages. Magazines from the late '50s have been a great source of material. I scour them for people who I can already imagine removing from their static environment. While they get pasted, I am imagining the overall end composition. Then it gets built through colourful layers of line and shapes.

How has your style changed over time? I started by drawing and painting the figure. But I also loved flattened shapes of colour. While in graduate school I opened myself up to different mediums through which I deconstructed and abstracted the figure. Yet through that process I always thought about my work as painting. I am not surprised that I have found a way to incorporate the figure back into my work as a photographic representation. These collage elements allow me a starting place to enter the composition.

What is the strangest thing or thought that has inspired a piece of work? As part of a phase where I was deconstructing the body, bodily fluids inspired me. Sometimes I still see how stains inspire my shapes.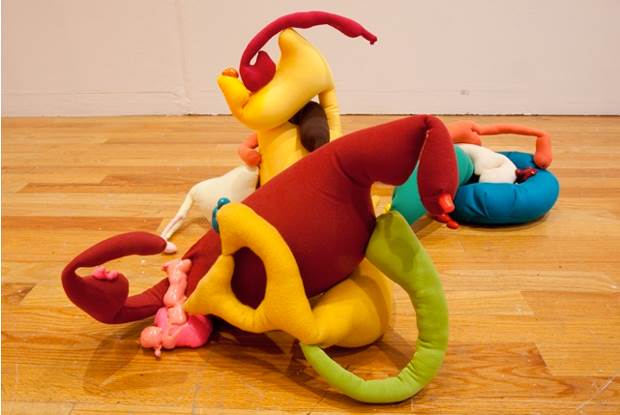 What's the coolest art tip you've ever received? I am forever driven by the advice to go to the studio every day.

What do you doodle when you are daydreaming? I've never been much of a doodler, but I do spend time with each piece. I add layers, let them dry, and look at the piece from a distance. I often have an epiphany about the overall composition while I am daydreaming. Which is fun when I am doing mundane things and it helps my efficiency and execution when I return to the piece.

What would you be doing if you weren't making art? I would be working my day job, which is at a fashion start-up. I feel fortunate to have found a job that is stimulating and allows me to use my analytical and creative problem solving skills.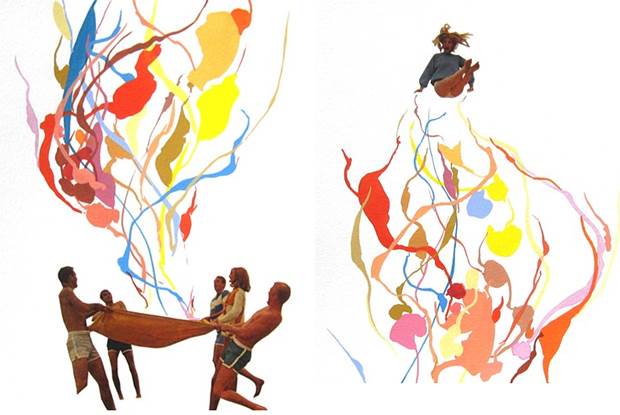 Where can we see more of your work? My website, elizabethamento.com.