artist interview - caroline alkire
With a whole lot of page-flipping, rearranging, cutting and pasting, Minnesotan artist Caroline Alkire creates collages that are a little bit out of this world.
With a whole lot of page-flipping, rearranging, cutting and pasting, Minnesotan artist Caroline Alkire creates collages that are a little bit out of this world. They've also got a touch of retro awesomeness about them, and the clever lady was kind enough to answer a few of our burning questions about her art.




What is your name and how old are you? My name is Caroline, I'm 19 years old.

Where were you born and where do you live now? I was born and grew up in Minneapolis, Minnesota and now live in the state of Vermont. I currently reside in a tiny dorm room I share with my roommate at the University of Vermont, which is tucked away in the Green Mountains of New England.

How does where you live affect your art? No matter where I am, whether it's walking to class or looking out any given window, the mountains are always visible to me. Their layered image has definitely given me ideas in my work; a technique I've used a lot is staggering layers of mountain images on top of each other, it creates an awesome look!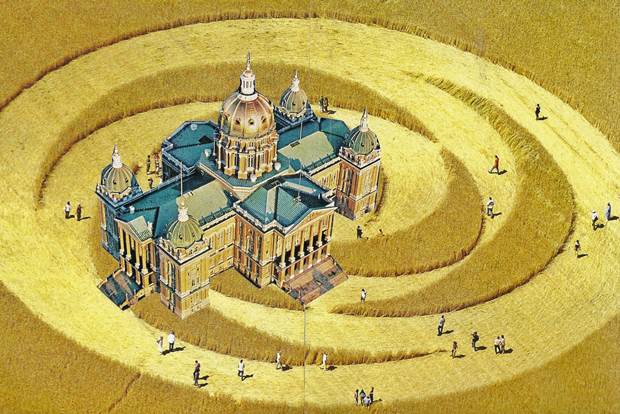 What kind of media do you use? Why do you choose to use these? I almost strictly use vintage National Geographic magazines that I've acquired through the years; most are from the 1950s through the 1980s. I think National Geographic, especially vintage ones, have a great variety of both nature and lifestyle pictures that can be cut out and glued together to make really surreal collages.

Are there any downsides to this medium? Most collage artists use vintage National Geographic magazines, so it can be tough to think outside the box in order to make my work unique and stand out, as often I am using the exact same images as other artists with this same medium. However it can also be really cool to see how different collages using the same images can be.

What makes your work unique and truly your own? My work tells a story, no matter how random it looks. Even if most of my collages are unplanned and spontaneous, I like to imagine a story behind the people in them and the bizarre places they find themselves through my mixing and matching of decades and worlds.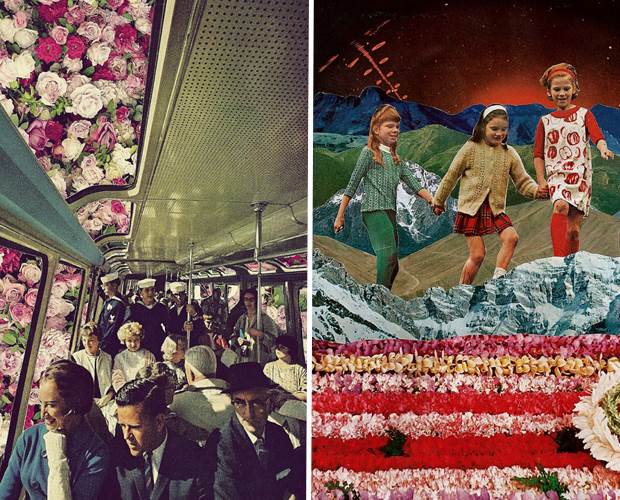 Tell us a little about your creative process. It's incredibly unorganised! I flip through magazines, cutting out any image that for some reason pops out at me and spread them all out on the floor – my bedroom floor is my workspace - and I always blast crazy music! I'll then experiment with what images aesthetically look interesting together in my eyes, and then glue them together.

How has your style changed over time? I started making National Geographic collages when I was 16, and I definitely think my work has matured and grown along with me. I've been able to look past the structure and equations of simply having a background and foreground. I've started experimenting with making my work not as simplistic and predictable.

What is the strangest thing or thought that has inspired a piece of work? I rarely go into collaging with any idea of what I'm about to create, it completely depends on what magazine issues I'm looking at, but something that has always fascinated me is the idea of contrasting big and little things. A lot of my collages have huge galaxies or tiny plants as backgrounds to everyday scenes. I think this makes them very surreal.

What's the coolest art tip you've ever received? Being told that nothing about art has to be logical has made me focus more on what I think looks good rather than on what makes sense. I've learned from this to rely on my intuition and aesthetic, and I think I've benefitted as an artist from this.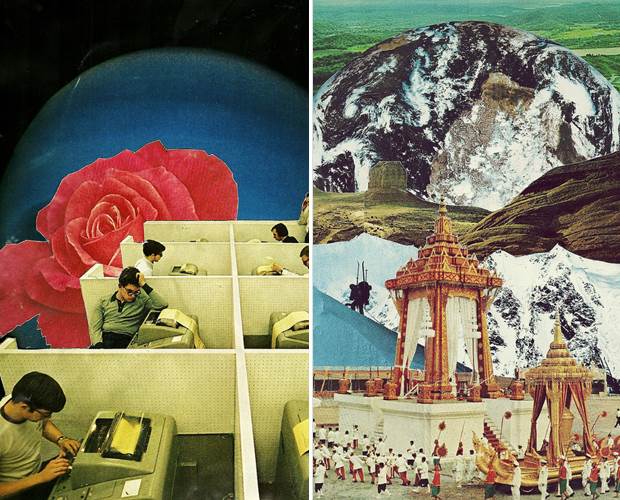 What other budding artists do you love? There's a huge community of collage artists online that all inspire me. Some of my favorites are Eugenia Loli, Jesse Treece, Cur3es, Jonathan Lichtfeld, Senscollage, and Hugo Barros. They all have amazing tumblr's and flickr's that are definitely worth looking at.

What do you enjoy doing when not creating art? Collaging, drawing, and painting are all big passions of mine, but I'm currently studying to be a Global Studies major at my university, so I'm really interested in politics and social issues. I'm hoping to work for nonprofit organisations dealing with social justice and human rights after I finish school.

Where can we see more of your work? I have a flickr, a tumblr, and a society6 where you can get prints and iPhone cases, t-shirts, etc. with my work on them.