art school confidential
At my grad exhibition, my parents stopped to earnestly whisper, "Is this art?" at various piles of rubbish around the building. They were right two out of three times.

We've teamed up with the folks at UNiDays to bring you stories about all the stuff you go through when you're studying. Did you know UNiDAYS members can nab a 25 per cent discount on their frankie magazine subscriptions? Well, now you do. Check the bottom of the story for more deets.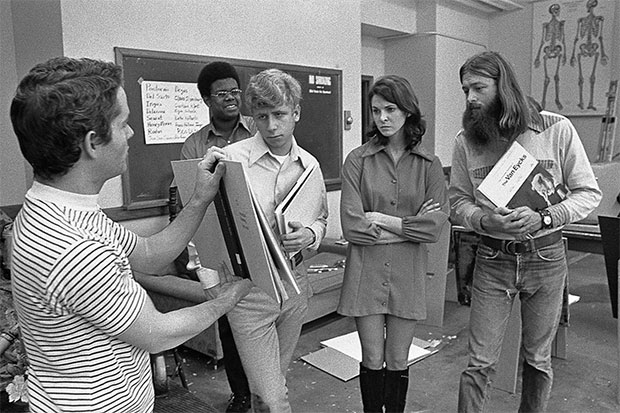 photo via UNO Criss Library on flickr
On my first day of art school, I was placed in an orientation group with a boy in a three-piece tweed suit, carrying a briefcase. He wasn't the only one.
Upon being sorted into studios, I realised that the young chap in the crisp linen next to me was actually a different 18-year-old – one who I would come to learn was an aspiring curator with an abiding love for looking like a street style photo from Italian men's fashion week. In the following three years of my fine arts degree, I, a simple suburban girl whose parents hoped would study law, would meet a host of memorable characters.
There were the students so preternaturally gifted, they barely needed to be there at all. Uni was a formality for them, it seemed, as they swanned about in effortlessly cool outfits I later attempted to replicate. (Shout out to the jeans I tie-dyed that never really stopped smelling of bleach.)
These Florence Welch-type deities, would turn their life-drawing easels around, displaying a 15-minute masterpiece to the class, while I, face literally covered in charcoal, would produce an eye-wateringly bad children's drawing that even my tutor couldn't salvage.
Then there were those who looked the part of an arts student, and talked the part of an arts student, but seemed to struggle with the 'student' part of the equation. Often missing class, and miraculously without jobs, they were always going to cool parties and talking about emerging artists I'd never heard of. I feigned a busy schedule to keep up the illusion that I, too, knew of these buzzy parties but was merely too caught up to attend. In truth I was "busy" working shifts at Grill'd, Knox Ozone.  
If there was a student who went on to greatness, their names haunted the studio halls, giving us hope that we, too, could one day scrape together enough money from our art to live in a studio apartment with a lot of plants and an inexplicable potter's wheel in the corner. While I don't have confirmation of her success, the loudest whisper I heard in my time was of the girl in the class above me, who wowed our tutors with a piece crafted entirely from her own poop. The rumour was that she ingested large amounts of dye and used her colourful waste as paint – an exploration of the body's inner workings.
Not wanting to repeat unconfirmed reports to my family (who of course envisioned this exact kind of bodily fluid-based nonsense when I announced my fine art intentions), I asked around only to be met with mildly impressed murmurs and something about "her chakras".
My father was not pleased to hear of the company I was in. Two years later, he and my mother would attend my grad exhibition, proudly, but also stopping to earnestly whisper, "Is this art?" at various piles of rubbish around the building. They were right two out of three times.
Art school wasn't entirely shit (sorry). I made many friends who went on to make incredible art. I met great visiting artists, and many of my tutors were artists whose work I still love. I was less a fan of my performance art teacher who failed anyone she didn't make cry during class, including the boy she forced to stage his own funeral. (Don't ask.)
At my final assessments, the good tutors gently suggested that perhaps writing was more my forte. Miraculously, that didn't make me cry but has led to a long and illustrious writing career that has afforded me the means to rent a plant-filled studio apartment of my own. I might not have a potter's wheel (yet), but who needs ceramics when you have the memories of art school to fill your home?
Thanks to the kind types at UNiDAYS, uni students can nab 25 per cent off their frankie subscriptions. Just click here, then register or log in using your UNiDAYS member details. Easy as!