ace graphic novels by women and non-binary folks
Need to top up your reading list? Perhaps these ripper graphic novels from women and non-binary folks will fit the bill.
So you've become an expert on comics, thanks to our recommendations a little while back. What to do, though, when you're itching for a comics fix but don't have enough time to get stuck into a series?
That's where graphic novels come in. From wartime recollections to life-changing summers, the women and non-binary folks behind this list of recommendations have put together truly important and memorable tales – made all the more poignant through the very personal illustrated medium. These standalone stories will have you hooked from the first page through to the last.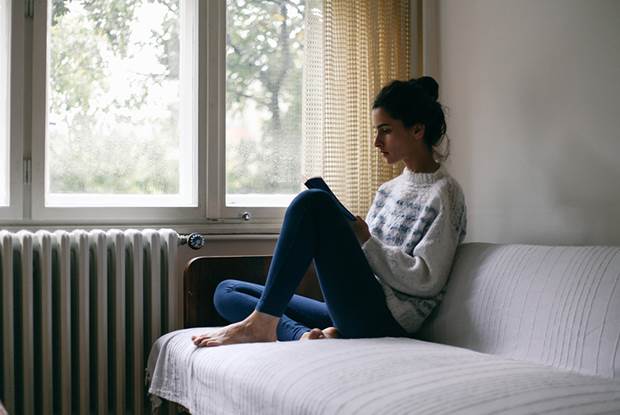 Persepolis
A revealing, often confronting portrait of life in Iran during and after the Islamic revolution, Persepolis is a coming-of-age story that is at once personal and political. Drawn entirely in black and white, Marjane Satrapi's illustrations are striking in their simplicity as she shares her memories of her war-torn homeland. If you're keen for more after finishing the book, check out the Oscar-nominated animated film adaptation.
Honor Girl
Maggie has been going to summer camp for years, but the one she attends at 15 changes everything, when she falls in love with a camp counsellor – who's also a girl. In her first graphic novel, Rookie staff writer Maggie Thrash explores sexuality, identity and the confusion of adolescence beautifully through staggeringly realistic dialogue and drawings that are charmingly childlike. Have a box of tissues handy – there's no happy ending in this one, but it'll stay with you for a long time.
This One Summer
Another coming-of-age tale set during a transformative summer, this award-winning book follows pre-teen friends Windy and Rose as they transition from childhood to adolescence. A collaboration between cousins Mariko and Jillian Tamaki, this graphic novel brims with a quiet knowledge, as the two protagonists navigate the murky waters of puberty, and start to learn things about boys, and their parents, and the world, that are difficult but real. Parents in America have complained about the book and rallied for it to be removed from school library shelves, which is pretty much proof that it's essential reading.
The Baby-Sitters Club
This one straddles the line between graphic novel and comic book series somewhat, but it's an absolute banger that you must get onto if you were a fan of Ann M. Martin's classic series in the '90s. Acclaimed comic artist Raina Telgemeier (who's written other excellent middle-grade graphic novels including Smile, Sisters and Drama) has adapted the beloved series into comic format, and it's got all the charm of the original books, with an exciting new spin. Run, don't walk to pick these up if you're after a nostalgia kick.
Fun Home
A classic of the genre, Fun Home chronicles the early life of Alison Bechdel (yes, of test fame) through the lens of her complicated relationship with her father. The author explores sexuality – both her own and her father's – through this often provocative book, which follows a non-linear structure. Fun Home took seven years to write and illustrate, and you can tell – it's a meticulously crafted work of art. If you're keen for more Bechdel family tales after finishing this one, check out her graphic novel about her mum, Are You My Mother?
Nimona
From the artist who brought us Lumberjanes, Nimona is a fantasy graphic novel that began its life on Tumblr. The titular character is a bright-eyed shape-shifter, keen to help villain Ballister Blackheart succeed in his dastardly plans. Charming, funny and surprising, Nimona is a beautifully illustrated story full of heart – a magical buddy-cop comedy that takes its characters, and readers, to unexpected places.
Perfect Hair
The first graphic novel offering from Melbourne artist Tommi PG, Perfect Hair is an emotionally raw journey through fear, loneliness, bodies and identities. It's a distinctively illustrated series of vignettes exploring the human condition, with varied textures including ink, pencil and watercolour drawings. Tommi has been a mainstay in the Australian zine scene for a long time, and it's a pleasure to see this very personal full-length work from them. Hopefully it's just a taste of what's to come.
The Story of My Tits
Jennifer Hayden was diagnosed with breast cancer at 43. So she wrote The Story of My Tits – a hilarious and harrowing look back on her relationship with her breasts, from her flat-chested youth through to her more ample college life. This cheekily titled book is a deeply personal and unique tale told cleverly and empathetically, and delves into Jennifer's relationship not only with her body, but with all those around her.