a travel guide to the world's best tiles
Together with Rollie, we pull on our most comfy shoes to find some tiled beauty.

Together with Rollie, we pull on our most comfy shoes to find some tiled beauty.
There's nothing more gratifying than discovering how many steps you clocked after a day of playing tourist, hunting down that really famous artwork, temple, fountain or three-tier deli sandwich. But sometimes, something much simpler catches the eye when you're on foot: decorative tiles. The earliest use of tiling dates back to the 13th century BC in Ancient Mesopotamia, and since, tiles have been used for floor, wall and roof coverings in some of the world's most where-the-hell-is-my-phone-I-need-to-Instagram-this-pronto places. Here's our guide on where to find good-looking tiles the next time you're globetrotting.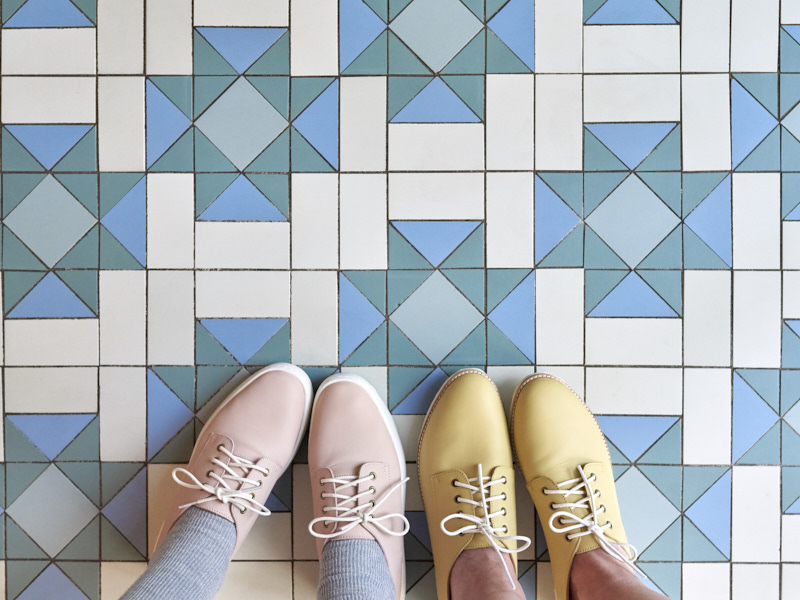 Rollie Derby City Snow Pink and Derby Snow Lemon at Market Lane Coffee Collins Street, Melbourne.
LISBON Buying a souvenir to remember a place is not uncommon – in fact, it's basically the reason why snow globes still exist. King Manuel I of Portugal also loved a souvenir, and after discovering azulejo tiles during a trip to Seville, introduced them to Lisbon in 1503. (We can confirm he went over his baggage limit.) The colourful, patterned ceramic-glazed tiles were used to cover building façades, but were also handy for temperature control, and today can be seen all over Lisbon. For a closer look at these iconic squares, be sure to visit The National Azulejo Museum, Quinta dos Azulejos garden (an 18th-century courtyard) and the façade of Casa Ferreira (the oldest art supply shop in the city).
NAOSHIMA Don't you love it when you can do two things at once, like putting a load of washing on while you're cooking dinner, or watching Netflix while scrolling your phone, or sleeping while dreaming of all of the above? Well, on Japan's famous art island, Naoshima, you can bathe while gazing at art in the I Love Yu Bathhouse. Designed by artist Shinro Ohtake, it's an immersive art installation and sento (public bath house), and its façade is built from upcycled tiles he collected from around the world. Finally, hygiene and high culture come together.
BARCELONA Make sure you know two words: boquerones and Gaudí. 'Boquerones' appear on every tapas menu and will change your life (not guaranteed, but highly likely) – they're fresh anchovy fillets marinated in vinegar. Gaudí – or more precisely, Antoni Gaudí – is one of Spain's most influential architects of Catalan Modernism, and some of his greatest works are located in this city. Explore Park Güell for his mosaic sculptural garden and Casa Mila for his decorative cement tiles and two-tone timber parquetry floors.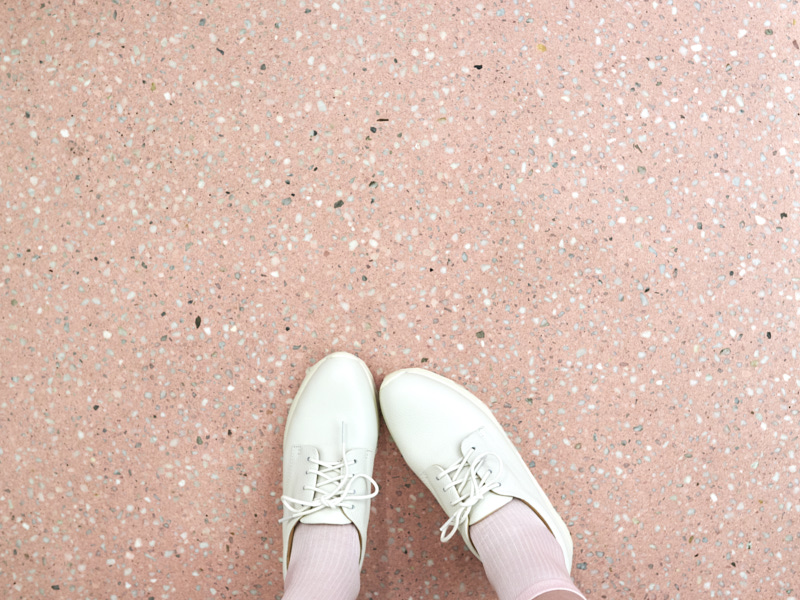 Rollie Derby Sport White Tumble at Pidapipo in Melbourne's Degraves Street.
MELBOURNE It's the city that keeps you caffeinated. It's also the city that takes its hospitality interiors very seriously. Tiles have become one of the leading design features among Melbourne's café and bars, and a visit in particular to Peaches' Wes Anderson-style pastel pink bar, or Market Lane's Collins Street outpost, or the terrazzo entrance at Pidapipo gelateria in the CBD, will have you staring at their decorative floors for longer than is socially acceptable.
NEW YORK You barely need to leave the subway to explore NYC's best tiles. If you're travelling underground, be sure to stop at the 81st Street Museum of Natural History for subway tunnels lined with impressive mosaic animals. A visit to Grand Central Station and the Grand Central Oyster Bar is non-negotiable for Guastavino tile viewing (they're tiled terracotta archways), and the Bethesda Terrace Entrance Arcade in Central Park for a look at Minton tiles (it's also the perfect spot for a Medieval-themed selfie).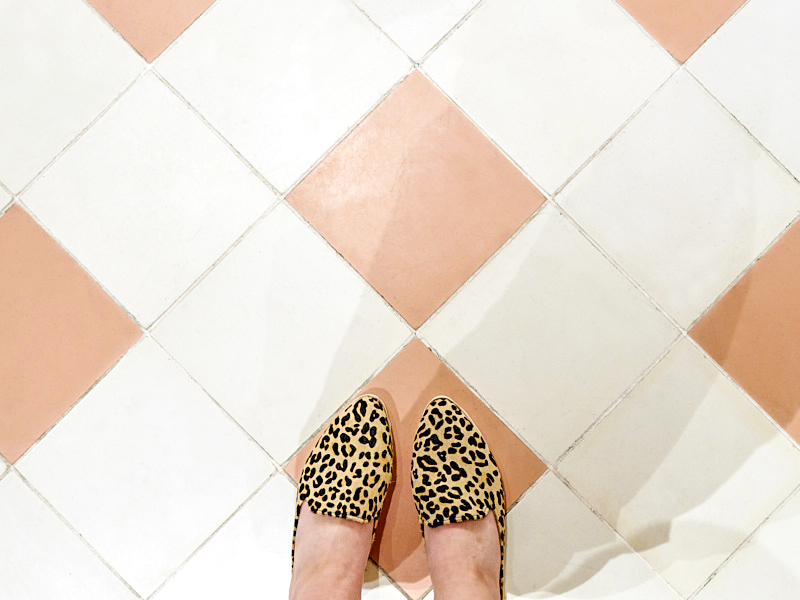 Rollie Madison Mule Camel Leopard Pony at Peaches in Melbourne.
This globe-trotting article was created in partnership with Rollie, the super lightweight, stylish and comfortable shoes designed for travel. Check out the full range of colours and patterns you can wear while exploring your favourite tiled paradise on the Rollie website.