a super-quick guide to interior design for pets
Turn your space into a pet-friendly haven. Created with our clever mates at Kangan Institute.

Unlike sharing a house with humans, there's usually not much fighting over TV position or decorating choices when you live with a cat, dog or other critter pal. But not taking your furry mate into account when you're furnishing your home can make the place a bust for both of you. This is where the problem-solving (and cushion-wrangling) of interior design comes in. Though her clients are normally of the two-legged variety, Kate Carroll – an interior design teacher from Melbourne's Kangan Institute – has the skinny on creating the perfect pet-having household.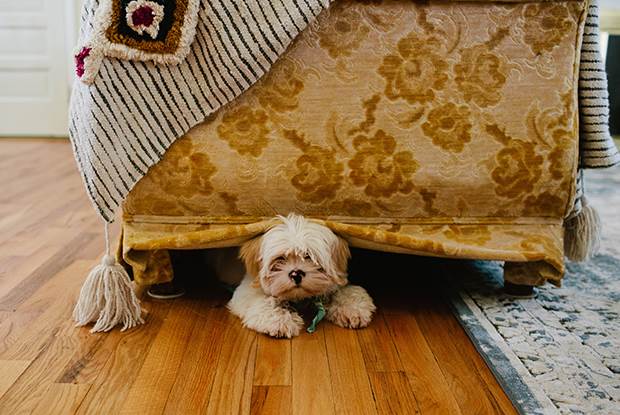 DEFUR YOUR FLOOR The right floor is step one in making your house both clean and peaceful. "Hard floors are best for flea prevention and easy maintenance of wet or dry mess," Kate says, "but it also makes sense to protect areas of intense traffic with a rug." Thanks to our planet's thriving rug industry, the options here are basically endless. Is your pet high-impact, like a big dog or a scratchy kitty? Is your personal taste more utilitarian? Outdoor rugs can be a good choice. "They're much more resilient. Or you can buy heavy-duty rubber-backed flooring from hardware stores by the linear metre," Kate explains. "Otherwise, you can get a low-pile carpet offcut, overlocked around the edges, from a carpet shop." And don't forget about the magic stain-hiding powers of patterns – maybe it's time to get really into paisley.
CRITTER-FRIENDLY COUCHES Cuddling up to your pets on the couch is one of life's loveliest pleasures, but it can be hard if your sofa looks like it should be condemned as a health hazard and bulldozed by the local council. "Any textile that acts like velcro – like velvet, corduroy or chenille – should be avoided," Kate says. "Fabrics with uneven surfaces can catch pet hair. Many people opt for leather or synthetic alternatives: Nubuck leather has a softer finish, and synthetic micro suede also offers a durable, stain-resistant option." Double points for metal legs rather than wooden ones if your kitty likes to scratch. If you've already got a couch made from troublesome fabric, Kate suggests a removable, machine-washable slip cover. "There are also a number of sprays on the market that act as a repellent, leaving a bitter taste when pets try to munch on your favourite furniture," she says.
CLAWS OUT FOR CLUTTER Pets, like people, come with a lot of stuff. Unless your pet is a kangaroo that can store their own food, treats, grooming tools, medication and toys inside a handy pouch, it's probably a good idea to look into the magical world of storage solutions. "Hooks and storage baskets mounted inside doors can be an easy place to store a range of toys," Kate says. "Don't be afraid to get a little creative. Dress up a dog food sack with a burlap bag and secure it with a small rope, or hide the bag inside a wicker basket or hamper." If you're really into that uncluttered look, Kate recommends a footstool or Ottoman with a lid that doubles as a storage box for maximum crap-disguising potential.
BE A BIT EXTRA In this hi-tech age, there are lots of interesting doodads to consider if you desire to give you and your pets a life of true luxury and decadence. "There are so many options, it's quite mindblowing. There are very cool but costly designer choices like cat evolution pods or super soft and fluffy beds from online retailers," Kate says. "Heated beds can be a nice comfort for older pets, and there are some pretty cool microchip-activated products on the market now." You can even get space-age, microchip-activated food bowls that let your pet chow down on their dinner while stopping any rowdy neighbourhood food pinchers from getting in on the action. "Microchip-activated pet doors that only open to registered pets can prevent unwanted guests from entering your home, and there are also automated kitty litter trays that remove soiled litter and prevent tracking litter through the house."
THINK LIKE A DOG/CAT/GUINEA PIG Pets, like people, appreciate living in an environment that takes their preferences into account. This can mean putting yourself in your pet's shoes for a while, even if they don't wear shoes. "Most pets gravitate to comfort, like most humans, so always provide a desirable place for them to retreat," Kate says. "Understanding the occupiers, whether young or old, four-legged or even three-legged, can vastly alter design outcomes." Comfort and smell are big considerations here, especially because the human nose is a poor imitation of the highly sensitive sniffers dogs and cats have. "Having something that smells like home can be very reassuring for pets when relocating to new spaces. And most pets are very tactile creatures, so using soft cushions and throws can provide a lot of comfort and warmth."
So there you have it: interior design isn't just for people who need advice on where to put their new Swarovski crystal chandelier – it can also help you craft the perfect cross-species house. No word yet on whether it can teach your dog to have dinner on the table when you get home, but we'll keep you posted.
This excellent bit of pet-centric design talk was brought to you by Kangan Institute. Their new Diploma of Interior Design and Decoration (MSF50213) covers everything from design philosophy to drawing up briefs and selecting colours, fabrics and furniture.