a little chinwag with frankie's 2018 diary illustrator, caitlin shearer
We asked the super-talented Caitlin Shearer how she went about creating the astonishingly pretty patterns in the 2018 frankie diary.
A lot of love goes into creating the frankie diary – and for this year's edition, we enlisted the help of one of the best illustrators around, Caitlin Shearer. With the last copies of the linen-bound planner getting snapped up quicksticks, we thought it might be rather nice to grab Caitlin for a wee chat. Scroll down to take a peek at the diary and read all about the Melbourne lady's creative process.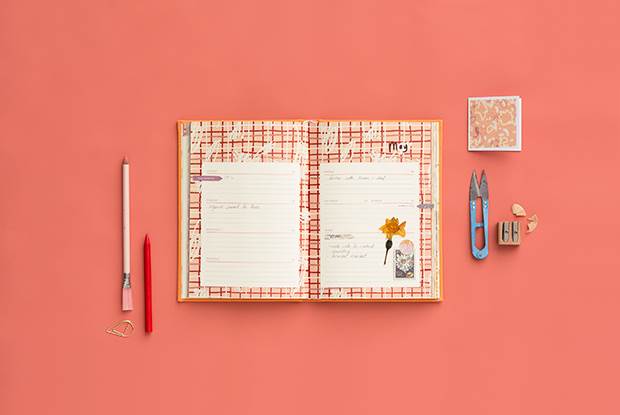 For the benefit of those folks out there who don't know you, can you tell us a bit about who you are and what you do? My name is Caitlin. I'm a curly-haired Cancerian, currently residing and working in Brunswick, Melbourne. I'm a Jill of all creative trades: I Illustrate, collage, curate and photograph. I also design textiles and sew dresses under my namesake clothing label Caitlin She.
You created some exceptionally pretty patterns for this year's frankie diary. What inspired them? Thank you! I was inspired by those scribbles that you do absent-mindedly while on the telephone. I usually end up with pages of flowers and my name written a hundred times. I am very much inspired by tactility and texture, so being able to recreate and include some gritty charcoal and crumbly pencil strokes was also a high priority for me. I looked to sunsets, romantic hazes, rose-tinted viewpoints and scenes of gardening at dusk to provide a moody and sentimental colour palette.
Tell us a little bit about how you created the patterns. Did you draw them by hand? I was working digitally, although freehand, with a set of brushes that mimics conventional drawing tools to a tee. I did so many scribbles, swashes of colour, loops, curls, lines… I let myself have a lot of fun with this one. Making patterns can be very freeing because it comes from the subconscious realm and there's no need to adhere to a strict outcome in terms of representing something real. It's a bit therapeutic, actually!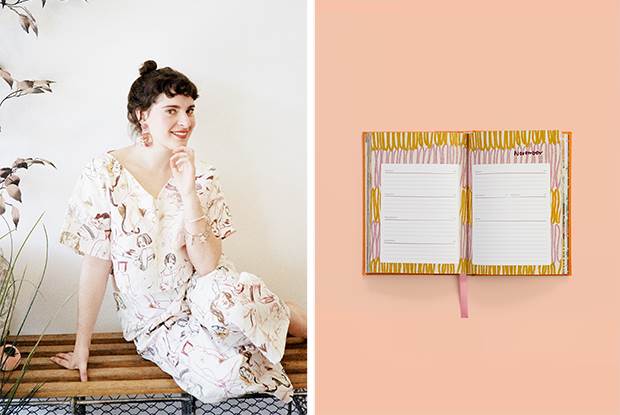 What are the challenges involved in making a pattern? Getting the colours just right is always the hardest part for me – there are so many variations of combos. It's about trusting your intuition and not going overboard when something just feels right – or wrong, for that matter!
Where did you whip up these designs? I was working in a very nice little studio in Brunswick called Toast Workroom at the time. When I wasn't drawing at Toast, I was drawing at home on the couch with my cat Mimi beside me. Working digitally or even from a sketchbook is very transportable so I relish the freedom of being able to skip around town. I actually worked on the pitch for this project in the park one sunny afternoon.
How did it feel when you first got your hands on the 2018 frankie diary? Did it look how you expected it to? I was already smitten with the printed proofs so to have the actual diary in my hands was the loveliest experience. The orange embossed cover instantly won me over – I'm a sucker for linen! And then I see there's a pink satin bookmark ribbon inside – too good! Now I carry mine in my handbag every day; I think it's going to be in there all during this busy year.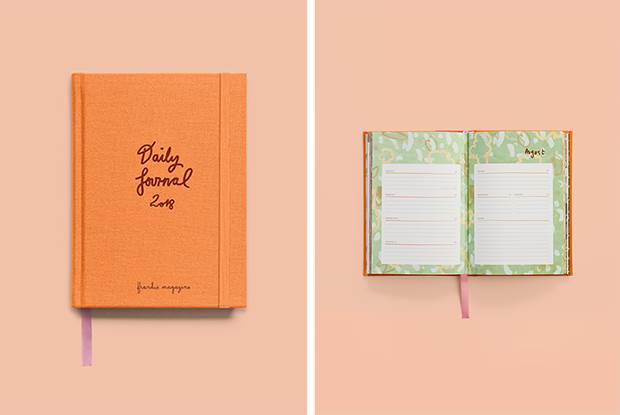 Your work is very recognisable. What do you think its about your visual style that makes it unique and truly your own? As in all areas of life, I just follow my heart. I trust the idiosyncrasies that come with owning my own heart, hands and mind, and try to roll with it. I can also become easily fixated on colours, terms, styles. It's all a bit 'new romantic' at the moment – lots of flowers. I indulge myself and the aesthetics I obsess over and build it into a beautiful world around me.
How has your style changed over time? I've been painting and drawing for around 10 years, and all I ever used to do was watercolour paintings of ladies in dresses. My repertoire has expanded massively since then, and now I'm able to represent all my visions under one big umbrella of a job. I'm not stuck to one medium or thought process, and I think with maturity and personal growth also comes a wealth of poignant topics to touch on. My work has become much more autobiographical.
Which is your favourite pattern in the diary? I love the January pattern with all its tiny little kisses – and am a little sad that I've just finished up the month and won't be able to see it anymore.
Anything else you'd like to tell us about illustrating the 2018 frankie diary? My 18-year-old self would be crying with happiness if she knew what a grand achievement her adult self would make! What's that old adage about never giving up on your dreams?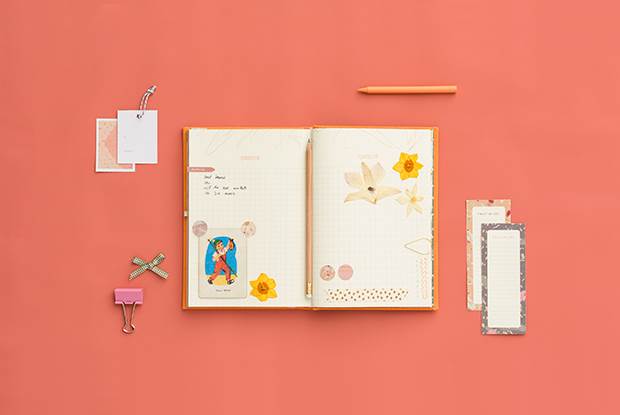 Want to nab a frankie diary? Easy – jump over to our online store and get one delivered to your door. But be quick; stock is limited.