a few books kat stratford would probably read
Here are some titles the 10 Things I Hate About You character would happily (but rebelliously) read.
A recent rewatch of 1996 masterpiece 10 Things I Hate About You revealed its central character – the 'shrew' herself, Kat Stratford – to be somewhat of a bookworm. It makes sense, of course, that the punk-leaning aspiring feminist would have her nose buried in paperbacks – all the best high school outcasts do. From her rant in English class demanding female authors be added to the curriculum, to browsing through a bookstore for The Feminine Mystique, it's clear Kat has literature on her mind. Here are some titles we reckon she would happily (but rebelliously) read.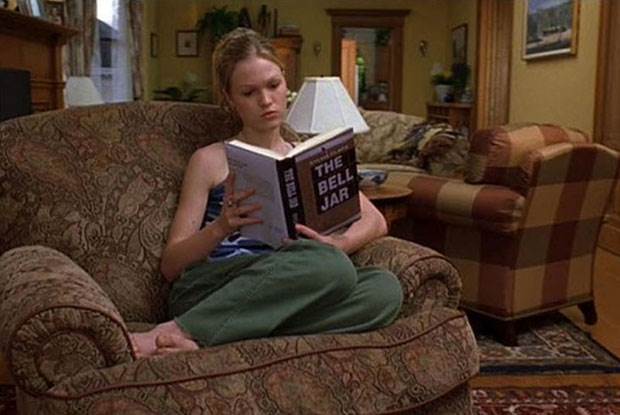 THE BELL JAR by Sylvia Plath
Let's lead with the facts, because we know this one is on Kat's list – we see her reading the seminal book as her father finds out about her 'incident' with Joey's car. The Bell Jar was Sylvia Plath's only novel, but it's sure as heck left a huge impact on the world. The story of a young woman's very difficult coming-of-age, it makes sense that Kat, about to enter college after a rough couple of years at high school, would be nose-deep in this classic.
SEX OBJECT: A MEMOIR by Jessica Valenti
Written by Jessica Valenti, an activist and the founder of feminist website Feministing, Sex Object hits the nail on the head from the very first page. Smart and angry – just like Kat Stratford herself – the book looks at how women are often reduced to nothing more than disembodied legs or breasts for ogling. It also brings to mind a certain scene from 10 Things: as Patrick goads, "Now there's a way to get a guy's attention, huh?" Kat replies, bitingly, "My mission in life."
BAD FEMINIST by Roxane Gay
Since the publication of her debut novel An Untamed State, Roxane Gay has become a modern icon for feminism, and her subsequent online essays and books Bad Feminist, Hunger and Difficult Women have only strengthened that path. Articulate and razor sharp, her work slices through the bullshit to talk sense with clarity and empathy. A Haitian-American woman, she looks at pop culture and feminism from her perspective as a woman of colour and survivor of sexual assault.

A ROOM OF ONE'S OWN by Virginia Woolf
Let's face it: this was definitely on the curriculum at Sarah Lawrence, Kat's chosen school. Basically one long essay, A Room of One's Own is based off two lectures Woolf delivered at women's colleges in the 1920s. The book is as powerful today as it was back then – in it, Woolf argues that women need time, space and education in order to write, think and be. It's a bit of a must-read for feminists, both real and fictional.

SOUR HEART by Jenny Zhang
This is a collection of short stories written from the perspective of seven young women – namely, first-generation immigrant women – all coming to terms with themselves, their bodies and their lives. Often gross, but always touching, these tales cut right to the heart of the messiness of life and girlhood. As a bonus, Jenny Zhang spent time at the famous Iowa Writers' Workshop, a place I imagine Kat Stratford writing her own short stories.