a chinwag with ceramicist maggie boyd
Maggie's clay objects depict "free-bleeding, unapologetically hairy, adult females" who aren't afraid to make eye contact.
New York artist Maggie Boyd combines her drawing skills with ceramics to create painterly pots that subvert art history norms and celebrate the female body. We chatted to her to find out more about running a creative business and finding your authentic voice.




Tell us a bit about yourself. I'm a ceramic artist and illustrator from Vancouver, Canada but now I live in Brooklyn, New York. I got into ceramics when I made my first coiled pot during art class in high school. It looked convincingly like a shiny brown poo and my mum was not impressed when I gave it to her. That's when I knew I was on to something!
                        
How do your drawings feed into the ceramics you make today? I think of my work as three-dimensional, functional drawings. Every single thing I do is informed by drawing. I usually opt to draw something rather than describe it with words. For example, if I don't understand something I'll ask someone to draw it for me. All of my pots start out as drawings. Because of this, I actually don't spend too much time making distinctions between drawing and ceramics. On top of that, I also think of three-dimensional form as the way a material describes a line or series of lines through space; in other words – a drawing with volume.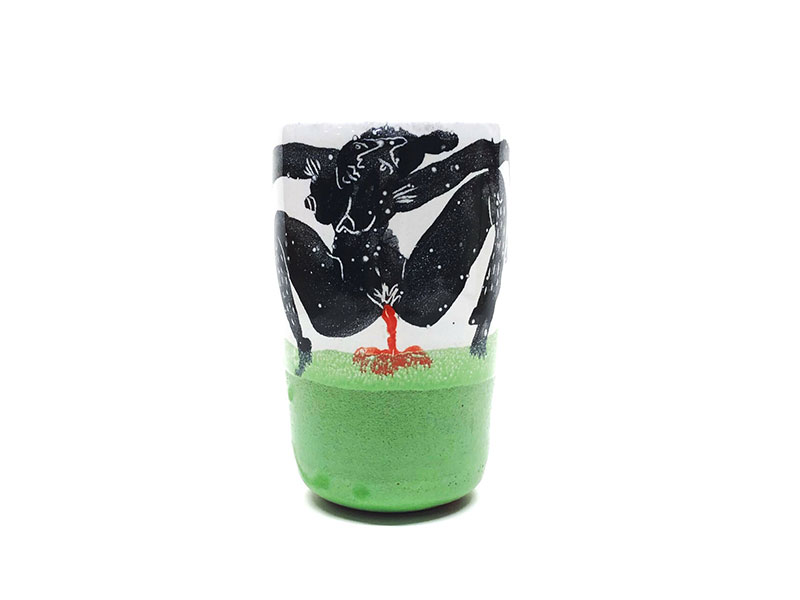 What inspires your illustrations? Are there any messages or stories behind them? The most common thread is they all relate to art history somehow. Much of the work I do is a love letter to the pots that have come before me. Other works are riffs on classically male-dominated depictions of female bodies in Western painting and my own self-portrait responses to them. They are free-bleeding, unapologetically hairy, adult females with scars and uglinesses – unafraid to make eye contact. They are a hopeful and playful antidote to the centuries of female subjugation in art.
What technique do you use for the surfaces of your ceramics? I use a glaze recipe that was very popular in the Italian renaissance called maiolica to achieve many of my pieces that feel most like drawings. It is a very stable glaze that records marks and colours faithfully. For anyone who knows about ceramics and glazing, you probably know how hard it is to get a glaze that can do it all. With this particular glaze, I was able to translate my love of gestural and figurative imagery by drawing with oxides and sgraffito relatively seamlessly from the page to the pot.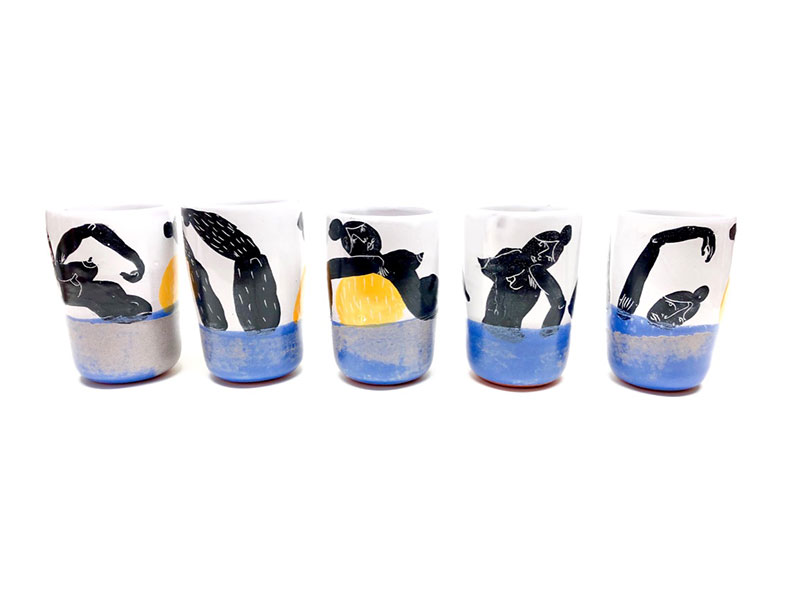 What do you think are important skills as a creative business person? Oh boy, I could make a list of what is needed to be a creative business person but it would also be a list of the things that I basically suck at – but I am trying to get better! They are as follows: being organised; not procrastinating; doing administrative work (because it's not just about making art all the time); and updating your website so you have things that people can buy. On the other hand, the skills I do have are: being genuine in the pieces that I produce;l not feeling like I have to impress everybody with my work; not getting too wrapped up in the online planet of endless things and voices; and really caring about building a community of, and supporting, other makers.

What role does social media play in your creative process and business? I think like every other sentient being, I have a love/hate relationship with social media. In one sense, I thank the gods of Instagram nightly that somehow I am able to make a living from making ceramics and drawings because of a platform which lets me connect with so many people so easily. On the other hand, I find that social media can feel devoid of anything meaningful. if I spend too much time on it, it becomes unhelpful. I can float into the universe of existential listlessness, losing whole days wondering if I should buy a Glossier lipstick.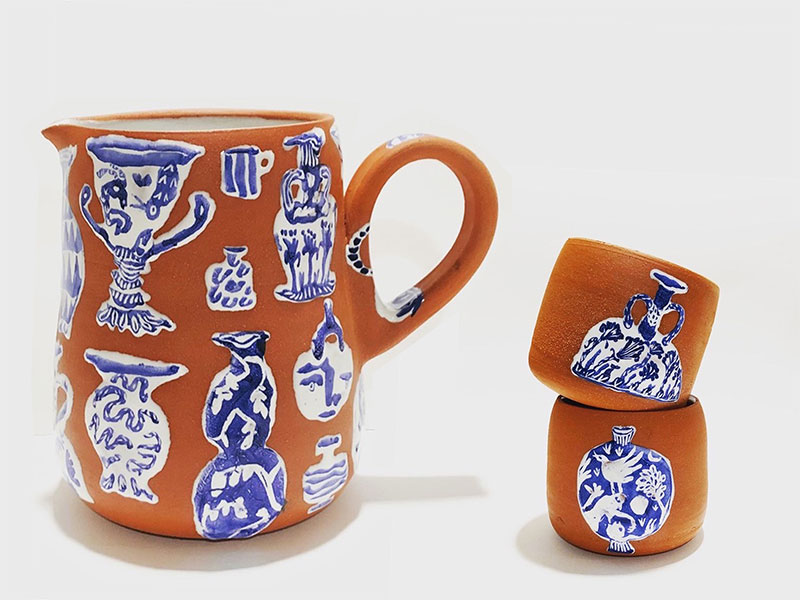 Do you have any words of advice for other artists hoping to make a living from clay? I think that too many people try to rush into monetising everything these days and it doesn't give them enough time to find their own voices. If I could say one thing, it's that allowing yourself to play and experiment before launching your business will be so much more beneficial to your career as a craftsperson because you will have given yourself time to develop your own particular style. People will notice the authenticity in your work.
                        
How important do you think handcrafted objects are in the present day? I think that if you care about your objects deeply and if they feel special and precious, you will reduce your risk of being trapped in the consumer-binge reality that we live in. Perhaps this means that you will throw away and consume less, and the planet will melt more slowly, and you will feel small joy and connectivity when you use your precious objects – I know this is the case for me. If you've never made a cup or a bowl, try it! It's a radical thing to make a vessel.