a bit of a chit-chat with edith rewa
Meet Edith Rewa, aka the Blue Mountains-based illustrator who created the super-special cover of frankie 79.
Curious to know about Edith Rewa, the lady who illustrated the cover of issue 79? We don't blame you. It's a pretty darn nice cover. We haven't stopped ooh-ing and ahh-ing over it ourselves. (We may also have indulged in quite a bit of cover-stroking, a totally legitimate and non-creepy activity – we swear.) Scroll down to read our chinwag with Edith, and hit play on the video to see her at work in her Blue Mountains studio.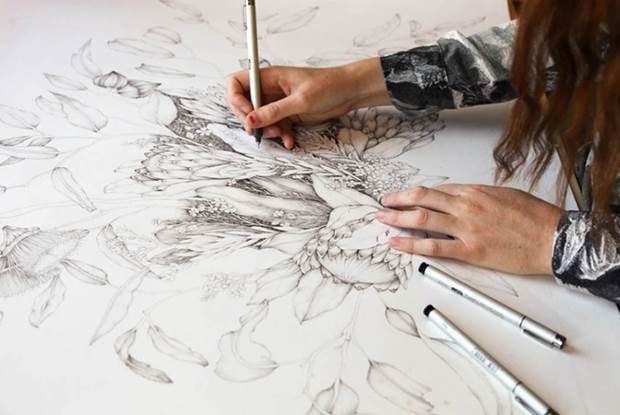 Tell us a bit about yourself, please. I'm Edith Rewa – Edie for short! I trained in textile design, but am mostly making pennies from plant-based illustrative work now.
What is your process for illustrating plants? I'll spend some time deciding on a particular sprig or angle and then do a rough pencil sketch. I follow in more detail with pen, scan it, then usually colour in Photoshop.
Talk us through some of the native flora featured on the cover. The central plant is the Pincushion Hakea (Hakea laurina). I was at my parents' house in Hobart while drawing the cover, and they had a prolific bush flowering out the front, asking to be drawn! The other plants are lesser-known beauties: Kunzea ambigua, Corkwood (Hakea lorea), Black kangaroo paw (Macropidia fuliginosa), Eucalyptus kruseana, Eremophila flower heads and Acacia.
How do you want people to feel when they look at your work? I hope to engage curiosity, admiration and respect for the native flora and fauna of Australia.
What's your studio like? It's always in a fluctuating state of disarray, but dried specimens, books, spent pen nibs and drawings are a constant. I use one wall as a working space for ideas; the other is a gallery space of native plants. At the moment, my desk is covered in dappled winter sun and a hot water bottle lies in wait on my chair.
Pop over this-a-way to nab a copy of issue 79, or find your nearest stockist over here.
Pretty snap from Edith's website.