a bit of a chinwag with frances cannon
The brilliant Frances Cannon told us about how she makes her art (and how she likes her mojitos).
Frances Cannon, for anyone who doesn't know, is a Melbourne-based artist who makes awesome pictures of (mostly) ladies' bodies. Some will make you smile; others might make you a little bit teary. Either way, they're highly likely to touch your heart. She recently collaborated with the Victorian Women's Trust (an independent advocate for women and girls, and one of the oldest women's philanthropic funds in the world) to create their rather special tote bag celebrating the beauty and power of friendship. We chatted with Frances to find out how she goes about creating – and what she likes to imbibe, too.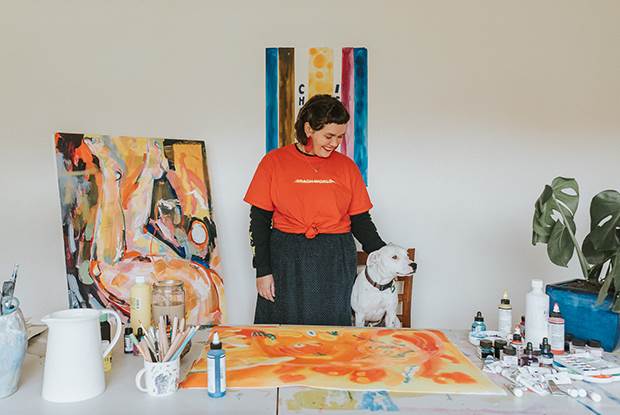 Why do you make art? Art has always been an integral part of my life. Basically ever since I could grip a pencil in my little toddler hand I've been drawing. Art is such an important way for me to express and sort through my experiences and deal with difficult emotions.
Who first encouraged you to pursue art seriously? My parents were always very supportive of my creativity and they encouraged me to study art at university (although they probably thought I would go on to be an art teacher – but having a career as an artist is a happy surprise!).
Did you have any favourite artists when you were growing up? I loved (and still love) Frida Kahlo. And as a tween I loved anime and manga, so I followed a lot of artists who drew in that style.
Tell us a bit about your workspace, please. Currently I work from my home studio, which is a big room with a really big window (so lots of natural light) with a big table in the middle. I'm very messy so a lot of the time there's paper and packaging stuff all over the table and floor… but it's home. I'm hoping to move into a shared studio space next year, though!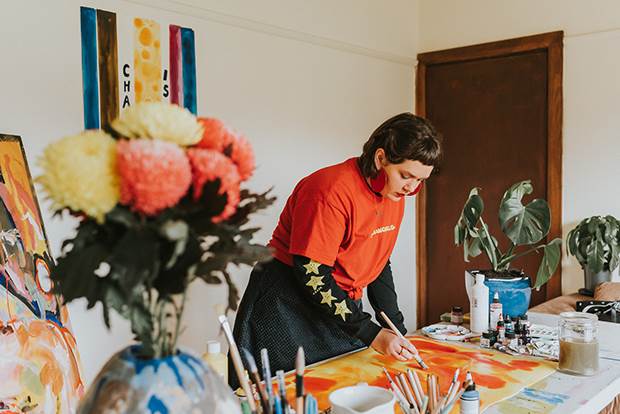 Where do you find inspiration? Myself! I draw from my own memories and experiences and emotions. I occasionally draw about current global events or things that are going on at the time, but I do so from my perspective.
What kind of mediums do you use? I use pen on paper for my simple black and white drawings. For my larger, more colourful paintings I use ink and gouache and watercolour on super-thick watercolour paper. I also use my iPad and a stylus to do digital drawings from time to time.
Has your style changed over time? Absolutely! I've always drawn, so I would hope that my style has changed since I was a kid (hehe). I developed my current language of drawing about three to four years ago.
If you were to teach an art appreciation class, what kind of lessons would you try to teach your students? I always wished that my art teacher in high school had encouraged different styles of artwork other than just realism. If I taught a class, I would encourage [students] to go with their heart and [show them] how art is in everything! Anyone who loves creating is an artist; you don't have to draw or paint in any one particular style to be an artist.
What do you wish you knew about being an artist before you got started? I WISH I HAD TAKEN A COURSE IN BUSINESS. I've had to learn all the business side of having an online store all by myself and it's been a tough learning experience.
How did you first get involved with the Victorian Women's Trust? VWT contacted me asking me to design the tote bag for them and I couldn't say no to such a fun and important collaboration!
What inspired your illustration for the Victorian Women's Trust tote bag? I wanted to portray women having fun, supporting each other and being comfortable in their bodies.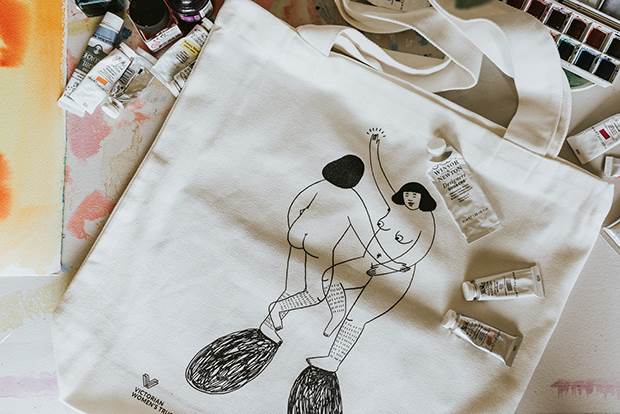 What does feminism mean to you? Feminism means everyone getting the same chances in life.
How has feminism influenced your work? Feminism taught me how to love myself and love my body, and that has influenced my work in such a huge way. Illustrating my self-love has inspired not only me, but so many other people.
What do you get up to when you're not making art? I love walking my dog and listening to audiobooks (currently listening to Harry Potter), reading, drawing in my sketchbook (I know, it's making art, but I do it a lot), watching TV, and cooking!
If we ran into you at the pub, what drink should we offer to buy you? Definitely mojitos, really minty ones (and multiple)!
Anything else you'd like to share with frankie readers? Take some time today to remind yourself how incredible you are!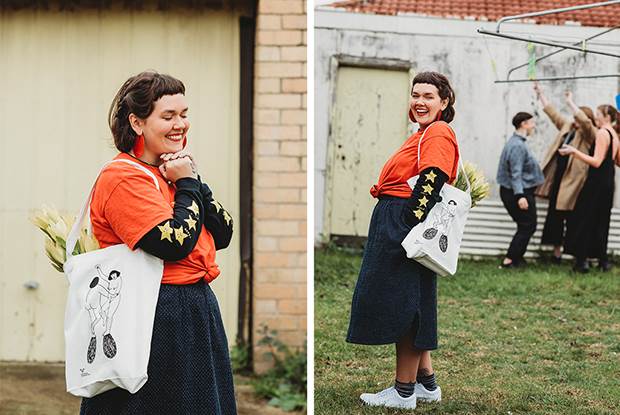 Sweet snaps by Breeana Dunbar.