meet some of the creatives behind the other art fair
Hundreds of talented creatives will unite with art-lovers from all around Melbourne this week, as The Other Art Fair returns to the city for the first time since 2019 (woohoo!). Ahead of the festivities kicking off on Thursday, we sat down with four rad artists who will be sharing their work at the event. Keep scrolling to find out a little bit about the super-cool stuff they create, and head this way if you'd like to get your mitts on a ticket to the fair.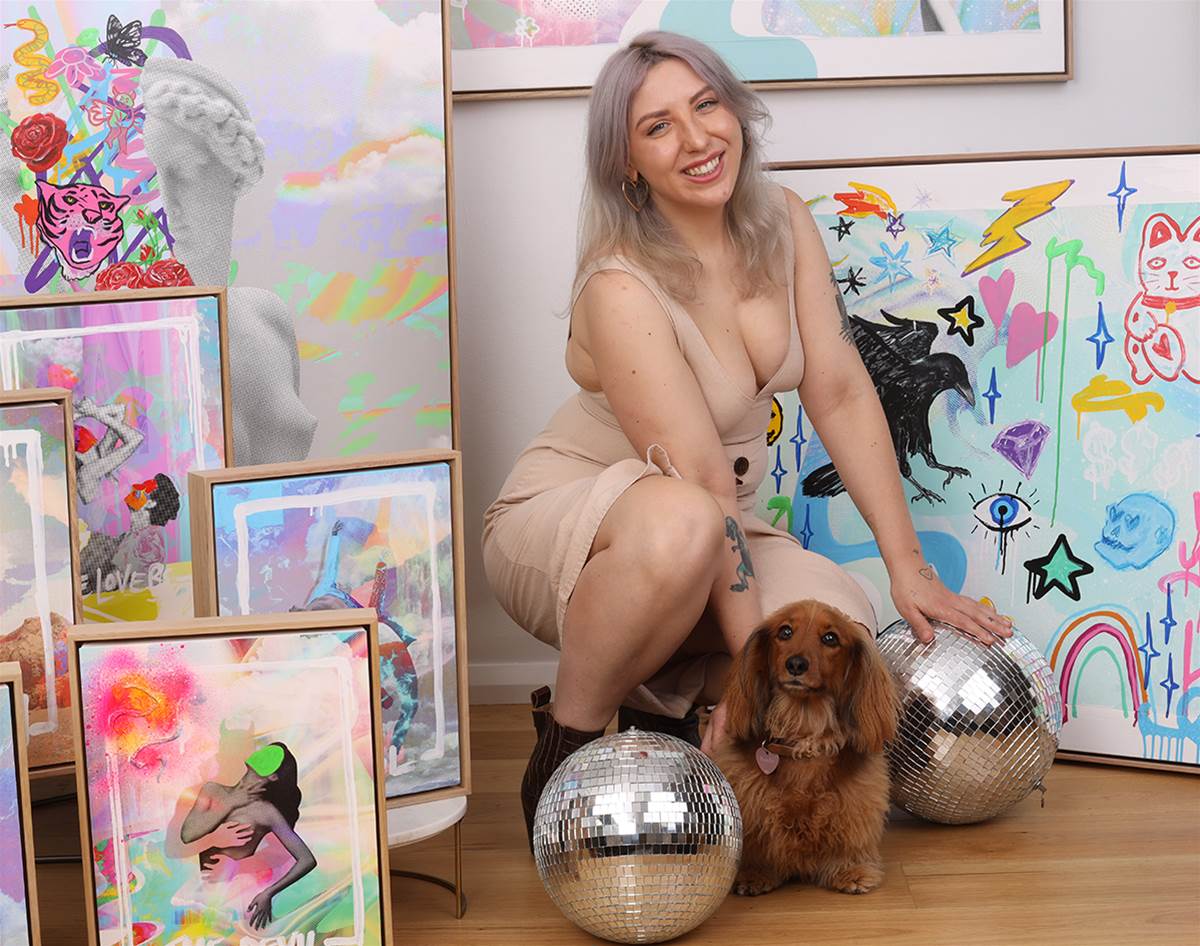 KASIA FRANKOWICZ 
Tell us about your creative style. My work is a flurry of street style, digital art and collage – why limit yourself?! I suppose the end game is that I would like people to think twice about social constructs and why things are the way they are, and to challenge themselves more. Whether it's the words they use, the stuff they believe in or the things they like, I want people to ask "why?"
How did you get started with your medium? I like to be experimental; mixing old stuff with new stuff is my jam! I create digital art and plaster it on canvas, then paint or draw on top with anything at hand. I use spray paint, gouache, pastels, oils, acrylics, markers... anything. I hate to feel like I'm in a box and love to enjoy my work, and smile while I make it. What's the point of being an artist if it isn't a good time?
Where do you find inspiration? My main man David Shrigley. He's incredible and I love that "who cares" aesthetic, and his dry sense of humour. It's a big hit for me and reminds me that it's supposed to be fun. I also get inspired by my day-to-day interactions and events – good or bad. Just being an LGBTQIA+ woman in the world today and navigating through that and my liberation from Catholicism… it's a lot of content.
Describe the space where you make your art. I work out of my living room in my itty bitty one-bedroom apartment. I have my Mac in one corner and I use the dining table and the living room floor. It's really comical having a 1.2m canvas in a room that's 4m x 4m with two sausage dogs running around, but I kind of love the chaos.
What aspect of The Other Art Fair are you looking forward to the most? By far I LOVE LOVE LOVE meeting the people who like my art – heck, even the people who don't. I just want to make the whole experience a party, and of course make my stall a little bit EXTRA. I have on-the-spot fortunes, an oracle of art machine I made, and a find your fortune QR code hunt. Why? Because it's FUN and I get to talk to people – win win!
Where can we see more of your work? I have a group show coming up at The Goodspace Gallery in Sydney on August 17 and, as always, I am all over socials like a bad smell. @kasia.artist
JESSI WONG
Tell us about your creative style. I'm predominantly a printmaker, using oil-based inks and traditional woodblock and lino printing techniques. I have an etching press, but for larger works I print by hand using a bamboo baren – a round piece of stiff cardboard covered with bamboo bark, with a handle on the reverse. It's used to apply pressure to paper and any inked-up image. I use the paper I print to create rolled paper installations framed in acrylic boxes, and collages and drawings. I use thin rice paper when printing with wood because it picks up so much detail. I often print in monochromatic gradients and layer torn or cut up pieces of paper. I find it so hard to throw out any scraps because I never know when I may need a circle of green or a sliver of yellow. 
How did you get started with your medium? I have always loved paper and sculpture. As a child I collected fancy stationery and textured envelopes, making things with cardboard and craft glue (I probably inhaled a lot of spray adhesive). I had every intention of becoming a graphic designer after high school, but when I started a Diploma of Visual Arts I fell in love with printmaking. It helped that I had a very passionate and supportive teacher.
Printmaking is traditionally a medium for mass reproductions and some of the earliest printing presses were for churning out newsletters or illustrations (at a time when not everyone could read). As a fine art medium, prints are made in limited editions, as scarcity increases value. Now, traditional printmaking is a bit underrated and often misunderstood – particularly with the advent of digital printing. I don't know if it will ever be as popular as painting or photography, but that's OK.
Describe the space where you make your art. I'm part of an artist co-op named Artery Co-operative. My space is around 6m x 4m with large drying racks for paper in one corner, a folding trestle table covered in paper, an etching press, and a bench with glass doors and shelves underneath for paper. There are plan drawers covered in scraps of paper in the middle of the room and plywood sheets, wood boards, framed artwork, styrofoam sheets and ladders leaning against any spare wall space. The warehouse ceilings are high enough for a small mezzanine with a bench and paper storage. I share the space with a photographer and a printmaker/painter/drawer/digital artist. I'm definitely the messiest but they've never complained about it.
What aspect of The Other Art Fair are you looking forward to the most? Socialising, seeing a range of different artwork and meeting artists. I'm also looking forward to speaking with clients and exhibiting new works. It has been a very long time for art exhibitions and fairs in Melbourne. 
Where can we see more of your work? On my Insta @jessi_wong_artist and online at www.jessiwong.com. I can be available for studio visits by appointment.
ANDRIA BEIGHTON 
Tell us about your creative style. My paintings reflect my love and appreciation of past design movements. Although I use contemporary and often unexpected colour combinations, my work creates a sense of nostalgia through familiar shapes and motifs (think Nonna's biscuit tin or Great Aunt Stella's wild, floral couch). I also find a sense of calmness in order and balance, so crisp lines, purposefully placed shapes and carefully constructed palettes are hallmarks of my work.
How did you get started with your medium? When I started painting, I really wanted to recreate the flat, block colour in vintage travel and band posters. So, I used gouache, which is the traditional paint for that style. When I wanted to create larger works on canvas, I knew I'd need to find a new medium. After a lot of experimentation, I discovered I could create a similar effect using acrylic paint on canvas.
Where do you find inspiration? My background in floristry is a huge inspiration for my work. The range of colours and forms created by nature never ceases to amaze me! I also have a lifelong love of textile, homewares and architectural design from the 1930s to 1970s, which is very evident in my paintings.
Describe the space where you make your art. My studio is currently set up in my tiny apartment, looking out onto my plant-filled courtyard. It merges with the rest of my apartment, so there are floral paintings mixed with art glass and vintage tin collections. It's a very bright and colourful space.
What aspect of The Other Art Fair are you looking forward to the most? Showing my work in real life again, meeting collectors and other artists, and receiving feedback on my work. As grateful as I am for having been able to sell my work online over the past two years, nothing beats physically showing work and the fun and energy of an art fair!
Where can we see more of your work? Via my website www.andriabeighton.com. I'm also very active on Instagram @andriabeighton where I share new work, process videos and inspo.
EMILY D'AGOSTINO
Tell us about your creative style. I create a broad range of contemporary and realistic artwork that focuses on portraiture and pushing the idea that "beauty perishes in life, but is immortal in art" (Leonardo da Vinci). I experiment with different styles and mediums, but my main style is to combine intricate traditional graphite drawing with smooth digital painting.
How did you get started with your medium? I started drawing as soon as I could hold a pencil, always trying to get as much information from what I could see onto paper. Over the years I refined this skill using graphite pencils, but felt as though this wasn't enough to capture the liveliness and warmth of my subjects. So, I began overlaying my highly detailed pencil work with digital drawing, adding colour and a contrast in textures which brings my portraits to life.
During COVID lockdowns, I practiced a new medium of digital painting using Procreate on my iPad. Through the use of multiple digital pencils and paint brushes, I captured small details like never before, which formed my latest collection, "Buono!" – a series of retro-style posters that feature your favourite Italian food and drinks, and take inspiration from vintage advertising posters by Leonetto Cappiello.
Where do you find inspiration? People are my source of inspiration. I believe there is beauty in every face and a lot can be communicated through the tiniest details in the expressive features of eyes, noses and lips.
Describe the space where you make your art. I create all of my artwork in my little home studio that is filled with lots of natural light, house plants (fake ones as I'm a terrible plant mum) and walls filled with posters from other artists to keep me inspired and motivated. You will always find my cat and dog following me around and keeping me company while I spend my days drawing away.
What aspect of The Other Art Fair are you looking forward to the most? Connecting with new people and sharing this experience with other exhibitors who share a love for creativity.
Where can we see more of your work?  On my Instagram account @emilydagostinoart and in my Etsy store EmilyDagostinoArt.
The Other Art Fair runs from May 26 – 29 at the Melbourne Meat Market.