laura may grogan photography interview
Laura May Grogan is a Melbourne photographer who (up until very recently) was based in Mexico City. Since taking off to travel the world four years ago, the talented shutterbug has been documenting her days in an anti-travel travel series called Noface Nomades. Remembering your time on holiday usually involves taking a selfie at a 'grammable tourist destination, but Laura's approach is a little different. She tells us more below. 

Hi Laura, tell us a bit about yourself and how you landed on the path marked photography. I've never not made photographs. I remember bossing friends around in primary school to get into poses and shooting them with my Dad's Minolta. Even after art school, I had a real tradie mindset, always thinking of the camera as a tool to make a living, rather than a form of self-expression. This has changed over the last five years as I balance freelance work with exhibitions, and as I've taken on freelance jobs that align more with my values. I also feel like I've started to experience enough of the world to start making work about it. 
You've been based in Mexico for four years. What drew you to the country? You know the common narrative that you should have been in New York in the '70s or Berlin in the '80s, or even LA in the '90s? That everywhere was so much cooler before? That kind of cynicism doesn't resonate in the same way in Mexico City. This is the time; this is the crest of the wave. 

Mexico City is the capital of art and design for Latin America. There's a respect for culture, identity and history, and how that influences architecture, literature and the visual arts blows my mind. There's a ridiculously passionate music scene, too. I've never seen a crowd cry or scream with such conviction as I have in music festival pits in Mexico City. Couple this with the pushback against racist immigration policies that have existed for decades, and the way Trump's USA has brought anti-Latinx sentiments to the surface, and CDMX is throbbing with pride and creativity. 
Bornes de Mimosas, France

What brought you back to Australia? I actually didn't plan on being back in Australia! I was working in India documenting Designer's Bootcamp, the workshop arm of The Design Kids. We were in Jaipur when the borders started closing in March, and the next gig was relocated from Osaka, Japan, to Sydney. That was eight months ago. I was booked to shoot in seven continents for 2020, and mourning that has stung. I'm lucky enough to get plant reports from my apartment in Mexico City, though. They're alive and well! I'll be back there as soon as the dust settles.
How did you come up with this series Noface Nomades? Noface Nomades was a very light-hearted anti-travel travel series started with my then partner (shout out to Ben Ewart) in 2016. While living in a van in Europe, I'd hear other backpackers using phrases like "I did Germany" or "I've done Portugal". After connecting with these travellers online, I found photo after photo of them standing, smiling in front of monuments. It just smacked of this colonial flag-in-the-ground style travelling that grossed me out. I wanted to document that trip and subsequent relocation abroad with humour and humility, so I hope my series communicates a respect for the places I visited, while also poking fun at our tendency to be more concerned about the photograph, rather than the moment. 

The series has morphed into something a little more self-reflective during lockdown in 2020. I was lucky enough to have a safe harbour during the Victorian lockdown in the eastern suburbs of Melbourne, my hometown. In this year where I was meant to be working all over the world, I continued the series feeling more faceless and simultaneously more and less nomadic than ever. The banality of the suburbs, rather than the glamour of Barcelona's back streets or Mexico's cactus fields felt comical and stifling. But location scouting and re-seeing this lockdown-zone lifted me out of mourning for the year that was, and has made me appreciate my privileged position.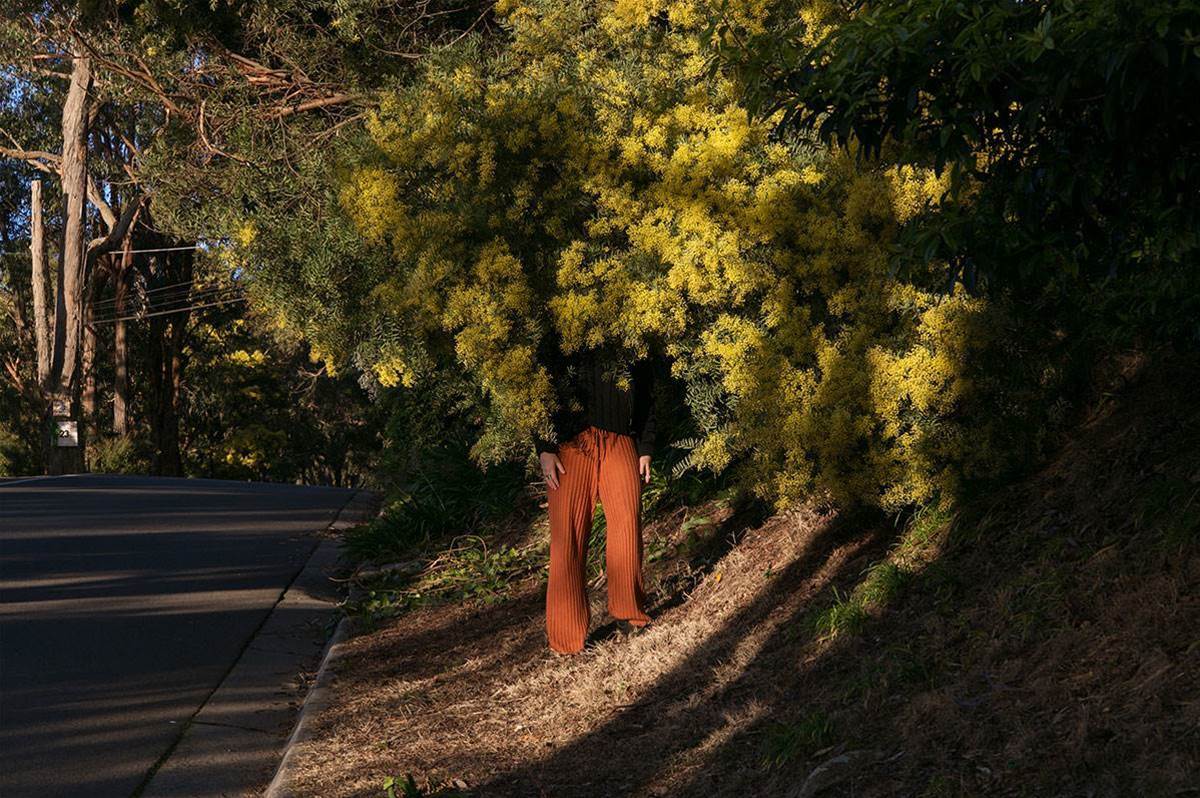 The Basin, Melbourne

How did Melbourne's lockdown test your creativity? In every way possible. I feed off other people so deeply, so being cut off from my community really crushed me. Suddenly, being in the spare room at my old man's place wasn't the most inspirational studio to work in. But slowly, I got over myself and started spending more time in the Dandenong Ranges, watching the crisp, orange golden hour of Melbourne's winter.

What interesting things did you discover about your neighbourhood during the time? People are PASSIONATE about their gardens in suburbia. I was told to "get the f**k out of here" while scouting a particularly well-lit camellia bush in Boronia. I also learnt the importance of having a 'local' – normally it's a bar, but during lockdown, having a cafe with good coffee and most importantly, kind humans was so precious. 
Barcelona, Spain

Have you found any silver linings to this tough year? Understanding the value of artistic pottering, that formless time when you just potter around, and ideas materialise. That online communities are rich and real and precious. That two opposing things can be true at the same time. That there will be no other time in my life when I get to spend eight months hanging out with my dad. That the arts community in Melbourne, even if you've been gone for four years, is a nurturing warm hug. Thank you to @TomBlachford, @PeterTarasiuk, @tentativeprecision, @Adaandivy_Photography, @FrankieRatford, @KristofferPaulsen, @wander.loz, @Creamtown and @looklook_lockdown for gear loans, inspiration and gentle encouragement.
Where can we see more from you? On Instagram @laura.may.grogan 
Tenochtitlan, Mexico