word from the wise: how to get into community radio
Areej Nur – the voice behind Triple R's The Rap – tells us how she got on air and fell in love with community radio.
Radio is often thought of as an old person's medium. Pop by Melbourne's Triple R, though, and you'll find an excitable bunch of young radio-obsessed folks – the likes of which include Areej Nur, host of The Rap (and a mega Seinfeld fan).
To celebrate Triple R's 2019 Radiothon, we chatted to Areej about how she got on air and what she loves about being a part of community radio.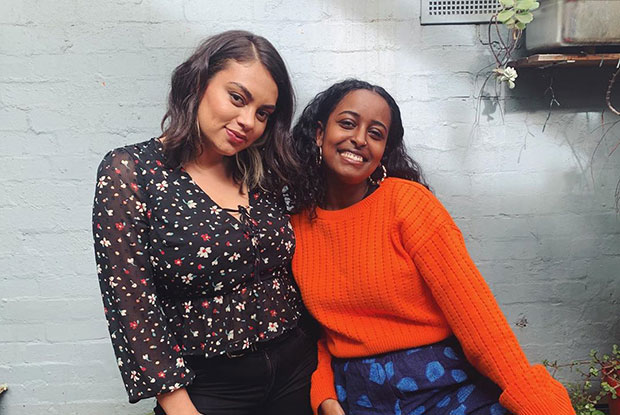 Areej (right) with musician Thelma Plum
What got you interested in radio? Honestly, I didn't grow up listening to too much radio, just news and a bit of music here and there from my parents. When I finished high school, my mum signed me up for a summer program for young people of colour where we did leadership training and were also given the chance to learn how to make a radio show at SYN (Student Youth Media). We had some great trainers and were given an on-air slot for a few weeks. Learning how to make radio was what really started my love for it.
Tell us a bit about your show The Rap. The Rap is a show that centres the experiences of black people in this colony – First Nations people, Pasifika and African people. I play music and talk to our people, and I am not necessarily talking about being black or race issues but just about things that these communities are doing today.
What's it like being live on air? It's an adrenaline rush! People ask me how it went afterwards and I seriously can't tell them what happened. You have to be present for the whole three hours and since it's just me hosting, it's actually quite exhausting.
How did you nab a Triple R slot? I was doing fills for different programs for a while and then they asked if I wanted to host!
Aside from presenting The Rap, what else do you get up to? A lot of things! I work at the ABC as a producer on Radio National. I'm not doing it this semester but I also teach Media and Communications at the University of Melbourne, and I work at a public library. 

Did you do formal study to get to this point? I studied arts with a journalism major, and anthropology and sociology minors. It was great to learn about the philosophical reasons of what I do and how to write a 400-word news article. But what I learned about radio at uni is not what I apply in practice.
While I was studying, I worked at 3CR Community Radio doing ten-minute segments about young people of colour on three breakfast shows a week. So I learned how to go out and interview people, pre-record and edit stuff, and find a story worth telling. All of my journalistic skills that I use at Triple R and other places come from what I learned there.
It's funny because what I learned at 3CR directly conflicted with what I was learning at uni. 3CR is an actively and openly progressive radio station, so the job is to go out and talk to people who are directly impacted by an issue – not a politician, policymaker or academic. Rather than aiming for 100 per cent objectivity and getting sources from both sides of the story, it was about being transparent in what you're talking about. It's definitely how I approach making The Rap.
What do you love about working in this medium? It's historically the medium that my people would get back home. I was born in Australia but my parents are from Eritrea, and East Africa, and my grandfather would always be listening to BBC radio. So I love radio because it plays such an important role in the African continent but also rural and regional parts of Australia.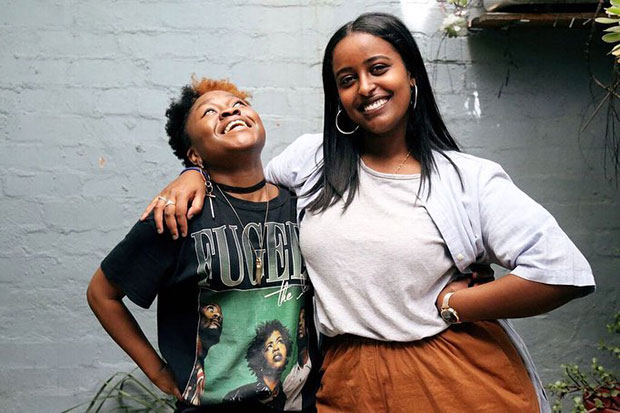 Sampa the Great and Areej
What's one highlight from making The Rap? There's so many! I did an interview last year with Kutcha Edwards from Beyond the Bars, and it ended up going for an hour. (Interviews usually go for 15-20 minutes.) I played music and we had this long chat. It was great to spend a full hour on air and not have to worry about restrictions because it's my show, and I get to decide.  Another highlight was interviewing Kelsey Lu before she did a live performance in the Triple R performance space.  
What makes Triple R spesh? In the last year, we've had amazing bla(c)k presenters come into the fold like Neil Morris with Still Here on Saturday afternoons and people like Rachael Hocking and Paul Gorrie who alternate with him. I love that the station is actively supporting black voices. It's not just about having diverse guests but giving diverse people 100 per cent control of their own shows.  I also love the station's breakfast show and The Good, The Dub and The Global – shows I've been listening to for ages.
Why is supporting community radio important to you? We live and have lived in a climate where Australia has some real shocking levels of media ownership. Independent media is so important to ensure that there is a not only a diversity of viewpoints but diversity of power. One community station can have 400-500 volunteers and if that many people have a voice in this one station, it means what comes out in the content is very much democratic. That is really important for grassroots movements, music and culture to thrive in.

Any words of advice for people looking to get into radio and audio production? People often say you should start with community radio, but for me community radio is the end goal. Community radio is an industry in and of itself – not just a stepping stone. There are more community radio stations in Australia than there are commercial! Of course you can come through community radio and go off and do other things and get paid, but you need to value the role of community radio before you engage with it. My advice is to listen to as much community radio as you can, then if you want to engage with it, go and volunteer.
Which artists are you excited about right now? I'm excited about Pookie. She hasn't properly released anything yet, but if you get the opportunity see her live, do it.
What's your favorite retro arcade game? This is so dumb but I'm such a big Seinfeld fan. I watch it every single day. In one episode, George is trying to get this Frogger game out of an old pizza shop and it's just the funniest. So my answer is Frogger, even though I don't play it.
Triple R's Radiothon kicks off today and runs until Sunday, August 25th. Head over to the Triple R website to find out more (and peep the spread of goodies you could score if you subscribe).