tunesday – my favourite things with first aid kit
To celebrate the Swedish sisters' forthcoming album and 2018 Aussie tour (woohoo!), we thought it rather fitting to share our little chinwag with Klara Söderberg.
In case you haven't already heard the rather wonderful news, First Aid Kit have got a brand new album coming out – and they're touring Australia next year! You'll have to wait a wee while to see the sisters live, though (they won't be here till April; scroll down to check out the dates), so to tide you over, here's a taste of the new album, Ruins, and a little chinwag we had with Klara Söderberg back in issue 64. Enjoy!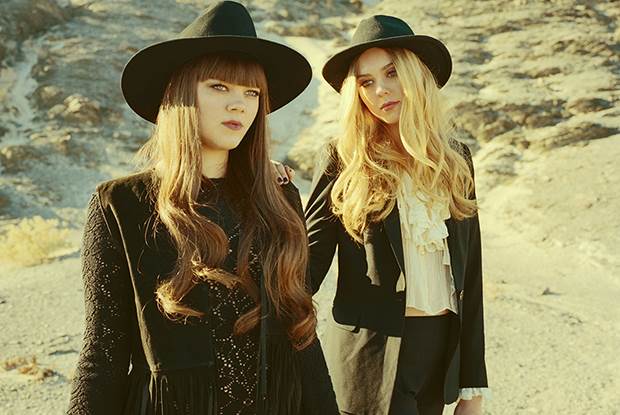 My favourite thing about my mum: I love that she doesn't take any bullshit, which is really inspiring. She sat me and my sister Johanna down when I was six years old and told me about feminism. At the time we loved the Spice Girls, and she was like, "Well, I understand that you like the Spice Girls, and that's great. The songs are really fun. But I also want you to understand that you don't have to be one of the Spice Girls. You don't have to put yourself in a category of what kind of girl you are. You can be all of the Spice Girls. Or none of the Spice Girls. You can be whoever you want to be. And you have to understand that behind these girls, there are men. It's about consumerism." And when you're six years old, you're like, "Oh my god! I never thought about it!" So I went around school going, "I'm a feminist."
My favourite thing about my dad: His creativity. He calls himself "a project person". He gets really wrapped up in things that he's working on, no matter what it is. He just baked this amazing cake for my brother's birthday that was just perfect. He's also on tour with us. He does our sound and he builds all these things for us on stage, technical things. He also plays bass on our records, and helps us arrange and produce our albums. It's really inspiring to see.
My favourite childhood memory: For some reason, I just saw myself dancing to "You're the One that I Want" from Grease with this boy I had a crush on when I was a kid. We used to dance to that song. Of course, I was Sandy and he was Danny in my imagination. What I love most of being a child is just the playfulness. And I think that you have to do that when you're making music. You have to be like a child. You have to kind of forget what anyone has ever told you about anything. Just feel it and play around with it.
My favourite thing to do on my own: I love watching shitty TV shows. When I'm in anyone else's company, I'm always kind of embarrassed of it. I love The Mindy Project and New Girl. I've been watching this show The Comeback with Lisa Kudrow from Friends. Everyone's a fan of Friends deep down. I mean, hello! I can watch that show any time, any day. It just makes me happy. I mean, it's a show with problems, for sure, but it's still incredible.
My favourite thing about being a self-taught musician: That I don't have an idea of what music should be. And that no one's taught me how you make music or how you write a song or how you play guitar or what scales to use. In some ways I think it would be great if I knew that kind of thing. It could probably benefit me a lot. But I also feel happy that I just play.
TOUR DATES:
Sunday April 1st – Bluesfest, Byron Bay
Tuesday April 3rd – Enmore Theatre, Sydney
Thursday April 5th – The Croxton, Melbourne (sold out)
Friday April 6th – The Croxton, Melbourne (sold out)
Saturday April 7th – Melbourne Recital Centre, Melbourne