tunesday – five reasons everyone should aspire to be annie lennox when they grow up
All eight Eurythmics studio albums are coming out on vinyl, so we thought we'd revisit why Annie Lennox is the human being we should all aspire to be.
The fact that all eight Eurythmics studio albums are coming out on vinyl in 2018 is a great excuse to revisit Annie Lennox's awesomeness. No, technically, you can never actually be the world-renowned Scottish singer-songwriter, but here's what can expect to achieve, if you work hard to follow in her footsteps.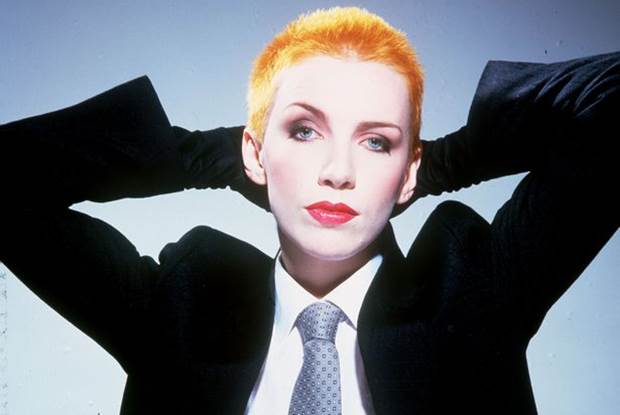 1. You'll be able to cast John Malkovich as your ex-lover in the aristocrat-themed video clip for your hit song "Walking on Broken Glass". Unable to get over Malkovich and recognise how Hugh Laurie is a perfectly good alternative and keeps politely ignoring the fact that you're throwing tantrums at this party because Malkovich has turned up with a woman who isn't you, you finally confront Malkovich through the medium of the song you are singing, then run to the bottom of the staircase, only to find Malkovich there ready and willing to sweep you into his arms.
2. You'll write the modern feminist anthem "Sisters Are Doing It For Themselves" and record this as a duet with soul singing legend Aretha Franklin. You'll both enjoy worldwide success with the song, as you'll release it as part of the Eurythmics' fifth album Be Yourself Tonight, while Aretha will pop in on her thirty-third studio album Who's Zoomin' Who?. The message will remain relevant over 30 years later and inspire cover performances from the likes of Lisa Simpson, Xena Warrior Princess and, less fortunately, Dannii and Kylie Minogue on the Australian TV show Young Talent Time.
3. You'll also duet with David Bowie, singing Freddie Mercury's part in the song "Under Pressure" as part of Freddie's tribute concert in 1992. Interesting fact: this was the first occasion on which Bowie actually sang the song live! Additional interesting fact: Bowie incorporated the song into almost all of his live sets following Freddie's death, although this was the only time he sang it live with Annie. Watch their rehearsal to enjoy hearing their vocals without the audience's noise-making (why can't people just be quiet?), see the rapport between the artists and hear Bowie crack a funny joke.
4. You'll cover the 1969 pop classic "Put a Little Love in Your Heart" with Al Green for the Christmas-themed Bill Murray comedy Scrooged. Produced by the Eurythmics' other half, David A. Stewart, the song forms the backdrop to Bill's heart-warming transformation at the end of the film when he finally realises that he's been a self-serving arsehole his whole life and has missed out on the internal riches that love and charity can bring (although given the fact that he exists in a capitalist society, it's unlikely these changes will last beyond Christmas day and make-up sex with Karen Allen). Appropriately, the song is a joyous number – and how many people can say they provided a Bill Murray theme song? Few.
5. You'll win an Academy Award for Best Song in recognition of another end-credit tune, "Into the West", featured in The Lord of the Rings: Return of the King. Note: this is not the only award you'll be able to put on the fridge. It will compete for real estate with your four Grammys, your six honorary degrees (including three honorary doctorates of music), and whatever you physically get when you become an Officer of the Order of the British Empire in recognition of your humanitarian work. You'll also carry the warm feeling you get when Elton John publicly acknowledges your tireless work as an HIV and AIDS activist and supporter of women's rights.