tunesday – camp cope exclusive live video
Camp Cope ripped the roof off PBS FM at the Melbourne radio station's International Women's Day gig – and we've got the footage to prove it.
There are literally countless ladies who rock. We cannot name them all – that would be impractical. But we can name those who rocked the PBS FM studios in Melbourne this International Women's Day: Lazertits, Hospital Pass, Adalita and Camp Cope. Yep, it was one heck of a gig, and we were more than a little chuffed to be supporting it. If you weren't there to enjoy it in all its blistering, shout-y and musically wondrous glory, then do the next best thing and stream our exclusive video of Camp Cope's performance just below. Or read our chinwag with the Melbourne trio's bassist, Kelly-Dawn Hellmrich. Or both!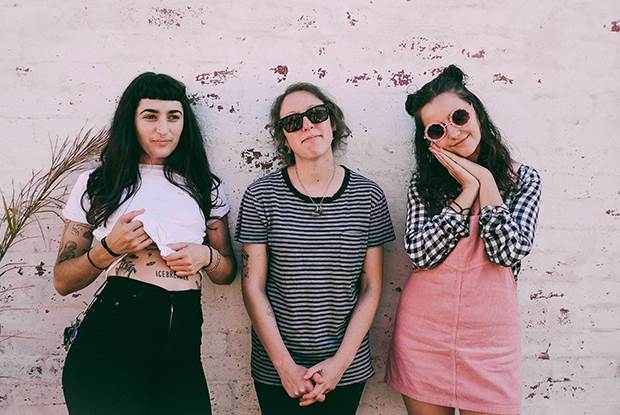 Cute pic by Naomi Beveridge
Who are some of your favourite local female artists ripping up stages at the moment? Eilish Gilligan, Caiti Baker, Ecca Vandal and Isla Ka.
If you could have a bevvie with any female artist, living or dead, who would it be, what would you drink, and what would you chat to them about? I'd really want to hang out with Nicki Minaj. She's so talented, bold and daring – and really holds her own in the industry.
Who's the coolest woman you know, and how has she influenced you? My friend and ex-bandmate Aisyiyah Prahastono. She really shaped me in being the musician and woman I am today, and I definitely wouldn't be in the position I am now without her support and guidance. She's an activist, a community arts coordinator, Sydney's best audio-engineer and now an incredible mum, too.
Could you tell us a little bit about what you three are working on at the moment? Just getting by. We're preparing for a couple months on the road, a long way from home. Now that the album is out, this year is about sharing those songs with people all over the shop.
How do you like to unwind after a gig? Usually just by heading to bed. If we're feeling really daring we might watch TV and eat. We really love snacking.
Any advice for aspiring female-identifying musos who are yet to belt out their first song in front of a live audience? Nurture relationships with other women and build a community of artists around you who are supportive, encouraging and inspiring.
What's your best non-musical skill? I can hula-hoop for over an hour. I don't know why.
Favourite midnight snack? Apple slices dipped in peanut butter.
Anything else you'd like to share with frankie fellows? When I was in school I was the biggest frankie fan and always looked up to the people featured inside. I thought they were so cool and just beyond anything I could be. So if you're reading this, believe in yourself, please.