tunesday – banoffee interview
The pop powerhouse swings by to tell us about her long-awaited debut album, Look At Us Now Dad.
Turn out the lights and get ready to bop along until the wee hours: electronic pop powerhouse Banoffee (real name Martha Brown) has finally released her debut album, Look At Us Now Dad, and it's some of her finest work yet. Moving from her hometown of Melbourne to LA in 2017, Martha was ready to shake off the preconceptions of what her music could be, building out a bigger, emphatically poppier sound (and landing on a tour with Charli XCX and Taylor Swift in the process). Below, she tells us how it all came together.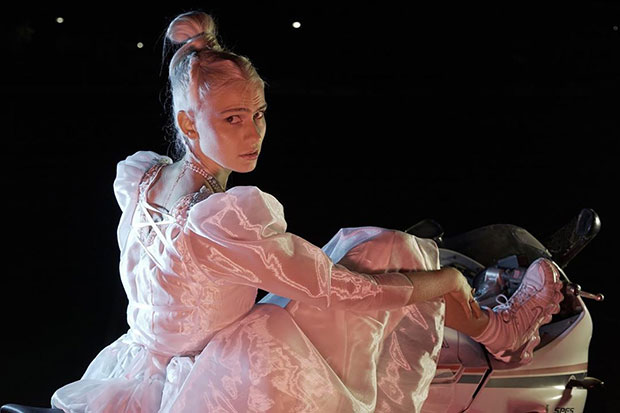 picture by Lewis Charles Mitchell

How long have you been working on the album for? It's been a long time in the making. I started working on the album about midway through 2017. I really wanted to release it in 2018 or 2019, but of course I started touring quite extensively around that time, so had to put it on hold. I'm glad that I did that though because it meant I got to write a lot of new songs on the road that ended up making the cut.
Tell us about where you wrote a lot of the album and what was running through your head during that period. The album was mostly written in LA, where I moved to in 2017. I was in a new place and had a lot of opportunity to build a new identity for myself so I think a lot of the album is a result of that. I got to comb through my past and identify patterns that had led me down a certain path and write about them in a way.
Melbourne is my home and a place that I absolutely adore, but it's limiting. When you live in a small city, everyone knows who you are based on memories that they have. It's the same with your musical identity. I was lucky to receive a lot of support for my first EPs but I wanted to move somewhere to feel free to make music that didn't sound much like the old stuff.
You were writing this album while playing synths with Charli XCX's band, on the Taylor Swift tour. How did you go about making room for your own stuff? To write, I'd find a quiet space in one of the stadiums, or leave the show and go to the hotel room. Then every time I came home to LA for a one or two-day break, I would go straight to the studio to record. It was something I prioritised on the tour because I knew it would help me mentally survive something that was high stress. It was a relief from this non-stop high-energy tour.
Did the pop tour influence the sound of your album? I think it did. Well, most of the album was done by the time I went on that tour apart from a couple of songs, but I think I became more accustomed to listening to very commercial pop music and stopped demonising the idea of songs sounding commercial. I really learned to appreciate how difficult it is to make a good pop song and create something that a lot of people can relate to. Playing all the club shows with Charli also really encouraged me to have dance tracks on the album. It was just so fun playing those tracks and getting to crowd surf.
What excites you most about pop music at the moment? I think it's exciting to be a part of something that is changing a lot of minds and is doing it in an interesting way that isn't causing conflict or isolating people. It's becoming more inclusive as we go on. It's both very political and a relief from the conservative politics that are going on in the world right now.
What's behind the name of the album? It's about my dad and I looking back on the lives that we've had. Dad went through a pretty difficult childhood and I went through some rough stuff in my teens and 20s, so it's just about acknowledging that and celebrating the wonderful place we are in now. There's some pretty dark subject matters on the album so I wanted the title to be a gift of positivity and hopefulness.
Did you grow up in an artistic family? Very much so. I'm so lucky to have a family that sees the value in the arts. Both my parents were artists who met in art school doing sculpture. My dad then went into meditation and counselling and my mom has been a writer outside of her day job. I had a hippy family where we went to music festivals as kids, had a kombi van, no shoes – the whole kit and caboodle.
When do you usually find yourself writing music? A lot of the time, it's when I'm feeling really strongly about something, like if I've had an extra-hard day. Sometimes it's more deliberate and I'll take a bunch of mushrooms, stay up all night, tripping and writing music at the same time. That definitely happened on "Chevron" and "Tennis Fan".  
What do you enjoy doing when you're not playing or performing? I'm an avid kickboxer and train four or five times a week. I find it really cathartic and important for my mental health. I also do contemporary and jazz dancing a few times a week. Apart from that, I just love to hang out with my family. I'm quite a homebody – I'm not out partying every night.