tunesday - little scout interview and cookbook giveaway
There are some bands that seem to work their way into our heads and pitch a tent – they have no plans to make tracks any time soon, and to be honest, that's alright by us.
There are some bands that seem to work their way into our heads and pitch a tent – they have no plans to make tracks any time soon, and to be perfectly honest, that's alright by us. Little Scout is one such sweet-sounding camper, whose tunes have been wedged firmly in our noggin for quite a few years now. And if you haven't come across their floaty dream-pop before, we highly recommend tuning on in.
The clever quartet will be playing a free show on the Gold Coast as part of the upcoming Bleach* Festival, and we thought it the perfect excuse to find out a few of vocalist Mel Tickle's favourite things.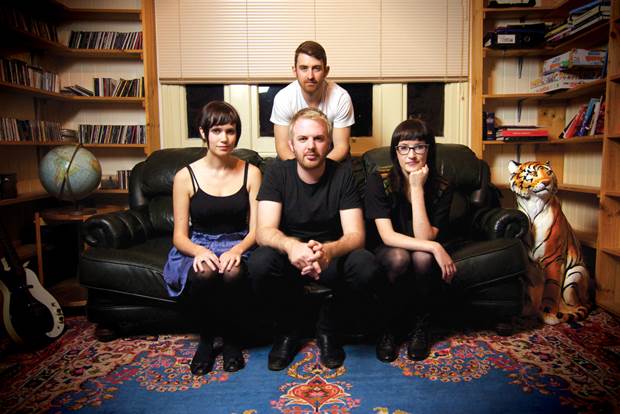 MY FAVOURITE THINGS
Favourite memory from childhood: I spent my early years in a small town called Moree in regional NSW. Dancing around the house with my sisters, brother and parents to "(You're the) Devil in Disguise by Elvis was an almost nightly tradition. As soon as everyone got home from school or work the living room turned into what resembled Yoko Ono Plastic Ono Band's music video for "Bad Dancer".
Favourite author: George Orwell. I enjoy reading his essays and novels, polemical journalism. I'm a big fan of social commentary that encourages intelligent thought. I also adore the books of David Sedaris - he approaches social commentary in a much more humorous, but equally intelligent and controversial way.
Favourite classic album: The Beatles The White Album. I literally love everything about it. It scores 10 out of 10 for longevity; I've been listening to it for my entire life.
Favourite thing about being in Little Scout: Having the transformational experience of creating music with your friends. It's wonderfully bewildering when bands like The New Pornographers, Placebo and Belle and Sebastian pick you to open shows for them.
Favourite way to pass time on the road: Listening to everyone's favourite metal-funk playlists from the '90s, and sleeping when you can't stand the sound of 311 any longer.
Favourite beach activity: Swimming, of course! And finding a nice shady spot to read a book and have a nap.
Favourite ice cream flavour: I enjoy ice cream that either tastes like coffee or looks like a rainbow.
Favourite act playing at Bleach*: Violent Soho. They'll melt your face off with their incredible live set. As a bonus those guys are lovely people.
Favourite place to unwind: In my bed with a good movie and a packet of chips.


We have six copies of Scout Cooking Vol. 1 to give away - the limited edition cookbooks whipped up by the multi-talented Little Scout. To nab one for your kitchen, just email us here with your name and address, and tell us which recipe the band should add to volume 2.
TOUR DATES:
Monday February 24th – Enmore Theatre, Sydney (supporting Placebo)
Thursday February 27th – Palais Theatre, Melbourne (supporting Placebo)
Saturday March 15th – Bleach* Festival