tunesday - katie wighton premiere
We've got a wee bit of a musical present for you this afternoon, just because we think you're great.
We've got a wee bit of a musical present for you this afternoon, just because we think you're great. It comes in the form of the world premiere of Katie Wighton's new video for "Little Dove" – the lead single from her brand spanking new EP Oh Dark Hours, which flies out into the world later this month.

When she's not playing in local folk group All Our Exes Live In Texas, Katie's busy making haunting melodies and dreamy clips (with a little help from frankie fashion stylist, Rachel Burke). Have a read of our chit-chat with the lovely lass below, then hit play and sink into a state of musical bliss.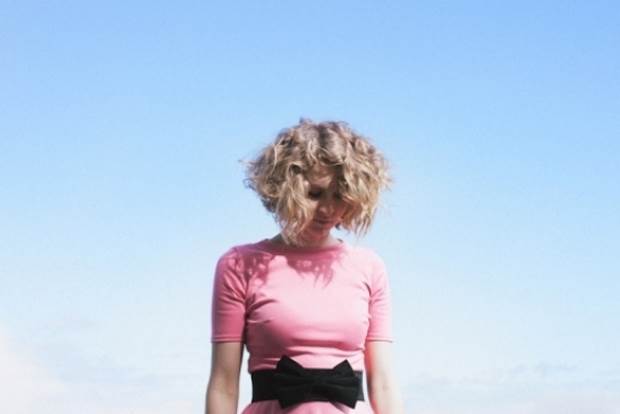 Where did you grow up? I grew up in Brisbane. I lived on a massive hill with a reservoir and bat colony at the top. The best place for a kid!

How did you become a musician? Both my parents are musicians, so I didn't have much of a choice! The first time I ever sang in public was in high school with the army cadet band. I was a bit of a music nerd if I'm honest; I loved my music teachers and I spent plenty of time skipping maths and practising the piano or singing with my mates. I had my heart set on going to The Con in Brisbane, so I did, and the rest, as they say, is history!

Describe the ideal setting to listen to your new EP. That is a lovely question! I think probably somewhere outside, maybe at dusk as the sun goes down. Or in the dead of night, underneath the stars, with a glass of red or a whiskey. I feel like it's something to listen to on your own, too.

What's it like going solo – how has the experience of being a musician changed? To be honest, I've pretty much always played solo! So really, being in a band is quite different for me. Playing solo can be a little lonely at times and it's great to have some comrades in arms, so to speak. It's the best singing and playing with other people – I'm excited about my EP launch for that reason. I have three awesome musicians – Georgia Mooney, Zoe Hauptann and Lozz Benson – in my band for the gig and I am so looking forward to it. They are all women and so are all of the supports. I've gotten used to playing and singing with other women and now it's sort of all I ever want to do!

What's the weirdest place you've played a show? Years ago I played a gig at the Marrickville Festival (a very little, family-friendly festival in Sydney) and I was on the dance stage. Before me was the Marrickville Kung-Fu Society and after me was the Inner-west Taekwando kids! I also had six police around me as I'd had a little stalker situation in the weeks before, but that is another story for another time… Needless to say, it was all very weird.

Tell us a story about the video for "Little Dove". Well, I have a gorgeous friend, Rachel Burke, who I emailed to ask if she would help me with the video. She came up with the whole concept and styling for the clip and I couldn't be happier with what she did. It's a bit spooky and I guess her vision was to give viewers the impression that something wasn't right. I didn't give her any direction at all and she (somehow!) really captured the themes of the song. I am very lucky to have had her on board.

Do you have a message for frankie readers? Thank you for listening/watching/reading and I'd love to see you at my EP launch on August 28th at Brighton Up bar!

Keep an eye on more from Katie via her Facebook page.