taking care of business: beekeeper parade
BeeKeeper Parade (makers of snazzy backpacks) told us about how they run their socially and environmentally conscious operation.
Koky Saly is the head honcho at BeeKeeper Parade – and a pretty inspirational chap, too. With the help of his small team, he makes snazzy-looking backpacks from upcycled materials. Since launching in 2012, Koky has upcycled around five tonnes of fabric. Plus, with the moolah BeeKeeper Parade gets from the sale of each bag, Koky funds a child's education in Cambodia (his home country). We had a little chat with the good lad in question to find out more about how he runs his socially and environmentally conscious operation.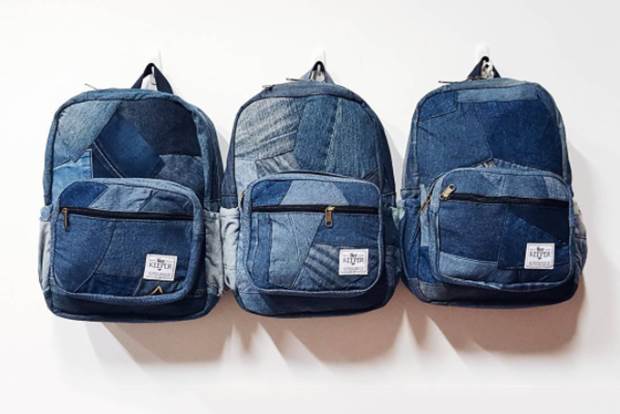 What was the process for getting your business off the ground? I didn't have a business plan and still don't. The process was more fluid and more about finding out who I was, which may sound corny, but it's true. I created it during a period in my life where I was dealing with grief and depression. The most important thing for me has been recognising, understanding and learning this lesson: If my younger sister could face her death with such peace, calm and grace, then there is not a single thing in this world that I need to fear. And truly, I don't anymore; it has set me free.
Do you have any helpers? At the very beginning of the business it was me and my sister, then it was just me for a while. After that, friends and volunteers helped me along the way. I also partner with a small production house in Cambodia where we make most of our products. We currently employ 10 people. It takes one person one day to make one bag, so our capacity is 10 bags per day.
What's your favourite thing about running a small business? I get to do what I want, when I want. It's such a privilege to create your perfect job, and I never forget that.
Do you take time out to celebrate your victories? Last year, I stood in Melbourne Central in my little pop-up shop, crying by myself. I remember thinking that I was happy, that I could say it out loud to people and have it be true. It was the first time I could say it since Sophia passed away. That's been one my biggest achievements so far – and I celebrated by closing shop and buying myself some vegan cake. I cut two pieces, put it on two plates, lit a candle and ate it with Sophia.
Where to from here? I am so excited about 2017. It feels like in 2016 my supporters gave me my wings and now I get to fly. We will be expanding our product range and adding wallets and purses soon. We've already started designing some clothes and will begin to launch those this year. I hope to open up a permanent shop somewhere in Melbourne. Fingers crossed!
To find out more about BeeKeeper Parade, pop over this way.
Brought to you in partnership with our mates at Australia Post.