studio tour: cat scratch, coburg
We stop by the Melbourne studio to see how photographer Alexis Desaulniers-Lea runs an all-inclusive space.
In SPACES Volume 5, we stopped by Cat Scratch Studio in Melbourne to see how photographer Alexis Desaulniers-Lea runs the show.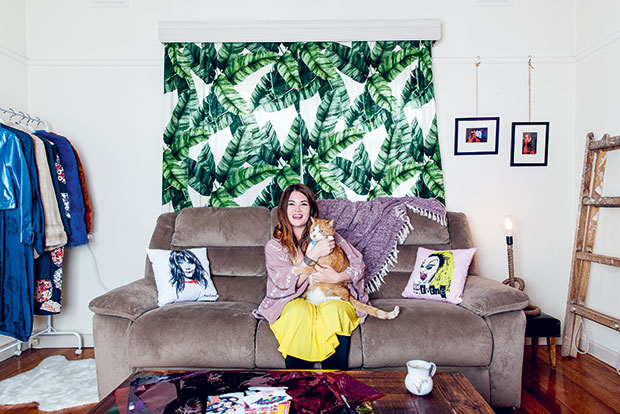 Whose business is this? Alexis Desaulniers-Lea, a photographer, image editor and creative director.
Tell us a little bit about Cat Scratch. It launched in January 2018. I wanted a space that felt safe and inclusive, where I could host clients at artist-friendly rates; a place that encouraged creativity, individuality and unique ideas, and also championed body positivity and gender diversity.
Who else lives at your place? My partner, who's an engineer. He's an absolute science geek and animal lover. And Squidge the cat, too.
What gave you the idea that your living room could be a photographic studio? We'd just come back from overseas feeling motivated. A couch conversation developed into a home-based studio-planning sesh and things got rolling from there.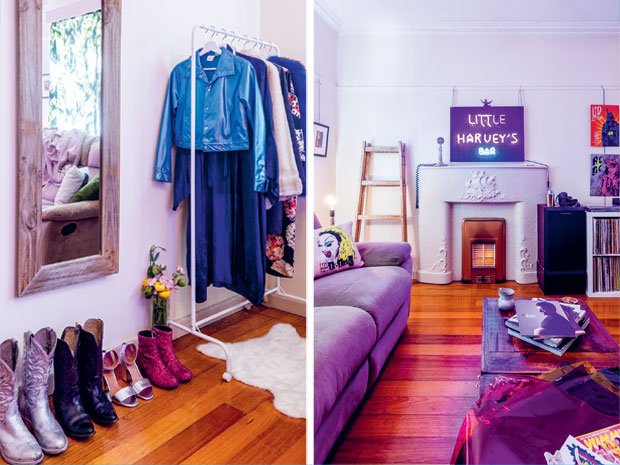 Is it odd having a living room with a double life? When there are no clients here, we use the backdrop as a cinema screen and have movie nights, which is pretty great.
Does the rest of the house come in handy when the studio's being used? It does – there's easy access to the kitchen, two change areas, places for relaxing, and clients seem to love the added pet critters, especially when it comes to behind-the-scenes Instagram selfies.
What props and equipment do you have? As well as things like backdrop colours, I've made a point of thinking about little things that are often requested on a shoot – bobby pins, wipes, clothing racks, bulldog clips, robes etc., so no-one has to have that, "Oh no, I forgot the…!" moment.
Are the window coverings special? Funny you should mention them! I bought them from Society6, from artist Sarah Eisenlohr. They're a nod to the movie Pink Flamingos, which I have a suspicion inspired my love of film, drag arts and quirky aesthetics.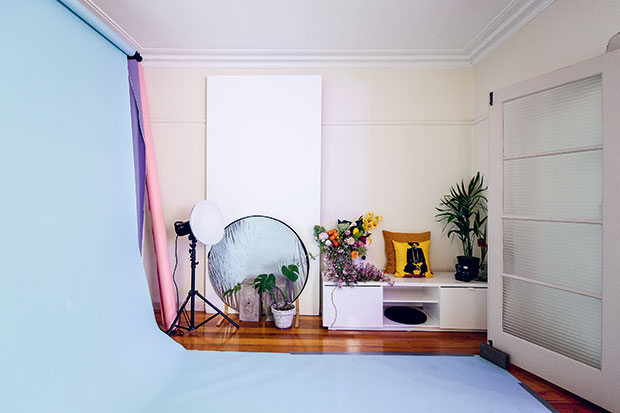 Who uses Cat Scratch? A brilliant spectrum of artists working across a number of disciplines. I host the space for professional and budding photographers and, in my own work, collaborate with clients in the burlesque, circus, dance, drag and cabaret communities. I also work with actors, musicians, comedians, activists and small fashion labels, so the day-to-day projects at the studio really vary.
What are some of the things they like about it? People comment on how comfortable the space feels, how quirky the decor is and how they feel they have the freedom to play within the space and ask for assistance if needed. The fun backdrops and props have also been a hit. The most meaningful feedback has been from women and gender-diverse collaborators. Many folks have shared stories of feeling unsafe or being verbally or physically assaulted at a photoshoot. The inspiration for Cat Scratch was to provide a safe place where, most of all, people's ideas and bodies were respected and celebrated.
Any amazing transformations? The best transformation has been working with all the lovely people who've given Cat Scratch Studio life, and brought their fierce and fun energies through the house. It's a living dream to host and photograph people who are not only wonderful artists but genuine as well – people who love to support their community as much as I do.
Would you rather work away from home? It's fantastic to have 24/7 access to my own studio space, but the plan is to move into an accessible warehouse space. It's important that my photography and Cat Scratch grow organically and that the ethos that drives them stays intact. To be able to support and work with even more folks who work their butts off in the arts, an industry that is continually devalued in society, would be a dream come true.
Poke your head into more rad homes and studios around Australia and Asia by picking up a copy of SPACES Volume 5.