say hello to… black panther's specialist jeweller, douriean fletcher
Douriean Fletcher taught herself how to make jewellery. Eight years later, she found herself creating the jewellery for Black Panther. We asked her how she achieved this awesome feat.
Handcrafting jewellery to be worn by Oscar-winning actresses seems like an impossible dream – except if you're Douriean Fletcher. Then it's very much a reality for you. The California-born, New Orleans-based designer handcrafted all the jewellery that appears in the butt-kicking, Afro-centric superhero movie Black Panther (in cinemas today), and actually anticipated this opportunity coming her way in a precognitive dream. We chatted to Douriean about how she went from being a self-taught maker to becoming the specialist jeweller for Marvel's coolest flick at the unveiling of her Black Panther-inspired capsule collection at New York Fashion Week.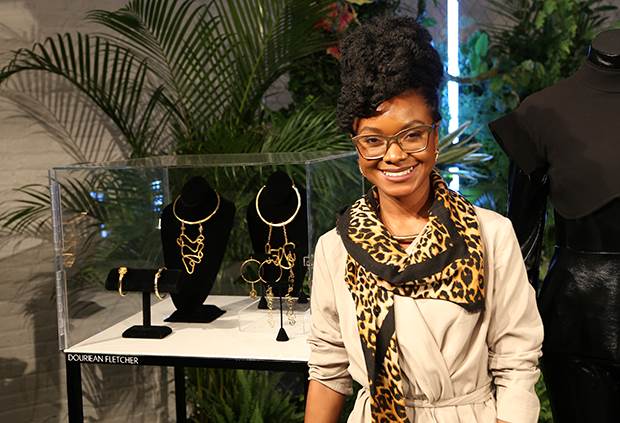 Sweet snap of Douriean by Mia Timpano
How did you get involved with Black Panther? I'd previously worked with the film's costume designer, Ruth E. Carter. She'd incorporated some of my pieces into the remake of Roots, which happened a few years back. She'd seen my aesthetic and work ethic, so brought me onto the project. Prior to that I told her I was having these dreams of ornate pieces made of shells, feathers, metal and crystals. She said, "Well, I have a project that I may be getting, and it's very Afro-futuristic. If I get it, I'd love to have you do the jewellery on my team."
So you had a precognitive dream about doing this project? You can call it that. I've had dreams like that about other things, too. They're always alerting you to be aware of something coming in the future.
You're obviously inspired by your dreams. Were you inspired by anything else when it came to creating your capsule collection and the jewellery for Black Panther? Most of the work for the film was designed by Ruth; I pretty much executed her vision. There is some of my aesthetic. Because it's such a big project she gave me some wiggle room to be creative. With the capsule collection, it was multifaceted, but mostly it was inspired by my own aesthetic, my dreams, and the aesthetic in the movie – just that really bold look. There were also some Ghanaian beads that I wanted to incorporate in order to have that specific, detailed African aesthetic.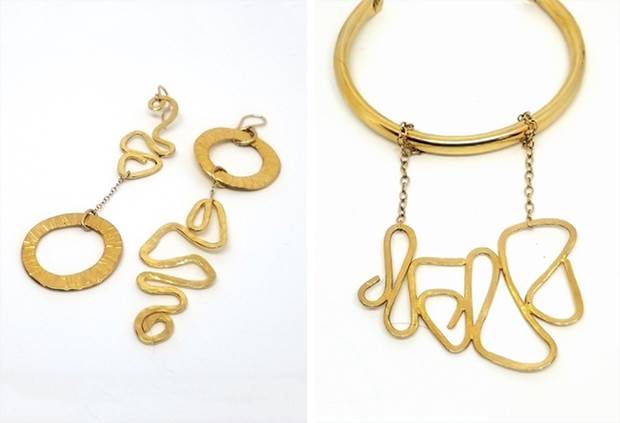 What was the most fun thing about doing this project? The funnest thing came after all the hard work, all of the metal-smithing, all of the hammering: seeing the actresses wearing the jewellery. There were moments when I had to step out of the room because I was so excited. Being able to be in a room with Angela Bassett and seeing Ruth Carter put this piece that I made on her, it was just surreal.
Did seeing the actors wear your jewellery change your perception of your work in any way? It did. It usually does. When I create something, I usually see process. So I see the cutting, the soldering – all the processes of it. But when it's put on someone, I can see the narrative, the story of the woman, where she comes from, and who she is.
You handcraft all your own work. How did you learn to do this? I'm pretty much self-taught. I took one metal-smithing class for three months. After that I just kept trying things and experimenting.
Was it liberating to go DIY or was it frustrating at times? It was both. Like life. Life can be frustrating and liberating at the same time. It was important to learn certain skills and techniques. But there was always growing, learning curves, trying to figure out how to do things, and sometimes it wouldn't work out.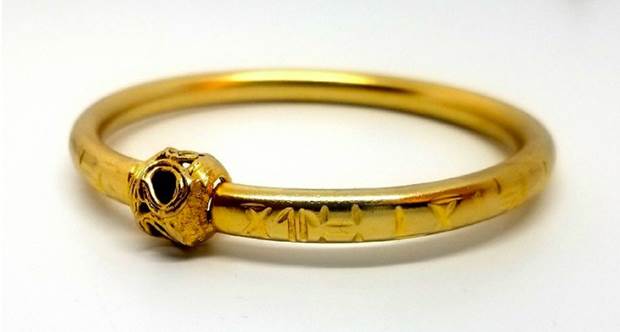 How long did it take you from the point of doing that class to getting to where you are now? I started making jewellery eight years ago. I took the class in 2012, so it's been six years since then.
Did you have such strong self-belief the entire time? No! Not at all. This started happening when I took the risk to start making bigger pieces. It was interesting because I felt like any time I made a bigger piece I would have to grow into the confidence of being able to wear that piece. The past two years I've been more confident in my work and more sure about what gift I bring to the world.
If you could give an aspiring jewellery one piece of advice, what would it be? Keep going. Regardless of the roadblocks. The roadblocks are always just tests to see if you are worthy of what you want, so just keep moving and stay focused on that goal. And jump at any opportunity that comes when you're on your path to that goal.
Black Panther is in cinemas today.