pre-order your 2018 frankie diary and calendar
Get sorted for 2018 with frankie's super-lovely diary and calendar – wahoo!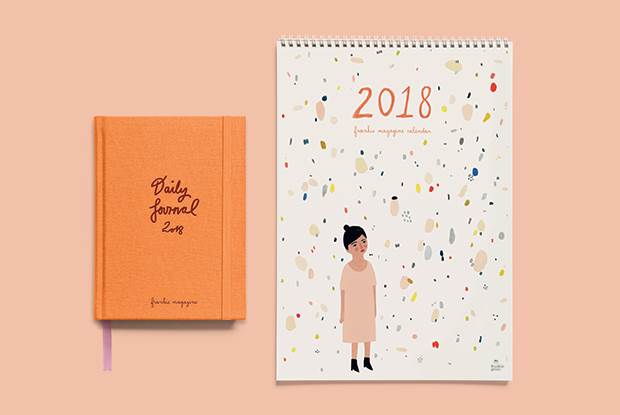 We've got a bit of a soft spot for frankie's 2018 diary and calendar. Well, more than a bit of a soft spot, actually. More like a huge, palpitation-inducing crush – the kind that you get when you're 16 years old. You know, the kind that makes you temporarily unable to function as a person...
Yep, that's how we felt when these papery goods hit the frankie offices – and we have a sneaking suspicion that frankie fans might feel somewhat or exactly the same way. Our 2018 diary sports a tangerine dream hardcover bound in cloth, and is resplendent with illustrations from the one and only Caitlin Shearer (her handwriting features throughout, too). There's a week to a double-page layout, which is rather handy indeed – plus a bunch of special treats, including gift tags, cards, tear-out forget-me-nots, stickers, doodle sheets and a pocket to stash stuff in.
And as for our 2018 calendar, well, what can we say, but prepare your eyeballs for a whopping dose of year-round awesomeness. Each month is spruced up with colourful artworks from the likes of Pete Cromer, Lieke van der Vorst, Kate Pugsley and Ashley Ronning – and there's heaps of space to scribble in notes and reminders, so you'll never miss a special get-together or birthday again. Hurrah!
Fancy getting your mitts on either or both of the above? Then consider this your lucky day, because pre-orders have officially opened. Pop over this way to purchase your 2018 frankie organisational paraphernalia, which will ship out at the end of September. But you'd best be quick – they tend to sell out in a jiffy.