postcards - berta pfirsich's portland
Berta Pfirsich is a relative newbie in the US city of Portland, Oregon, but she's made herself acquainted in the best possible way: by getting lost in its maze of the weird and wonderful.
Spanish shutterbug Berta Pfirsich is a relative newbie in the US city of Portland, Oregon, but she's made herself acquainted in the best possible way: by getting lost in its maze of the weird and wonderful. With fresh eyes and an open mind, we thought her the perfect person to show us around her new-found home, so she kindly went snapping around her neighbourhood and popped together this virtual tour.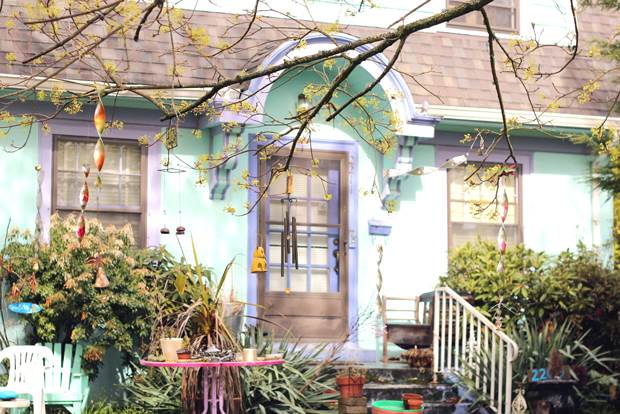 Firstly, please tell us a little bit about the neighbourhood that you live in. I live in SE Portland, two streets away from the Ladd's Rose Gardens. It's basically a labyrinth neighbourhood where I sometimes still get lost. There are private mini gardens everywhere with cabbages and carrots so I can just walk around and pretend I'm a hobbit.

What do you do in Portland? Why did you move there? I'm always moving around, doing things, taking photos. Portland is the perfect spot when you need to be around nature - it's a very small city, surrounded by the deepests forests. I just love being in America and not depending on a car and all that stuff.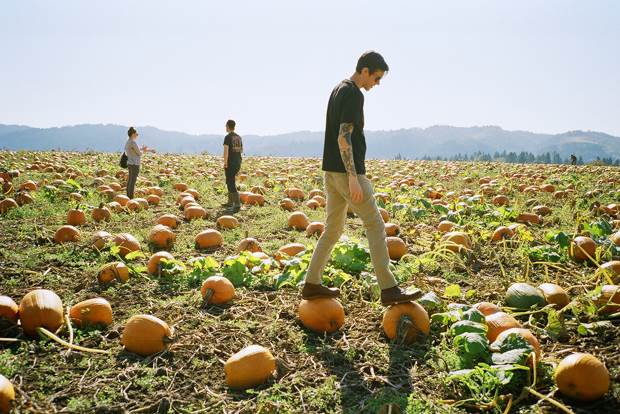 What kind of house/apartment do you live in? Is it typical of the architecture in that area? There's basically two kinds of architecture: the new condos and the old houses/Victorian houses. I live in an old house, where everything breaks. But that's what I like. It's pretty minimal, I just have plants and ceramic animals that I collect. Actually, it's the first place I've lived where I've got something that makes me feel like a real, settled adult - a dining set of a Saarinen table and chairs.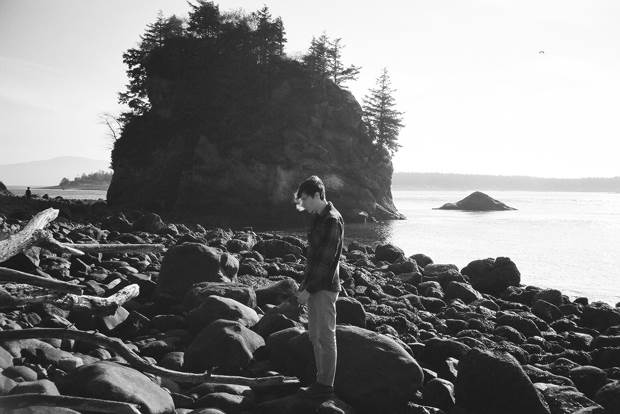 What kind of stereotype has Portland earned, and how is it different to what people expect? I moved here last September, and I didn't know anything about Portland except what I had read on Chuck Palahniuk Fugitives and Refugees. I guess things are maybe changing too fast: ten years ago it was depressing and dark, then turned into an arty city where you can be free and work on your things and now it's becoming a caricature by itself.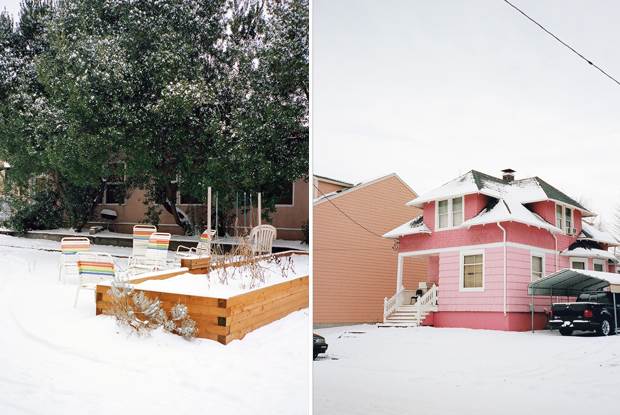 How is your city changing? The special things that Portland has are creating a migration movement. Prices will increase and everything is going to be destroyed somehow. So Portlanders are trying to protect this, like a treasure. Portland is like a bubble, kind of closed, really weird and precious.

What album do you think would be the best soundtrack for walking around? Crooked Rain, Crooked Rain by Pavement.




If you had a day to take an Australian around your town on a Sunday afternoon, what would you do? Brunch and bottomless mimosas, and after that just lay in the grass of some park or forest for the rest of the day. For brunch I recommend Cricket Cafe on Belmont, Broders on Clinton and Junior's in Ladd's Addition. Oh, and to recover eat a Raspberry Fool at Rumsky's Korsakoffee House.

What is the local creative community like? Are there predominant local crafts? Literally everybody is an artist or does something creative. There's a predominant use of the wood, in sculpture, photos or anything. Portland is very wood and roses.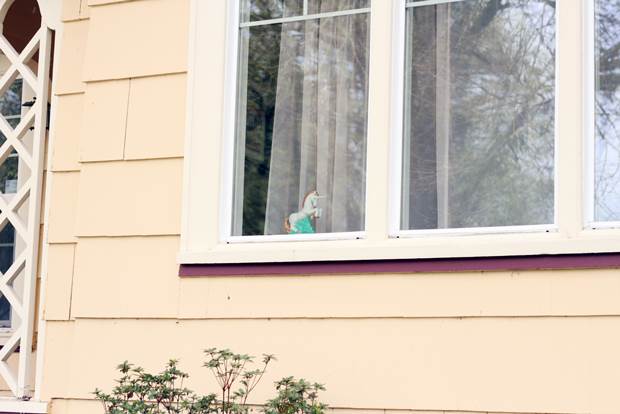 How does your city change with the seasons? How has this influenced your work? This is the most beautiful spring I've seen in my life. I feel that all the rainy days are worth it, everything is green all the time. Flowers have especially influenced me a lot, they make me feel alive and happy. But in saying that, this winter has been really melancholy. I'm a light person.

Tell us about the places you've snapped. The photos I took are an autumn-winter-spring Portland perspective, especially of the neighbourhood I live in. The pink house has being staring at me since I arrived... There are millions of beautiful houses, Japanese-inspired and cotton candy looking ones, but that's my favourite and it's in front of where I live. In autumn I went to Sauvie Island to pick pumpkins with some friends and it's a really dreamy, almost Tim Walker looking place. This summer, I would love to rent a houseboat and spend some days in the river.

Where is the best place to have a picnic? Forest Park, Washington Park or the rose gardens.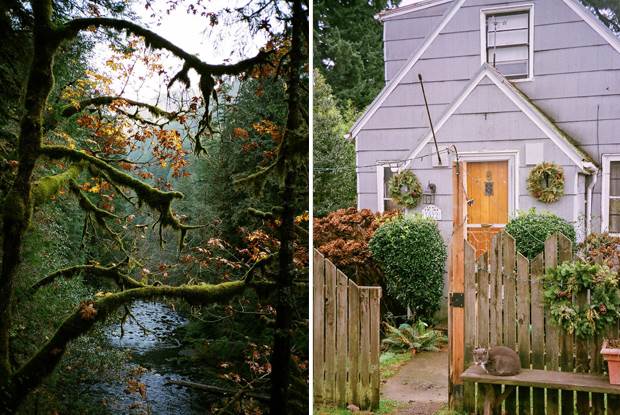 Where is the best place to see a gig? Star Theatre has a great patio and red curtains, but I think my favourite place is Bar Bar on Missisipi Street.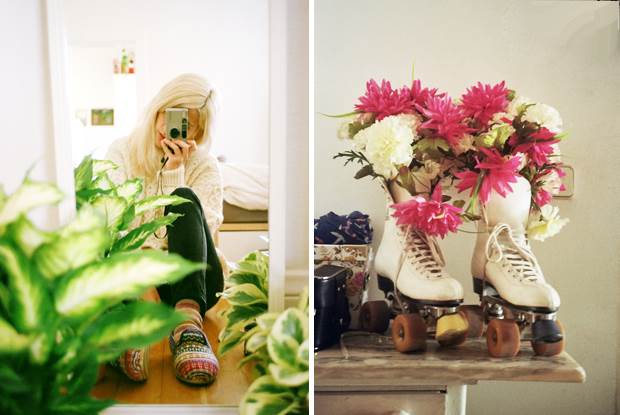 Where is the best place to get a drink? Anywhere, really! I could go out everyday because 90% of the Portland restaurants and bars are wonderful. Especially the ones with a patio. In SE I recommend Dig a Pony, White Owl Social Club, Produce Row, Doug Fir, Bunk Bar or any bar on Division and Belmont street. But I have to admit, my diet is based on going at least once a week to Dot's.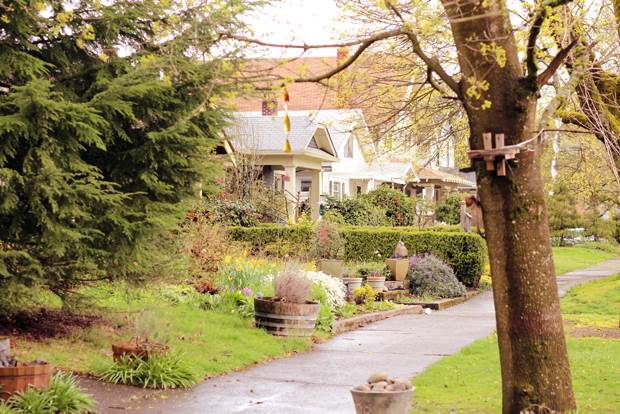 Where is the best place to buy a vintage dress? House of Vintage on Hawthorne.