plan the important stuff with frankie's 2018 diary
We're making a start on planning all the important stuff for 2018 with the very lovely frankie diary. Take a peek at what's on our lists to read, watch, visit, make in the kitchen, and more.
The year's only just started, but we're already cracking into business here at frankie HQ. Obviously, that means a lot of planning for deadlines and not-quite-so fun stuff – but we're also planning where we want to travel, what we want to whip up in the kitchen, and what we'd like to read, hear and watch. That's where our splendiferous 2018 frankie diary comes very much in handy. Featuring hand-drawn illustrations by the one and only Caitlin Shearer, this week-to-a-spread planner is chock full of convenient little features that will help you keep track of all the stuff you need to do, and the cool things you want to do, too. Scroll down to see what we're scribbling in ours.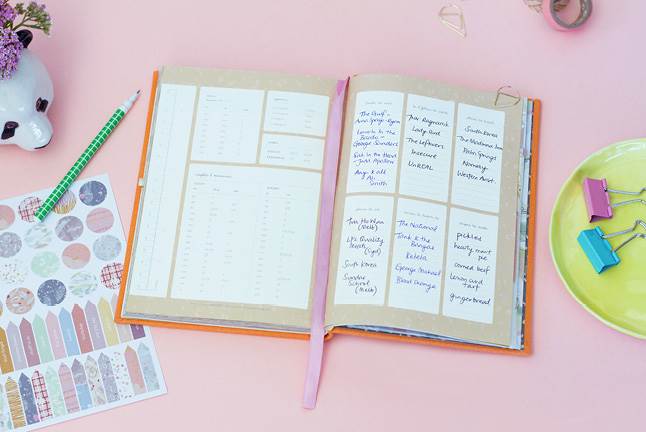 SOPHIE KALAGAS // EDITOR
BOOKS TO READ
The Gulf by Anna Spargo-Ryan: Anna is a local author who has a beautiful way of looking at the world – and knows just how to poke you in the feels. The Gulf is a novel set in South Australia, about siblings, suburbia and family conflict, and I can't wait to sit down and get stuck into it.
Ali Smith's many novels: Ali Smith's books Winter and Autumn popped up on so many book lists last year, and I figure they must be there for a reason! I'm jumping on the bandwagon.
Sick in the Head by Judd Apatow: This is basically a series of interview transcripts between filmmaker/comic Judd Apatow and the comedians he admires. He's been a comedy nerd since he was 15 – when some of these interviews took place – and that genuine passion is very contagious and endearing.
Lincoln in the Bardo by George Saunders: I've heard nothing but great things about this novel, which explores the death of Abraham Lincoln's son over a single night. I imagine it'll make excellent reading as the weather starts to cool and the sun sets earlier.
TV AND FILM TO WATCH
Thor: Ragnarok: Directed by my true love Taika Waititi (he doesn't know it yet), this is the one superhero film that I'm excited to see. (I know, I'm behind.)
Lady Bird: With a cast including Saoirse Ronan, Laurie Metcalf and Timothée Chalamet, plus Greta Gerwig in the writer and director's seat, this coming-of-age flick is a must-see.
The Leftovers: Many a chat at the pub has led to me being encouraged to watch The Leftovers, so I guess I'd better get onto it, eh?
Insecure: I'm counting down the days until Issa Rae's series comes back for a third season. Tick, tick, tick…
UnREAL: Likewise, this black comedy based on a very Bachelor-like reality TV show in the States.
PLACES TO TRAVEL
South Korea: Seoul has been on my dream travel list for the longest time, largely because of my obsession with Japan, which has spiralled into an obsession with the general East Asia region. This year I'll get there, fingers crossed!
The Madonna Inn: I don't have a bucket list, but if I did, staying at the Madonna Inn would be on there. Gaudy, colourful, themed hotel rooms in the middle of California's Central Coast? Yes, yes, a thousand times yes.
Palm Springs: I've actually been to Palm Springs once before, but the stay wasn't long enough for my liking, and I'm itching to go back. So many more pools to float in; so many more Mid-century houses to explore.
Norway: Having gone on a quick-ish jaunt around the Scandinavian region in recent years, Norway and its Northern Lights are next on my list. What an incredibly stunning country.
Western Australia: Sometimes the most intriguing travels happen close to home, and Western Australia is unchartered territory for me. I'd love to work my way up the state, stopping off at a bunch of incredible natural locations along the way. And some quiet beach time wouldn't go astray, either.
PLACES TO EAT
Tim Ho Wan (Melbourne): One of the cheapest Michelin-starred restaurants in the world, famous for succulent pork buns that are baked, not steamed. Need I say more?
LP's Quality Meats (Sydney): Look, I've been there before. But I still dream about the juicy feast. I want to go back and eat another smoked beef short rib, OK?
South Korea: When I finally get to South Korea, I'm going to devour every bibimbap, every hotteok, and every beef bulgogi in sight.
Sundae School (Melbourne): This Melbourne ice-creamery has flavours like apple pie; bacon, banana and brown butter; and strawberry and black pepper sherbet, so yes, I'm interested in stopping by.
TUNES TO LISTEN TO
The National: My favourite band forever and ever, amen. Also, they're touring in March, so I'll need to brush up on their latest album before crying in the Sidney Myer Music Bowl.
Tank and the Bangas: Another act you'll catch on Aussie shores this year, if you haven't had a listen to Tank and the Bangas yet, I recommend you do it, quicksticks. So much joy, so much soul, so much excellent.
Kelela: I feel like a bit of a broken record now, but the beautiful and enchanting Kelela is playing this month in Melbourne, and I plan on being front and centre.
George Michael: It's about this time of year, post-Christmas, that I get extremely into George Michael all over again. "Freedom! '90", "Don't Let the Sun Go Down" and "Careless Whisper" are personal favourites.
Blood Orange: Word has it there'll be a new album from Dev Hynes – aka Blood Orange – out in 2018, and I'll be waiting with bated breath until then.
RECIPES TO MAKE
Pickles: A pal gave me a little crash course in making my own pickles recently, and the results were pretty darn delicious. Next time I take the training wheels off and have a go myself. First stop, dill cucumbers.
Meat pie: I've always wanted to make my own meat pie, but for some reason I find it strangely intimidating. This year I'm a big girl, and going to conquer that fear.
Corned beef: I love corned beef. LOVE IT. I want to eat it all the time, and to do that, I'll need to try making it at home.
Lemon curd tart: YUM. That's it, really.
Gingerbread: I'm mad for ginger, and also bread – put them together and what do you get? Sweet, spicy, soft, crumbly deliciousness. That's what.
*    *    * 
MIA TIMPANO // ASSISTANT EDITOR
BOOKS TO READ
The Ghost by Robert Harris: I'm two-thirds of the way through this. It's a rollicking thriller about a ghostwriter (who was played by Ewan McGregor in the film version – so dreamy!). 
Dune by Frank Herbert: Some thoroughly trippy shit. I'm around 80 pages in and digging it like crazy. I haven't seen the film version (which I hear is horrendous), so am reading this with fresh eyes. Yay.
The Colour Purple by Alice Walker: Picked this bad boy up in an op shop because I recall Oprah was in the film adaptation. (Fun fact: Whoopi Goldberg is in it, too!)
TV AND FILM TO WATCH
The Third Man: Someone was talking about this on ABC Radio Melbourne recently and it made me go, Holy moly – that was a good movie. So this is one to re-watch, but one I would really love to re-discover.
The Manchurian Candidate (1962): I've never seen this! How? Why? I just don't know.
Yul Brenner movies: Because he's rad.
PLACES TO TRAVEL
Japan: How am I 34 and unacquainted with Asia? This is so wrong. I'm planning on getting to AT LEAST one Asian country this year – and I've love it to be Japan, because that's where Kikagaku Moyo come from. They're one of my favourite psychedelic bands on the planet. They found their bassist while he was recording the sound of local vending machines for his drone project! Amazing.
Copenhagen: I have a buddy there I'd like to visit. Also everyone tells me it's the nicest city on Earth.
New Zealand: Never been across the ditch. Hopefully an amazing band tours there – that'd be a nice excuse to take a few days annual leave and see this (by all accounts) frigging cool place. 
PLACES TO EAT
Home: And by 'home' I don't mean ordering in more pizzas. This year, I'm going to regularly cook food for the week ahead, so I don't end up at work with nothing for lunch and have to crack open yet another can of tuna and pretend it's bringing me pleasure.
Chocolate Buddha (Melbourne): Every time I go here I get compliments on my hair, and it's very close to ACMI, so you can see an interesting film afterwards. They also do this crazy fried chicken entrée thing. One bite and you'll forget your name.
A new friend's house: Because that'd be nice.
TUNES TO LISTEN TO
NPR's list of 150 Greatest Albums Made by Women.
RECIPES TO MAKE
Lasagne: I'm already awesome at it – I just want to make my favourite meal again. And again. And again. Every night. For all time. Yes.
Spanikopita: So tasty! How do you make the cheese and spinach combo? How do you lay down the pastry? How do you make it so flaky on top? People who make spanakopita: teach me your ways.
Cocktails: Probably just unimpressive ones – but wouldn't it be cool to go all Cocktail on your friends at your next dinner party?
*    *    *
AIMEE CARRUTHERS // SENIOR DESIGNER
BOOKS TO READ
We Should All Be Feminists by Chimamanda Ngozi Adichie: Chimamanda writes with humour and levity, but still manages to deal a heavy blow to racism and sexism. I loved Americana and am looking forward to diving in to this exploration of what it means to be a woman today.
The Museum of Modern Love by Heather Rose: Winner of the 2017 Stella Prize, I hear only good things about this. New York, art, life and love ensue.
The Complete Persepolis by Marjane Satrapi: After recent events in Iran, I think it's timely to give this a re-read.
TV AND FILMS TO WATCH
Isle of Dogs: I think Wes Anderson saw me coming.
Season two of The Handmaid's Tale: This cannot comeback soon enough for me. I spent season one coiled up in horror at what seems like a not-too distant future.
Jackie Brown: This has been on my watchlist for far too long and Pam Grier is an absolute legend.
PLACE TO TRAVEL
New Zealand's far north: As a Kiwi I'm biased, but you find me a better, greener wonderland of secluded beaches, tiny towns, adorable op shops and kitschy campgrounds. Didn't think so. I just crossed this one off my list.
The Great Barrier Reef: It's gotta be done, and sooner rather than later, really!
New York: It's been my dream to go to MOMA, The Guggenheim and drink whisky in a Manhattan Jazz Club.
PLACES TO EAT
All my places to eat are too down and dirty for me to want to reveal on the internet!
TUNES TO LISTEN TO
Astral Weeks by Van Morrison: My impression of Van Morrison has been heavily clouded but some of his later, cheesier and more prolific hits. There's nothing more satisfying than discovering a hidden gem in someone's back catalogue.
Design of Decade by Janet Jackson: I am deeply, deeply bummed I didn't get on to this sooner. This is '90s pop perfection.
Mass Seduction by St. Vincent: This is my new get-shit-done-around-the-house soundtrack.
All the songs and artists mentioned in High Fidelity: I ripped through the book this summer – now for the extra-curricular study.
RECIPES TO MAKE
Burnt marshmallow ice-cream: I don't have a recipe, but a friend just bought an ice-cream maker and gosh darn it, we are going to make this a reality!
Persian pea and herb little bakes with beetroot labneh: I'm a sucker for Middle Eastern flavours, circular food and anything with a heavy dose of fresh herbs. I'll be making
Mango, pineapple, coconut and rum punch: This summer I'm bringing the Caribbean to me.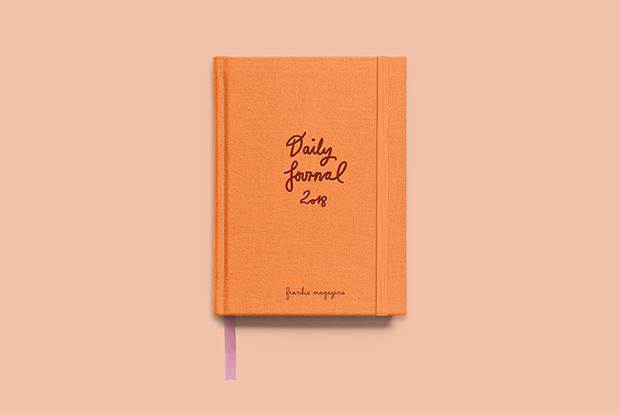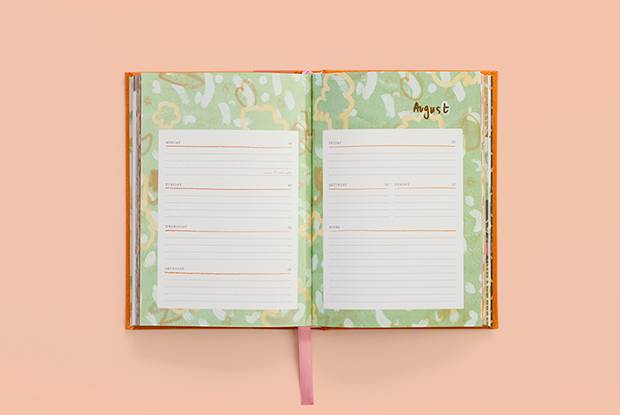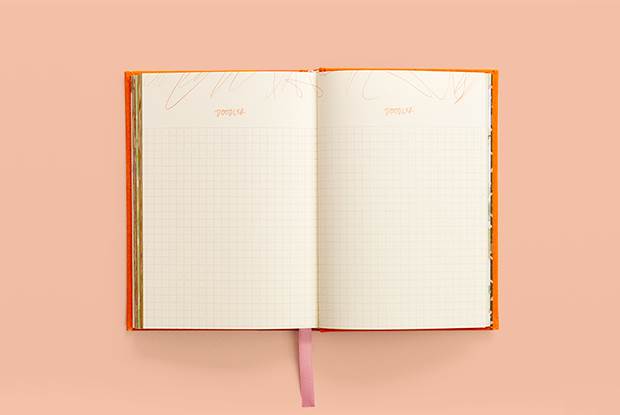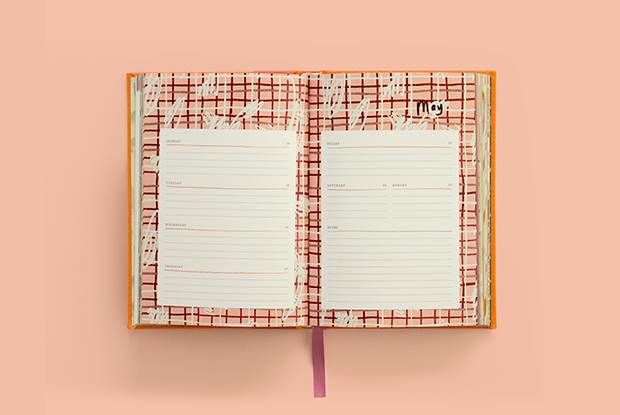 Want to start making some plans for 2018? Nab a copy of the frankie diary – before their all gone – over at our online store.