meet the frankie good stuff awards judges
Introducing the talented types who'll be judging the frankie Good Stuff awards.
With entries for the frankie Good Stuff awards closing in just a few days (this coming Monday, to be precise), we thought it best to introduce you to the lineup of legends who'll be casting an eye over your work. Scroll down to check out the talented dudes and dudettes judging each category (and to read up on the particular kind of awesomeness they're looking for), then trundle over to the Good Stuff entry page to get your submission under their noses. Good luck!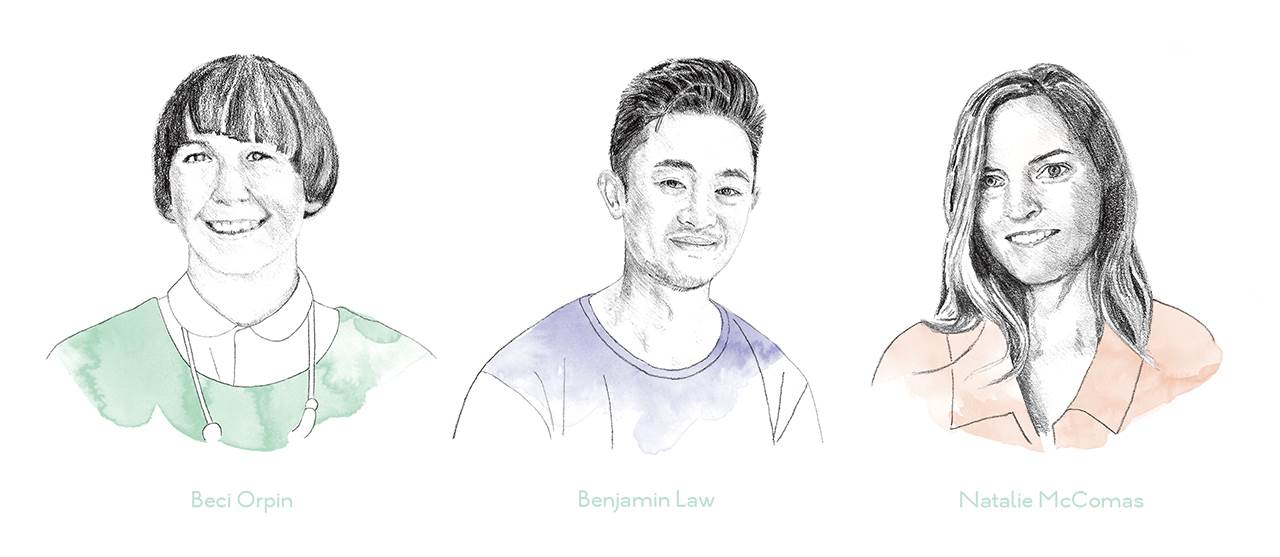 DESIGN // BECI ORPIN
Tell us, what do you do? Sometimes I draw pictures. Sometimes I write books. Sometimes I make things. Sometimes I do creative direction. Sometimes I do these things for money, and sometimes just for myself. How do you turn an idea into something tangible? I start by gathering my current inspiration and writing things down in my sketchbook. Then, I refine until I'm happy, work out the best outcome for the idea, and try to go about manufacturing it. What are you looking for in the Good Stuff entries? Originality, quality, innovation and cuteness.
WRITING & PODCASTS // BENJAMIN LAW
Who the bloody hell are ya? I make a living out of writing – books, TV shows, journalism, columns and essays. Usually from home, mostly in my underwear. Did you have a leg up in the industry? I've been an extraordinarily lucky schmuck to have had mentors, supervisors, editors and producers push me to write things I didn't think I was ready for. Writing is a constant process of losing confidence, so it helps to have people around who are confident in you. What are you looking for in the Good Stuff entries? Anything that makes me sit up straighter in my chair and think, "Motherfucker, that's great."
PHOTOGRAPHY // NATALIE McCOMAS
And you are? A freelance photographer based out of sunny Queensland. How did you start out? My uni lecturers sent some freelance work my way when I was in the final years of my degree, then, when I graduated, I won a year-long contract to photograph for a Queensland performing arts company. They weren't exciting shoots, but they were regular and helped my confidence grow. What are you looking for in the Good Stuff entries? Photographs that communicate and have a new take on the world or the people around us. I'm looking for depth and layers of meaning – not just a pretty photo.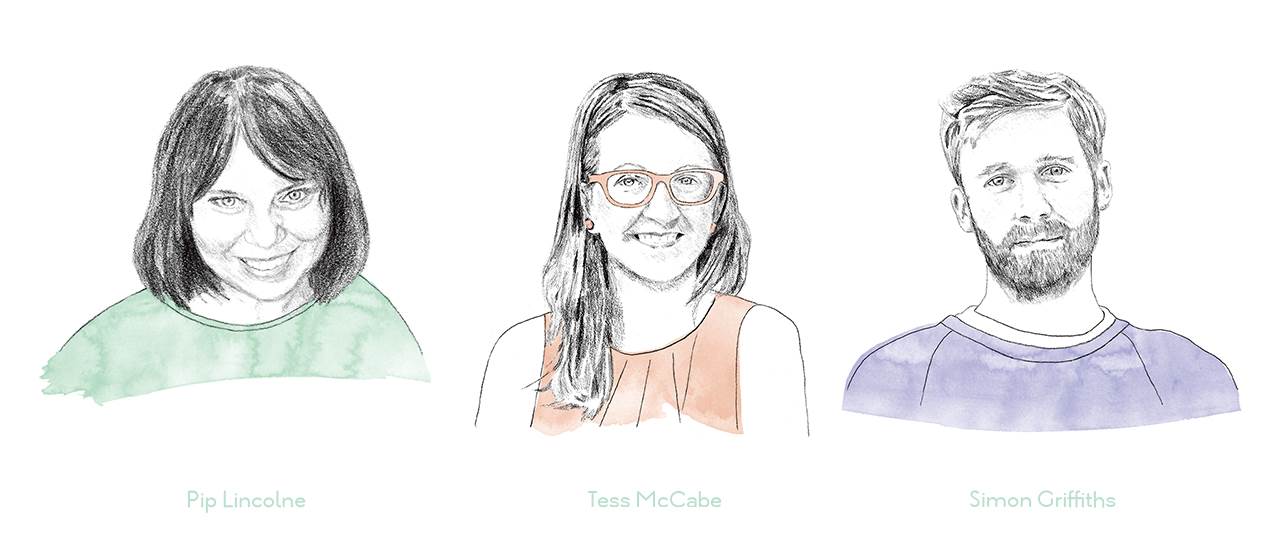 CRAFT // PIP LINCOLNE
So, who are you? I am a crafter, author and blogger. I have two dogs, one cat, one turtle and three children. Biggest career lessons you've learnt? There are a lot of humble experts and shy geniuses out there. You should be on the lookout for the smart, quiet types. They have great insights and ideas. What are you looking for in the Good Stuff entries? Creatives who put their own stamp on things, and weave their own story into their work. I'm also keeping my eye out for artistry, delight and bravery.
SMALL BUSINESS // TESS McCABE
Please introduce yourself. I help small businesses with their graphic design and marketing; publish books for creatives; chat on a podcast; and work on the Creative Women's Circle board to support and connect creative Australian women. Where do fresh ideas come from? My best ideas often come when I'm shut off from any visual stimulation and have time to really think. So, in the shower, in bed, or while rocking my toddler to sleep. What are you looking for in the Good Stuff entries? Products or services that know their market's needs and wants, incorporate good design and user experience, and consider their overall impact on the environment and human beings.
COMMUNITY // SIMON GRIFFITHS
What do you do? I'm co-founder and CEO of Who Gives A Crap. We sell environmentally friendly toilet paper (and tissues and paper towels), and use half our profits to help build toilets in the developing world. Did you have a leg up in the industry? We had a big break when we won a place at a social business incubator called The Unreasonable Institute. We used our time there to research our business model, make some great contacts and learn how to pitch, and were lucky to come home with an investment to help us get started. What are you looking for in the Good Stuff entries? Ideas that have never been done before, find clever ways to give back, and are financially sustainable.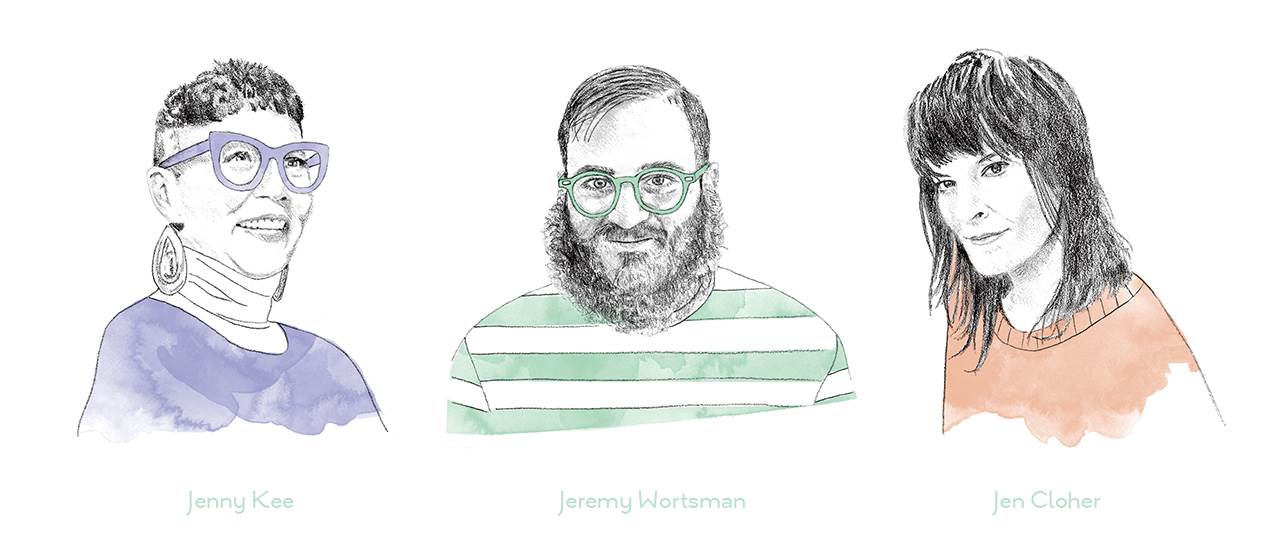 FASHION // JENNY KEE
Please introduce yourself. I'm Jenny Kee – a National Treasure and advanced style guru! I'm also a designer and artist, specialising in silks and knits. Did you have a leg up in the fashion industry? No, I did it entirely my way. When I opened Flamingo Park in Sydney in 1973, I drew on inspiration from my time at the Chelsea Antique Market in London in the '60s, which was my University of Fashion and Style. I knew I had to create something completely new and original. What are you looking for in the Good Stuff entries? A unique style that excites me – stand-out originality, and new uses of colour, shapes and patterns.
ART & ILLUSTRATION // JEREMY WORTSMAN
And you are? The founder and director of the Jacky Winter Group and our associated enterprises, including Lamington Drive Gallery and Jacky Winter Gardens. Do you have a trick for sparking creativity? I try to feed myself a balanced diet of content, information and inspiration. Just like with food, I limit the junk and get the good stuff from as many different sources as possible. What are you looking for in the Good Stuff entries? I'll know it when I see it! Biggest career lessons you've learnt? Invest in a good chair and mattress. Do your own bookkeeping. Don't say anything mean about anyone in writing, or at all if you can help it. Just be cool.
MUSIC // JEN CLOHER
Tell us about yourself. I'm a songwriter and performer. I also help run a label in Melbourne called Milk! Records. How did you get started? I made some great friends who helped me record my music and release it. It's all been super-DIY for me, applying for grants and putting in the hard yards as a self-managed artist. What are you looking for in the Good Stuff entries? People who are in touch with their inner world, and aren't afraid to say what they mean. What frustrates you about the local music industry? Artists who isolate. If you make the effort to get out to other people's shows and launches, you'll find a lot more opportunity and connection will come your way.