look what we made – collective closets
Sisters Fatuma and Laurinda Ndenzako mix bold African textiles with contemporary styles.
You might have heard of a little coffee table book by the name of Look What We Made. It's a compilation of inspiring chats we had with local makers of all sorts, including the chinwag you're about to read. If it tickles your fancy, you can pick up a copy over at the frankie shop.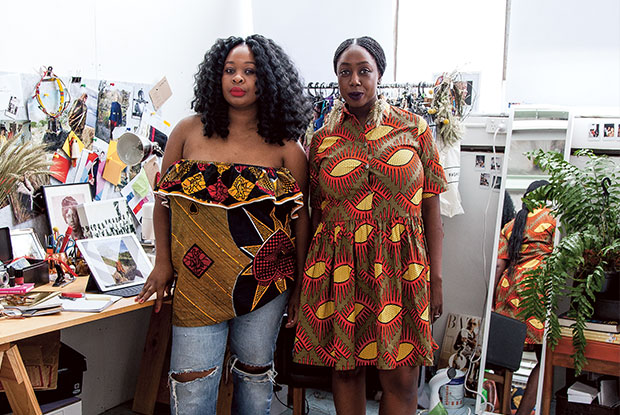 About six years ago, Fatuma and Laurinda Ndenzako were on a family trip to their birthplace in Kenya. The two sisters were sitting at a little cafe in a busy Nairobi marketplace, reflecting on their stressful lives back in Australia: juggling numerous small businesses as well as working part-time jobs on the side. All of a sudden, inspiration struck. "We saw these women selling these gorgeous, gorgeous African fabrics and we knew so many people would love that in Melbourne," Laurinda says. "I said, 'Look where we are now. This is everything that we've always wanted to do. Why don't we draw inspiration from everything that's around us?' The label really took off from there. We got home and went full-steam ahead."

On top of launching a brand to showcase those vibrant marketplace fabrics, the sisters decided to combine the prints with contemporary styles to make them more wearable for Australia. "A lot of other African-type brands have a lot of obvious African-type fashion," Fatuma explains. "Lots of traditional wrapping, lots of layering and stuff; we definitely don't do that." The label, which the sisters named Collective Closets, pairs bold African textiles with black and grey linen on a range of designs for a more Melbourne-friendly aesthetic. "I live in Fitzroy and we have a lot of the big designers at our door. We're definitely inspired by that," Fatuma says. The resulting garments are a unique blend of cultural sensibilities, which mirror the sisters' heritage. "Being proud of the fact that we're African-born and we've been raised in this amazing country, Australia: that's what the label stands for," Laurinda says.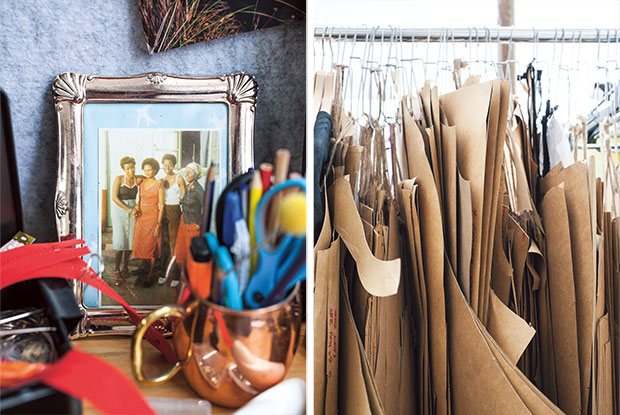 As anyone who's worked in fashion can affirm, there's a lot of very unglamorous work on top of the fun job of dreaming up cool clothes. 
As sisters, Fatuma and Laurinda were able to recognise their respective strengths to fi
ll specific nuts-and-bolts roles within the business. "My part is mainly doing the social media and marketing components," Laurinda says. "Fatuma is really great at spreadsheets and logistical stuff, so I think it's best if I give her that role in the business."

With these key responsibilities taken care of, the pair works collaboratively in developing the bones of each collection. (They send each other up to 45 images every day through WhatsApp, then refine them to create a mood board for 
the range.) Once they've settled on a direction, they begin developing technical sketches and fits with their patternmaker. The next step is sourcing the all-important fabrics – both locally and from Africa – which can be problematic. "Sometimes we've got our hearts set on a fabric and then they can't get us enough of it
 or they send us the wrong one," Fatuma sighs. "That's a huge part of it because that's what actually makes Collective Closets. Everyone can produce a linen in a contemporary style, but our customers really love the big print."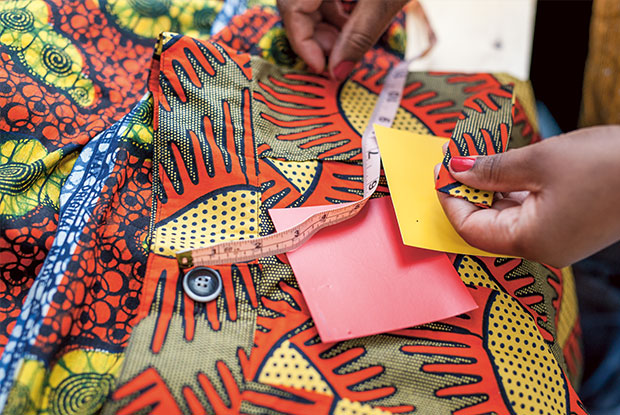 Every Collective Closets garment is produced in Melbourne by a husband and wife team named Mark and Irene, who run their business from home. "We've been lucky enough to work with them from the get-go," Fatuma
 says. Keeping production local is unusual 
these days, as it pushes the end price up, but Fatuma and Laurinda prefer their arrangement for its flexibility and low minimum quantity requirements. "When you start a business, you're like, 'We could sell 50 tops!' And then you realise it's actually a lot of work to sell those quantities," Fatuma says. "It's been nice to work with a smaller business that maybe charge us a little bit more, but work with us as a start-up and try to build it to get to that level."

Collective Closets has partnered with ANPPCAN (African Network for the Prevention and Protection against Child Abuse and Neglect) on a series of initiatives that take a portion of proceeds from every sale to help kids in Africa. The latest, Mission of Hope 2, helps fund the schooling of Julian, a young girl with three siblings who has lost her mum. "She's got big dreams and aspirations of becoming
 an engineer," Fatuma says. "It's been amazing to have that become part of the label. We were raised to give back, so we're really proud of being part of that initiative."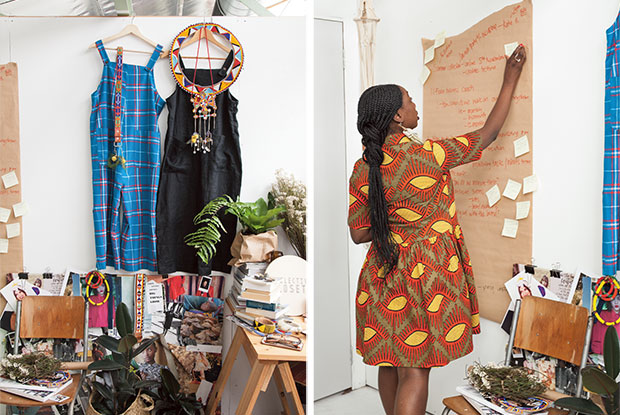 Now in its fourth year of official operation, Collective Closets has evolved from an idea 
to a full-time reality. While Laurinda still works part-time as a nurse, Fatuma left her position as a buyer for a cosmetics brand to focus her time on the label – and her newborn son, Arlo. So far, she's enjoying the balance 
of being a parent and a fashion designer.
 "I think it's making motherhood a lot more enjoyable, because I'm not just: be a new mum," she explains. "I'm also still a business owner and I'm able to engage with that when
 I can. Then I can go back and change nappies all day!" Laurinda's employer also allows
 her to take time off when she needs to devote herself fully to the business. "In order for the business to work we have to try our best to juggle everything and try to be as flexible as possible," she says.

The sisters recently shifted their base of operations from Fatuma's apartment to 
a shared studio space in Collingwood that houses upwards of 50 small businesses, artists and writers, along with a cafe, gallery and event space. "It's really exciting because you're around all these creative people all the time," says Laurinda of the new digs. "It really motivates and sets your re and inspires you." Not that the pair could be accused of lacking vision: "We're hoping to be a brand where most girls have a Collective Closets piece in their wardrobes," Fatuma says. "We're hoping to be sustainable and be around for the next 10 years, and also change people's perception of African textiles. It's not just a continent of starving people; it's actually this creative hub of really vibrant, amazing, talented makers. For us, it's about sharing that vibrancy and changing people's perceptions. If we get that, that's great. If we get the success and the runway shows, we'll take that as well."

This is an edited extract from Look What We Made. If you're curious to learn about more local makers, pop by the frankie shop to pick up a copy.