long lists: etsy down under
This great brown land of ours is really pretty ace, and the creative folk within it are first-rate as well.
This great brown land of ours is really pretty ace, and the creative folk within it are first-rate as well. Artists, weavers, stitchers, we've got it all, and a heap of our talented makers can be found peddling their wares on Etsy. To save you from collapsing under the sheer volume of awesomeness on the site, we've done some digging on your behalf and chosen some of our favourite items from local Etsy sellers. Crikey, we're feeling rather chuffed from all this Aussie pride.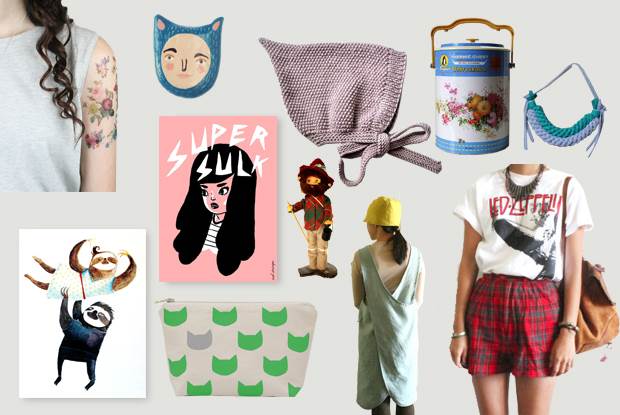 (clockwise from top left)

1. For the tattoo-inclined with a fear of commitment, some short-term blossoms up your bicep may be just what you need. Tough and pretty at the very same time, yippee!

2. It might be socially unacceptable to wear a blue, full-length catsuit in public (who comes up with these ridiculous rules, anyway?), but at least you can pop a catsuit-clad lady on your lapel without shame.

3. The best way to keep your little'uns cosy this winter is by popping something warm and fuzzy on their noggins. Try stitching up this knitted pixie hat at home (and perhaps making an adult-size version to match)

4. Why lug around one of those cumbersome plastic Eskies when you could daintily dangle this floral thermic chest instead?

5. The lass behind TassiDesign saves up pieces of cotton and turns them into sustainable textile jewellery. And we have to say, it's pretty striking jewellery, at that.

6. If the '90s are going to be back in fashion you may as well do it properly – with an authentic Led Zeppelin tee from the turn of the decade. Add some tartan shorts for the full UK rock experience.

7. Is it a smock? Is it an apron? Is it a pinafore? We're not too fussed with semantics, really; all we care about is how comfy it looks.

8. Perfect for holding your itty bitty doodads, as well as looking sweet as on your chest of drawers, this kitty-covered pouch was whipped up in a sunny little kitchen in inner Sydney.

9. Because nothing says 'greetings, friend' quite like a pair of gracefully frolicking sloths.

10. An inspirational poster for those times when all you feel like doing is stomping round in a funk.

11. We're not quite sure of the perfect spot to display this Aussie bushman doll, but there's something about his shaggy beard that makes us want to pull out all our pennies.

Are you an Aussie-based creative making pretty things? If you're keen to set up shop online and spread your goodies around the country (and world!), Etsy are currently offering the chance to open a store and list your products for free. Sweet deal, eh? And because we love seeing all your rad local bits and bobs, the first 50 people to start selling in their new online shop will receive a copy of the frankie gift wrap book as a way to say 'hooray!' Consider it a shop warming present from us.
Get all the info here.